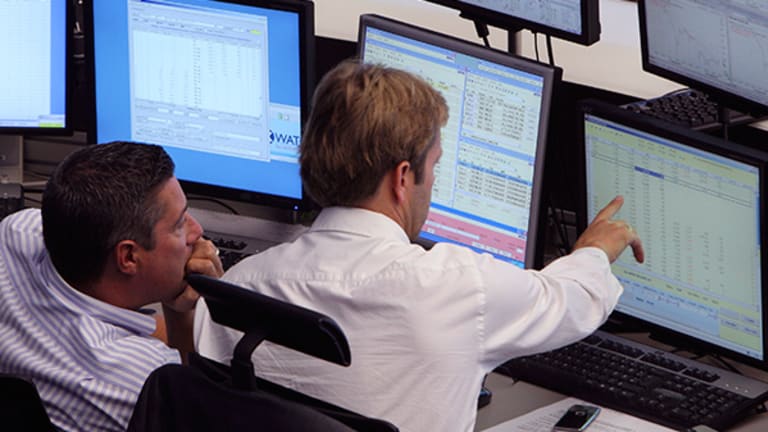 Publish date:
European Stock Markets Mixed Amid Real Estate Selloff
The FTSE 100 tops the board, buoyed by a banking sector in rude health.
The FTSE 100 tops the board, buoyed by a banking sector in rude health.
European stock markets were mixed on Thursday amid a series of poorer-than-expected earnings updates and a selloff among real estate firms.
The FTSE 100 was the biggest riser in Europe, buoyed by a banking sector in rude health, after London's financial giants began to report on their first post-Brexit vote quarter. The index closed 0.41% higher at 6,986.5.
But London also played host to Europe's biggest loser on Thursday when the FTSE 250 fell by 0.50% to close at 17,581.4 after being weighed down by profit warnings and poorer-than-expected earnings for the recent quarter.
The CAC 40 in France fell by 0.05% to close at 4,531.1 while the DAX in Germany was up by 0.07% at 10,717.4. The Europe Stoxx 600 index, the broadest measure of European stocks, closed 0.01% lower at 341.7.
The bond markets saw another day of rising yields, with U.K., French and German 10-year yields all rising by around 10 basis points. The U.K Gilt yield was at 1.15% by the close, the French Tresor at 0.47% and the German Bund at 0.17%.
The central bank theme has remained key to price action in the bond market. Better-than-expected gross domestic product data from the U.K., covering the first post -Brexit quarter, chipped further away at the Bank of England's case for another rate cut this year.
This is while the Federal Reserve is widely expected to hike again in the coming months and the ECB has recently show itself to be unenthusiastic about the idea of extending the life of its bond buying program beyond the March 2017 deadline.
The pound fell against the dollar during the London trading session and was changing hands at 1.2185 around the time of the stock market close, while the euro gained on greenback to trade around 1.0917 at the end of the session.
With earnings aside, the biggest detractor from returns across Europe was real estate, as concerns mounted over rental yields and growth, following earnings reports from continental titans.
Although much of the real estate earnings news came from the continent, U.K. REITs also took a dive after Jefferies reiterated earlier guidance that rental yields are insufficient to support continued investment at current valuations and that commercial real estate prices could ultimately fall by around 12% before the end of 2017.
In terms of individual stocks, Barclays (BCS) - Get Report gained nearly 5% after it topped estimates for revenue and profit before tax in the third quarter- just a day after Lloyds Banking Group (LYG) - Get Report emerged from its first post- Brexit quarter relatively unscathed.
Lloyds joined Barclays at the top of the FTSE 100 leaderboard, after rising 2.8%, with both helping to push the index higher for the session.
But FTSE 250 wallowed in losses after oil and gas engineer Amec Foster Wheeler (AMFW) fell by 20% on uncertainties over how it intends to reduce its debt, and after management left investors unconvinced of its ability to grow earnings without the benefit of a devalued sterling. Commercial laundry firm Berendsen fell by nearly 17% following a profit warning.
In France CAC 40 was weighed down by losses at telecoms giant Nokia (NOK) - Get Report and real estate titans Klepierre (KLPEF) and Unibail-Rodamco (UNBLF) .
Nokia stock fell by more than 7% during the session after its third-quarter earnings report revealed weaknesses and amid news of the departure of its CFO.
Klepierre and Unibail fell by around 3% each after the French real estate firms reported a lackluster performance in core European markets.
In Germany, health care firm Fresenius SE (FSNUF) saw its stock rise by more than 2% on a stronger than expected performance in the recent quarter and raised guidance for the full year.
Commercial property investor Vonovia (VONOY) saw its stock fall in tandem with other real estate firms in Europe, closing lower by 2.3%. Lufthansa (DLAKY) stock was also a notable faller, down more than 1%, after unions carried out an unscheduled, but already threatened, strike that forced the group to cancel hundreds of flights under its low-cost carrier brands.