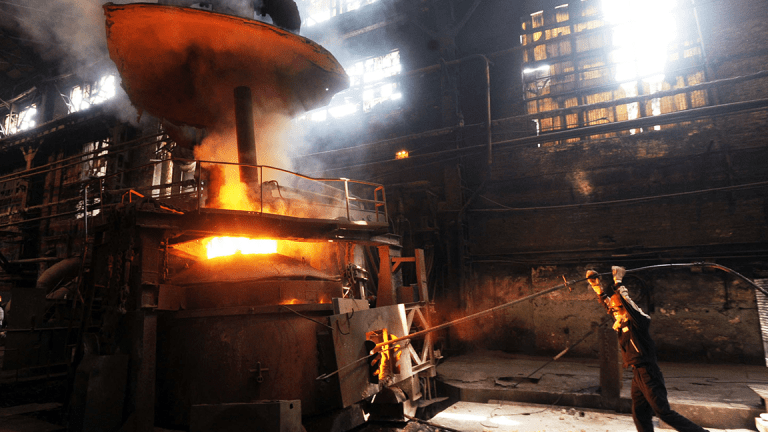 European Steel Stocks Slide as Trump Tariffs Shake Global Metals Markets
European steelmakers, as well as major auto and aerospace exporters, fell sharply Friday as investors reacted to punishing import tariffs from U.S. President Donald Trump.
European steelmakers fell sharply Friday, while regional auto and aerospace stocks extended declines, as investors re-priced stocks in the wake of planned import tariffs on steel and aluminium from President Donald Trump.
Trump's plans to impose a 25% tariff on import steel and a smaller 10% levy on non-American aluminium has rattled markets around the world and ignited concerns over a tit-for-tat trade war following comments from officials in Canada and Germany denouncing the President's strategy. However, ArcelorMittal SA (MT) - Get Arcelor Mittal NY Registry Shares NEW Report , the world's biggest steelmaker, appeared to broadly support moves to address what it described as overcapacity in the global market. 
"The significant steelmaking overcapacity that has developed this century, and the rise in exports we have seen from several steel-producing nations, legitimises governments worldwide taking a tough approach to addressing unfair trade practices," said ArcelorMittal in a statement. "The greater need, however, is to create a truly sustainable global steel industry, and the only way to do this is for steel-producing nations around the world to work together to address global overcapacity"
ArcelorMittal fell 4.65% in the opening minutes of trading in Amsterdam to change hands at €26.43 while Germany's ThyssenKrupp AG (TKAMY) , the second-largest in Europe, was marked 3.3% to the downside in Frankfurt, extending its year-to-decline to around 10%. Domestic rival Salzgitter AG (SZGPY) slipped 3.38% to €44.00 each.
Germany is the world's fifth-largest steel exporter, according the Global Steel Trade Monitor, and shifted more than 19.5 million ton in the nine months ending in September last year. U.S. exports, however, accounted for only 5% of that total and ranks just eighth on the list of top American steel trade partners.
The moves were matched by significant declines in German automakers, many of which have substantial production facilities in the United States, with Volkswagen AG (VLKAY) falling 2% and Daimler AG  (DMLRY) falling just over 2.2%. 
Planemakers such as Airbus SA (EADSY) - Get Airbus SE ADR - Level I Report were also on the back foot, with the Franco-German group falling 2.8% to €95.19 and Dassault Aviation SA (DASTY)  falling 2.21% in Paris.
"We have felt that investors in recent weeks may have been viewing the risks around US trade policy with rose-tinted glasses," analysts at ING noted. "One of those assumptions is the strength of the global economy - and certainly, the prospect of a 'global trade war' and heightened geopolitical tensions could temper some of the optimism and see greater two-way risks to global growth."