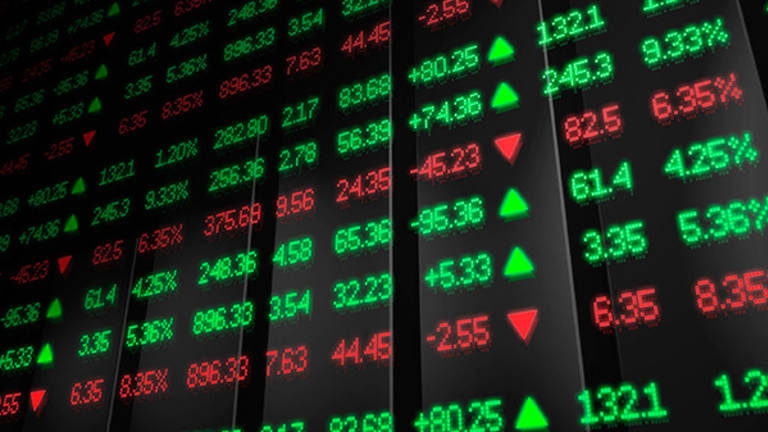 European Markets Up Ahead of ECB Meeting
Germany's Dax gains boost from strong earnings from SAP and Volkswagen.
European markets surged in late afternoon trading to end the day up. Benchmark indices jumped on a series of better-than- expected earnings announcements as investors await tomorrow's European Central Bank Meeting.
In Frankfurt, the Dax gained 1.51% to end the day at 10,131.96 and the Cac 40 was 1.15% up at 4,379.76 in Paris.
SAP (SAP) - Get Report and Volkswagen (VLKAY) were the biggest movers in Frankfurt. SAP gained 5.71% after beating quarterly expectations for both operating profit and revenue.
The Walldorf, Germany-based company reported adjusted earnings of €0.82 per share on revenues of €5.24 billion ($5.76 billion), an increase of 9% on a constant currency basis from last year.
Volkswagen shares surged to end the day 5.7% up after, in an unscheduled announcement, the German carmaker said that half-year results would be "significantly higher than market expectations."
Volkswagen said that group operating profit before special items would be €7.5 billion ($8.5 billion), compared with €6.99 billion a year earlier, "despite the ongoing economic impact from the diesel issue." Taking into account the special items of €2.2 billion relating to legal risks from North America, which were included in the first half results, operating profit will be €5.3 billion.
Deutsche Boerse today lost 0.3% after it said today that it was still short of the 60% shareholder approval for its merger with the London Stock Exchange.
In a regulatory filing, the company said that it 53.65% of shares had been tendered ahead of the July 26 deadline. Deutsche Boerse had previously lowered the threshold to 60% from 70%.
In London, the FTSE 100 was up 0.47% to end the day at 6,728.99.
Miners were a drag on London's benchmark index after a series of disappointed production announcements. Anglo American was down 4.4% as it trimmed expectations for full-year iron ore and copper output.
BHP Billiton (BHP) - Get Report fell 2.6% in London after fourth-quarter output figures showed an iron ore shortfall and as it warned of up to $175 million of charges against profit in its second half.
And Fresnillo (FNLPF) lost 2.9% after it announced output was down 53% in the last quarter due to maintenance and that it had taken a $40 million hit on fluctuations in the Mexican peso. However, gold production was up more than 30% from the same time period last year.
Hedge fund Man Group (MNGPF)   fell close to 4% this morning in London after announcing that CEO Manny Roman would move to Pimco and become CEO there. The shares later erased losses and ended the day 0.7% up.