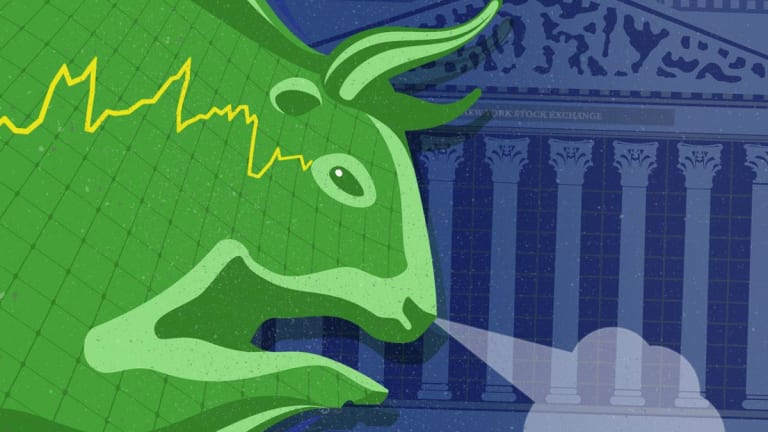 U.S. Stock Futures Steady Ahead of Jackson Hole Meeting
Investors are awaiting comments from Federal Reserve Chairman Jerome Powell when he speaks in Jackson Hole on Friday.
The Thursday Market Minute
U.S. futures were pointing to a positive opening.
European markets muted ahead of Jackson Hole meeting. 
Alibaba shares up 1.19% in premarket ahead of its earnings release. 
Market Roundup 
U.S. stock market futures have steadied and were pointing to a marginally positive opening ahead of a meeting of global central bankers in Jackson Hole and as the U.S. and China apply tit-for-tat tariffs;
Dow Jones Industrial Average I:DJI mini futures tied to September contracts and S&P 500 mini futures were flat. 
Stocks ended mixed on Wednesday, Aug. 22, after Fed minutes showed concern over wage pressures, but investors appeared to shrug off the latest legal fallout surrounding President Trump.
The Dow Jones Industrial Average fell 0.3% and the S&P 500 edged lower by 0.04%. The Nasdaq I:IXIC rose 0.4%. Markets on Wednesday entered their longest bull market run in history, turning 3,453 days old, eclipsing the previous record set in the 1990s, which ended with the dot-com bust.
The U.S. dollar index, which measures the greenback against a basket of currencies, gained 0.29% to 95.418, its first ride in six days after the Fed indicated in the minutes a readiness to increase rates if the economy stays on track. The minutes were released days after President Donald Trump said he was "not thrilled" that Federal Reserve Chairman Jerome Powell had raised interest rates. 
Investors are awaiting comments from Powell when he speaks in Jackson Hole on Friday.
Alibaba Group Holdings Ltd. (BABA) - Get Report  shares popped in early trading amid a second quarter earnings beat.
The U.S. and China have imposed fresh tariffs on $16 billion of each other's goods. The U.S. imposed tariffs on 25% in duties on Chinese goods ranging from motorcycles to steam turbines, while China will impose similar tariffs on items from coal, medical instruments, cars and buses.
China also said that it would lodge a complaint on the new U.S. tariffs to the World Trade Organization, the Ministry of Commerce said in a statement.
European markets are mixed, with the Stoxx 600 up 0.06% and the FTSE 100 gained 0.08%. Germany's Dax lost 0.14% and France's Cac 40 was up 0.1%. 
The pound lost 0.29% against the greenback to $1.2875. The government on Thursday released its first batch of government planning papers for a "no-deal" papers. Brexit Secretary Dominic Raab said the technical notices being published today are a "sensible, measured and proportionate" approach to dealing with the possible challenges of the U.K. leaving the European Union without a trading deal.
The South African rand softened against the dollar after Trump in a tweet wrote that Secretary of State Mike Pompeo has been asked ""closely study the South Africa land and farm seizures and expropriations and the large scale killing of farmers."
This has fueled speculation of possible sanctions against the country. The South African government said it was seeking diplomatic clarification about the tweet.