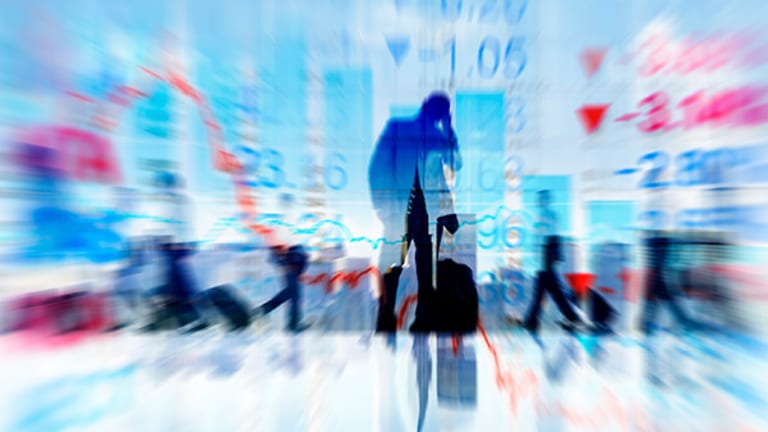 European Markets Steady on Earnings and Data Deluge
GDP growth in the eurozone slowed in the second quarter.
European markets were steady in morning trading after a deluge of eurozone data and company earnings.
GDP growth in the eurozone fell to 0.3% in the second quarter, preliminary data from Eurostat showed. This was down from growth of 0.6% in the first quarter of the year.
Growth in the region was pulled down stagnation in the French economy.
Inflation in the eurozone reached its highest level in eight months. Eurostat data showed a reading of 0.2% in July, better than the 0.1% expected by economists.
The French economy stalled in the second quarter according to preliminary data from the national statistics agency Insee. There was no growth in the second quarter, compared with 0.7% growth in the first quarter. Economists were expecting 0.2% growth in the second quarter.
Prolonged strikes over labor laws snuffed out benefits from the country playing host to Europe's leading soccer tournament during the quarter.
There was also no growth in household spending during the second quarter.
Spain's GDP increased by 0.7% in line with expectations.
In London, the FTSE 100 was recently up 0.14% at 6,730.30.
Barclays (BCS) - Get Report jumped 6% in morning trading after reporting healthy profits in its core business in the second half. However, group profits were dragged down 21% by disposals in the non-core business.
In Paris, the Cac 40 was recently up 0.30% at 4,433.72 and the Dax was up 0.72% at 10,348.86.
Shares in the French energy company EDF jumped well over 9% this morning after profits in the first half beat expectations. The company recorded profit of €3 billion ($3.33 billion) in the first half, above the €2.22 billion expected.
EDF's (ECIFY) board yesterday approved plans to build £18 billion ($23.7 billion) nuclear reactor at Hinkley Point in the U.K. after a dramatic departure of a board member opposed to the deal. The U.K. government, last night said it would delay final approval by conducting a fresh review.
Sanofi (SNY) - Get Report lost 2.69% in morning trading after it reported sales and profits fell in the second quarter. The drop comes due to a patent expiration of its best-selling product insulin glargine injection Lantus.
Second quarter sales dropped 5.1% to EUR8.1 billion.
Shares in luxury good maker Kering (PPRUY) surged 8% on second-quarter results, released after the market closed yesterday. Revenue grew by 6.9% in the second quarter to €2.94 billion.
Gucci saw sales rise by 7.4% in the quarter to €1.05 billion. Analysts were hoping for growth of 2%. Sales at Yves Saint Laurent were up 22.1% in the quarter.
L'Oreal dropped in morning trading and was recently down 3.6% on Thursday's close. The beauty products company behind Maybelline and Urban Decay saw revenue drop 0.6% in the second quarter to €6.34 billion, analysts were expecting €6.42 billion. The earnings report released yesterday after markets closed said sluggish sales in its home country France were to blame for the fall.
UBS (UBS) - Get Report gained 3% in morning trading after beating expectation for the second quarter has warned on the outlook due to challenging conditions.
Shares in Italian Monte dei Paschi (BMDPY) were recently up more than 6%, after it was revealed the UBS was in talks with UBS and Italian businessman Corrado Passera to help finalize a private sector rescue plan before the results of the European bank stress tests are released tonight.
West Texas Intermediate was recently down 0.92% to $40.76 and Brent Crude had lost 1.05% to $42.36 a barrel.
Dow Jones Industrial Average mini futures were down 0.16% and S&P mini futures were recently down 0.15%.