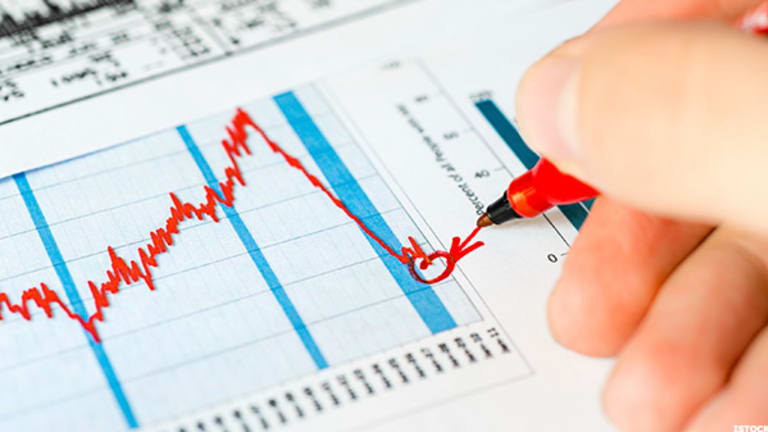 European Markets Slip; Banks Fall Ahead of Stress Tests
Rolls Royce surges 15% in London after reporting a small profit, and revenue ahead of forecast..
European markets have fallen in afternoon trading as investors digested a deluge of corporate earnings.
Banks slipped ahead of tomorrow's stress tests. The European banks index, the SX7E, was recently down 2.13%.
Lloyds (LYG) - Get Report was recently down 3.5%. BNP Paribas was recently down 1.1%, Societe Generale (SCGLY) lost 1.4% and Credit Agricole (CRARY) was down 1.4%.
Deutsche Bank (DB) - Get Report was down 3.5% in Frankfurt. Credit Suisse (CS) - Get Report was down 3.6% and UniCredit 2.8%. UBS (UBS) - Get Report was down 1.2%.
Ever the contrarian, Monte dei Paschi was up 2.6% after it was reported that the bank had gone to the European Central Bank with a plan to sell €10 billion ($11.1 billion) of its non-performing loans in a bid to prevent partial nationalization.
The Wall Street Journal reported that a person familiar with the deal said a large chunk of the loans will be purchased by Altante, a fund put together by the Italian government and financed by Italian banks, insurers and pension funds. This would lead the way for the bank to raise €5 billion.
In London, the FTSE 100 was recently down 0.13% at 6,741.67.
Rolls Royce (RYCEY) surged and was recently up more than 15% after it beat analysts' expectations by reporting a slight profit in the first half.
The engine maker's pre-tax profit fell 76% to £104 million ($115.5 million) in the first half of the year, and underlying revenue  fell 1.8% to £6.14 billion, ahead of forecasts of £6.12 billion.
CEO Warren East said, "In the first half of 2016 Rolls-Royce performed broadly in line with expectations, delivering a result a little better than breakeven; and the outlook for the rest of the year remains unchanged."
In Frankfurt, the Dax was down 0.07% at 10,313.06.
German inflation unexpectedly accelerated in July, eroding the case for new European Central Bank stimuli in the wake of the U.K.'s Brexit vote.
The inflation rate, according to preliminary estimates from the Federal Statistical Office, rose to 0.4% from 0.3%, whereas expectations had pointed to a stagnant rate. On the month prices rose by 0.3%, gathering steam from June's 0.1% monthly price growth and higher than the 0.2% consensus forecast of analysts.
Adidas (ADDYY)  was up 2.2% in Frankfurt, after the apparel company announced its best ever first quarter. The sportswear group saw revenues rise 17% compared with the same time period last year. Full year group sales were expected to increase 15%.
Volkswagen (VLKAY) shares fell 1.8%. The German car maker today projected that full-year sales may be down as much as 5% compared with last year. In the first half of the year, operating profit before special items was €7.5 billion up from €7 billion last year. However, the company has set aside €2.2 billion for legal costs associated with its emissions testing scandal.
In Paris, the Cac 40 was recently flat at 4,447.10.