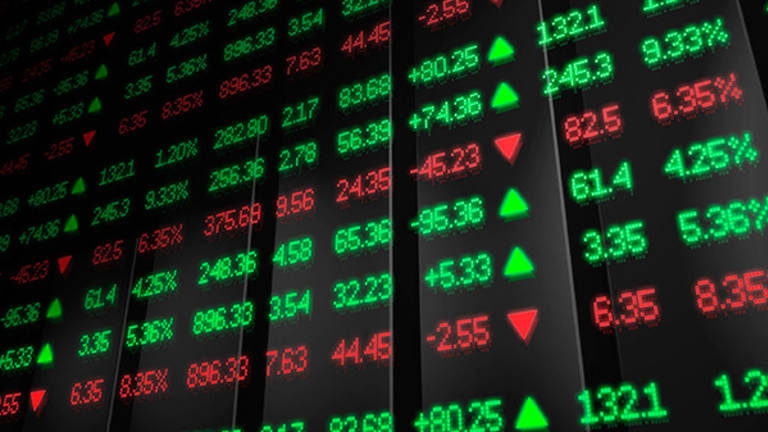 European Markets Shrug Off Fed; Earnings Prop Up Indices
A bumper day for company earnings buoys Europe's benchmark indices.
European markets opened lower this morning as the benchmark indices absorbed the Federal Reserve's decision to keep rates steady in the wake of the U.K.'s vote to leave the European Union in June.
The central bank did however hint that the economy was gaining strength and that a rate increase could be imminent. The Federal Open Market Committee said that improved hiring conditions and strong consumption have eased short-term economic worries.
A deluge of company earnings helped prop up markets, which parred earlier loses.
In London, the FTSE 100 was recently up 0.12% at 6,758.40
Rolls Royce (RYCEY) surged in early morning trading and was recently up more than 7% after it beat analyst's expectations reporting a slight profit in the first half.
The engine maker's pre-tax profit fell 76% to £104 million ($115.5 million) in the first half of the year, underlying revenues fell 1.8% to £6.14 billion, ahead of forecasts of £6.12 billion.
CEO Warren East said, "In the first half of 2016 Rolls-Royce performed broadly in line with expectations, delivering a result a little better than breakeven; and the outlook for the rest of the year remains unchanged."
Anglo American (NGLOY) was up more than 6% after said it was on track to reduce debt by £10 billion by the end of the year. Debt currently sits at £11.7 billion. The miner narrowed its loss in the first half.
Shell (RDS.A) has fallen more than 3% in morning trading after second-quarter results were worse than expected due to low oil prices.
Lloyds (LYG) - Get Report had recently down 2.94% after the bank said first-half dividend would be less than consensus expectations. They also warned that uncertainty surrounding the U.K.'s Brexit vote will result in lower capital generation.
In Frankfurt, the Dax was 0.23% higher at 10,342.98 and the Cac 40 was up 0.45% at 4,467.59.
Adidas (ADDYY) surged 4.41% in Frankfurt, after the apparel company announced its best ever first quarter. The sportswear group saw revenues rise 17% compared with the same time period last year. Full year group sales were expected to increase 15%.
Volkswagen (VLKAY) shares fell 2.39% in early trading. The German car maker today projected that full-year sales may be down as much as 5% compared with last year. In the first half of the year, operating profits before special items was €7.5 billion up from €7 billion last year. However, the company has set aside €2.2 billion for legal costs associated with its emissions testing scandal.
Asian markets ended the day mostly down. The markets are awaiting the Bank of Japan's rate decision and if any changes will be made to the quantitative easing program.
Japan's Prime Minister Shinzo Abe yesterday said a new stimulus package will exceed ¥28 trillion ($265 million), the details of which will be released next week. In Tokyo, the Nikkei was down 1.13% at 16,476.84 and the Topix was down 1.11% at 1,307.00.
In Hong Kong, the Hang Seng was down 0.29% at 22,154.06.
On mainland China, the CSI 300 gained 0.04% to 3,219.68.
West Texas Intermediate was recently steady at $41.92 as was Brent Crude which was recently sitting at $43.47 per barrel.
Dow Jones Industrial Average mini futures were up 0.29% and S&P 500 mini futures were up 0.29%.