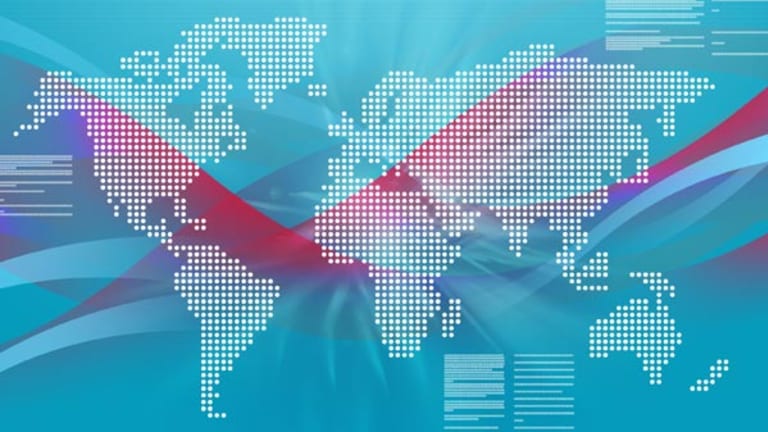 European Markets Rise Despite Anxiety Over Greek Debt; HSBC, UBS Book Profits
European markets were generally buoyant despite renewed anxieties over Greek debt and a report from the European Commission slashing growth forecasts for the Greek economy.
LONDON (TheDeal) -- European markets were generally buoyant this morning, partly following Wall Street's climb on Monday. That's despite renewed anxieties over Greek debt, and a report from the European Commission slashing growth forecasts for the Greek economy this year. Ahead of a meeting of Eurozone ministers to discuss the crisis next week, when Greece is due to repay billions of dollars to the International Monteary Fund, the IMF is urging eurozone governments to offer Greece debt relief.
In London, the FTSE 100 was up 0.56% at 7,024.91. Frankfurt's DAX was up 0.59% at 11,688.85. In Paris, the CAC 40 was up 0.48% at 5,106.46. However, the Athens General Index was down 3.08% at 800.60.
Commodities giantGlencore (GLCNF) was down 1.14% at 309 pence, despite reporting increased oil and coal production. Oil was up less than analysts had predicted and the company said it plans to cut coal production in South Africa and Australia because of declining prices.
HSBC Holdings's (HSBC) - Get HSBC Holdings Plc Report investment banking operations produced a 4% rise in first-quarter pretax profits, as compared with the same period last year, at $7.06 billion. Though it remains Europe's biggest bank, HSBC has threatened to take its headquarters out of the U.K. A strategic update is due on June 9.
At Swiss bank UBS (UBS) - Get UBS Group AG Report earnings were up 88% in the first quarter, at Sfr1.977 billion ($2.110 billion), mainly on better-than-expected results from its key wealth management business, which delivered pretax earnings of Sfr951 million, and at its investment bank, which generated pretax profits of Sfr774 million.
Online takeaway food ordering service Just Eat (JSTLF) said first quarter like-for-like sales rose 47% and total orders were up 51% compared with the first quarter of 2014. The numbers include its new Mexican business, Sindelantal. Just Eat rose over 5.5% in early trading before falling back. By midmorning it was up 2.85% at 469 pence a share.
Volkswagen (VLKAY) was up 1.24% at 230.3 after announcing the reorganization of its heavy trucks and buses business, to bring its MAN and Scania holdings together into one subsidiary, to be named Truck & Bus and headed by current commercial vehicles boss Andreas Renschler.
Meanwhile in Asia, China's markets experienced heavy profit taking after the rises of recent days, which some brokers now believe have been overdone. The Shanghai Composite closed down 4.06% at 4,298.71. In Hong Kong, the Hang Seng was down 1.31% at 27,755.54. In Japan, the Nikkei 225 is closed for the day. The Reserve Bank of Australia, that country's central bank, cut interest rates to a record low of 2%, to help stimulate the economy. But the market closed just below yesterday's level, down 0.02% at 5,826.52.