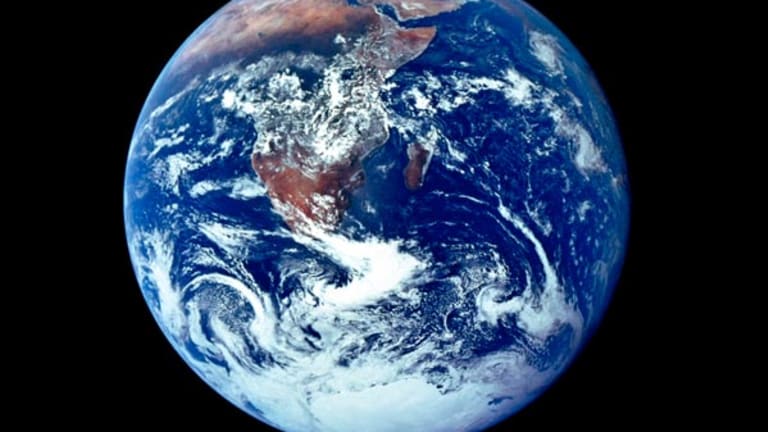 Publish date:
European Markets Mixed as U.K. Mining Rises but Eurozone Output Falls
European stocks were mixed on Thursday, with the U.K. leading the continent's major indices as mining groups rebounded.
European stocks were mixed on Thursday, with the U.K. leading the continent's major indices as mining groups rebounded.
LONDON (TheDeal) -- European stocks were mixed on Thursday, with the U.K. leading the continent's major indices as mining groups rebounded.
The FTSE 100, which largely missed out on Wednesday's European rally, was up 0.79% to 6,774.93, led by miners including Fresnillo (FNLPF) , Antofagasta  (ANFGY) , Anglo American (AAUKY) , Glencore (GLCNF) and global No. 2 Rio Tinto (RIO) - Get Report.
In Frankfurt, the DAX fell 0.37% s to 11,762.04, and in Paris, the CAC 40 fell 0.20% to 4,987.93.
Disappointing industrial output figures showed January production in the eurozone declined 0.1% from December, defying forecasts for 0.2% month-on-month growth. However, output rose 1.2% year-on-year in January, way above the 0.1% year-on-year growth predicted after a 0.2% contraction the month before.
From the U.S., investors are awaiting February retail sales figures that are tipped to show 0.5% month-on-month expansion, excluding car sales, after a 0.9% decline in January. Weekly initial jobless claim figures will also come out.
In London, TSB Banking (TSBBY) surged 27% after saying it has received a takeover approach from Banco de Sabadell (BNDSY) , of Spain. TSB only listed in London last June following its European-mandated spinoff from Lloyds Banking (LYG) - Get Report, which remains a key shareholder. A price of 340 pence is under discussion, which would value the stock at £1.7 billion ($2.55 billion). TSB shares were trading at about 334 pence by mid-morning.
Online clothing retailer Asos (ASOMF) , which targets fashion-loving 20-somethings, surged 15% as it cheered investors with news of strong quarterly sales following a string of profit warnings. The company said investments in IT and warehousing were on track and said 2015 profit would be in line with market estimates.
Wm Morrison Supermarkets dropped after posting a 52% decline in fiscal 2015 pretax profit -- earnings came in at just under the mid-point of market expectations -- and indicated it would rein in dividends to keep funds free for its turnaround.
Leading U.K. commercial terrestrial TV broadcaster ITV (ITVPF) moved higher after it struck a £355 million deal to buy production company Talpa Media, the company behind "The Voice." The price was lower than the £500 million that at least one report had predicted.
Shares in restructuring outsourcing company Serco (SECCF) tumbled about 14% after the company announced a £555 million one-for-one rights issue priced at 101 pence, a 51% discount to Wednesday's closing price. It wants to use the funds mainly to cut debt.
It also said it won't pay a dividend this year and next.
In Frankfurt, Hugo Boss (BOSSY) tumbled about 4% after cut its 2015 sales target.
In Paris, French wireless services company Iliad (ILIAF) was up well over 1% after it crossed the €4 billion ($4.2 billion) revenue mark -- with sales of €4.2 billion in 2014 -- one year ahead of target and predicted EBITDA growth of more than 10% this year.
Building materials maker Lafarge (LFRGY) in Paris rose about 1.6%, exceeding gains in the shares of merger partner Holcim (HCMLY) in Zurich, after the Financial Times reported the two sides were renegotiating the terms of their almost year-old €41 billion merger agreement. The companies wouldn't comment.
Asian indices largely ended the day in positive territory, though the Kospi index gave up earlier gains following a surprise interest rate cut by the South Korean central bank to close down.
In Tokyo, the Nikkei 225 rose 1.43% to close at 18,991.11, and the Topix gained 1.37%.
In Hong Kong, the Hang Seng edged up 0.34% to 23,797.96.