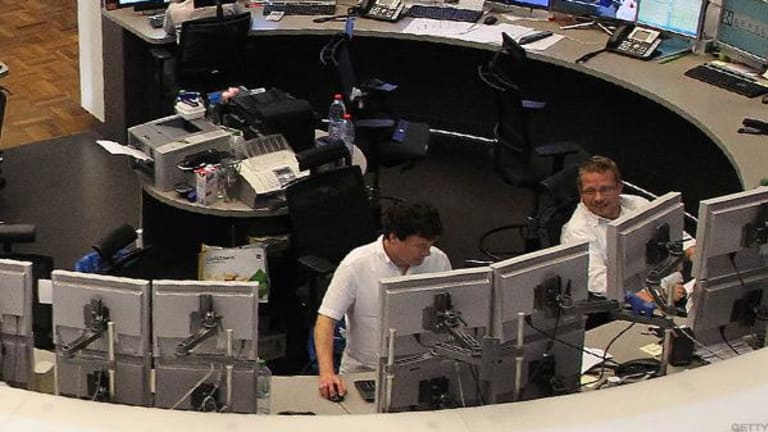 European Markets Fall as Upcoming Elections Weigh on French Market
Geopolitical tensions remained at the top of the agenda for investors.
French stocks led European benchmarks deeper into the red at noon on Monday as investors responded to an increasingly crowded field in the French election race, after far-left candidate Jean-Luc Melenchon surges in the polls. 
The disproportionate fall in French stocks came at the tail end of a morning where, in the wake of last week's missile strike on Syria, geopolitical tensions remained at the top of the agenda for investors.
In Paris, the CAC 40 was down by 0.59% at 5,104, far outstripping losses for any other major benchmark, as well as the 0.14% loss for the Stoxx Europe 600 Index.
The FTSE 100 in London had reversed earlier gains by 12:00 BST and was printing a loss of 0.11%, quoted at 7,340. German stocks were down 0.25%, with the DAX quoted at 12,194.
Dow Jones Industrial Average futures were trading 0.03% higher at 20,664 and S&P 500 futures were around 0.05% higher at 2,356.
In France, what was fast shaping up to be a two-horse race has now evolved to become one with four credible challengers to the presidency, adding complexity to what is already Europe's least straightforward electoral process.
Of most concern for markets, Melanchon has continued his ascent to new heights in the opinion polls after coming off as the most convincing candidate in last week's television debate.
Melanchon has been a champion of workers rights, bank regulation and protectionism. He has also advocated ideas such as pulling France out of Nato and offering the French people a referendum on European Union membership.
Conservative candidate Francois Fillon was seen to regain some of his posture in opinion polls following weeks of scandal over his employment of family members in his office.
Ratings gains for both Fillon and Melanchon have come at a cost for both Emmanuel Macron and Marine Le Pen, whose ratings have slipped during the recent week.
In individual stocks, banking sector heavyweights Societe Generale (SCGLY) and BNP Paribas (BNPQY) led the decline in Paris, with losses of nearly 2% each.
In London, the top traded shares on the FTSE 100, according to London Stock Exchange data, were Barclays (BCS) - Get Barclays PLC Sponsored ADR Report and Lloyds Banking Group (LYG) - Get Lloyds Banking Group plc Sponsored ADR Report .
Barclays stock was volatile after the lender told investors that its CEO Jes Staley is under investigation over his handling of a whistleblowing complaint, which prompted some calls for his resignation.
In Frankfurt, Henkel (HENOY) , Adidas (ADDYY) and Continental (CTTAY) , all helped to push the DAX lower, with losses of between 0.5% and 1.5%. Utilities RWE (RWEOY) and E.ON (EONGY) were also noteworthy fallers on Monday.