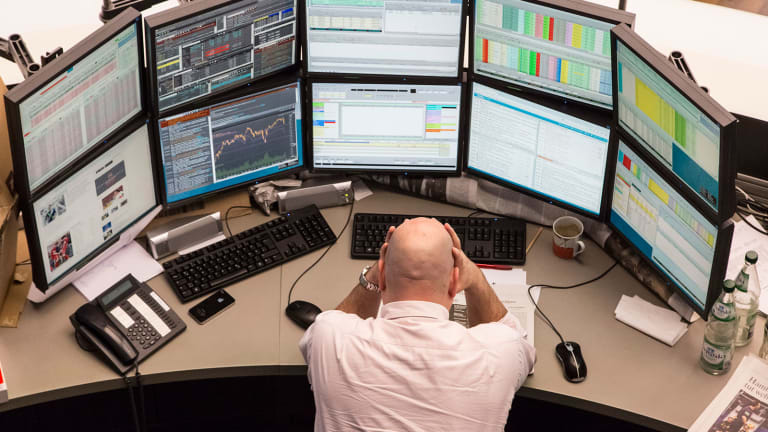 Publish date:
European Markets Fall as Investors Assess Risk From U.S. Election Drama
European markets opened in the red Monday as traders took cautious steps into the final days before U.S. presidential elections.
European markets opened in the red Monday as traders took cautious steps into the final days before U.S. presidential elections.
European stock markets opened lower Monday, following similar weakness in Asia, as investors continued to digest the political risk arising from last week's decision by the U.S. Federal Bureau of Investigation to re-open its probe into Democratic Presidential candidate Hillary Clinton's use of a private email server.
The broadest measure of European shares, the Stoxx 600 index, slipped around 0.33% in the morning sessions, led to the downside by oil and energy stocks that fell in concert with global crude prices. London's FTSE 100 index also started trading for the week in the red, falling 0.4% to around 6,968 points in morning trading. 
One of the session's biggest movers in opening trade was WPP  (WPPGY) as shares rose more than 4% after traders shrugged off a reported slowdown in like-for-like third quarter sales and focused on the fact that the world's biggest advertising group indicated that a weaker pound will likely boost revenue growth in the months ahead.
The group said revenue in the three months ending in September grew 23.4% to £3.611 billion ($4.4 billion) and forecast that full-year like-for-like revenues would grow "over" 3%. So-called organic sales, however, slowed to 3.2% from 4.3% in the first six months of the year, it said. Operating margins for the first nine months of the year, the group said,expanded by 0.3 basis points in constant currency terms.
Shares in the group were quoted at 1,767 pence each, a gain of 3.5% from Friday's close, by mid-morning in London.
Global oil prices extended declines Monday as traders marked down crude in the wake of reports that non-OPEC producers may not join cartel members in agreeing production cuts at a November meeting in Vienna. Brent crude prices fell by around 0.4% to $50.43 per barrel while Nymex Light Sweet Crude dipped to $48.64.
The FBI said Friday that it was re-opening its investigation into Clinton's email use after it said it had found evidence of communications related to its probe that needed further examination. News of the probe, which was revealed in a letter to Congressional Republican lawmakers from FBI director James Comey, hit U.S. stocks late Friday and added downward pressure to trading in Asia over the weekend. 
Sentiment was also held down by a significantly weaker print in German retail sales, which fell 1.4% on the month and only advanced 0.4% from September 2015, according to data from the Federal Statistics Office. 
Euro zone bond markets opened with a slightly firmer edge Monday, following last week's sell-off that saw benchmark Germany 10-year bund yields rising to 0.22%, the highest in at least six months. 
Inflation data from Europe's official statistics office, Eurostat, which showed consumer prices rising at the fastest pace (+0.5%) in a year in October did little to mute the stronger tone in fixed income markets. Eurostat also reported that, as expected, euro zone GDP advanced at a 0.3% pace in the three months ending in September. Benchmark U.K. government bonds, known as Gilts, were quoted at around 1.24%.
Fixed income and currency traders, however, are likely to remain cautious this week amid speculation that Bank of England Governor Mark Carney may announce his intention to either leave at the end of his current term, in 2018, or remain at the helm at Threadneedle street for a further three years.
Conflicting media reports have the Governor, a Canadian citizen who was recruited to the top post by former U.K. finance minister George Osborne, indicating his decision sometime around the Bank's quarterly inflation report, which is due to be published Thursday after its regular rate-setting meeting in London.