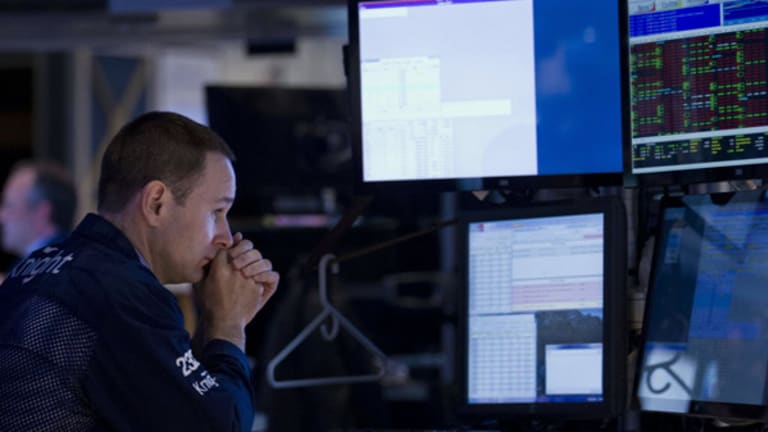 European Markets Close Higher As Global Growth Concerns Ease
Risk stocks lead European markets higher after Chinese GDP comes in as expected and commodities rise
After a tepid start, European stock markets rose for a second day on Wednesday.
Driving price action in Europe were Chinese GDP figures for the third quarter which came in in line with consensus estimates, holding steady at 6.7%. In the U.S. building permits surged in September and crude oil inventories fell by more than 5 million barrels last week, to 468.7 million.
Performances from all large cap European markets were broadly in line with each other, with the FTSE 100 in London up by 0.3% to 7,021.6, the DAX in Germany up by 0.1% to 10,645.9 and the CAC 40 up by 0.3% to 4,520.3. The Stoxx Europe 600, the broadest measure of European stocks, was up by 0.4% to 343.9.
The pound was trading a fraction higher against the greenback shortly ahead of the close, at $1.2293, while the euro was a step lower at $1.0961. In government bond markets, U.K. Gilts were down a fraction at 0.98% and the German 10-year yield was also down slightly at 0.02%
In London stock markets, the FTSE 100 was led higher by Burberry (BURBY) , Persimmon (PSMMF) and Tesco (TSCDY) .
Burberry shares rose by nearly 4%, after falling by more than 6% on Tuesday due to disappointing third-quarter results, no doubt helped by news that China's economy has avoided a so called hard landing for another three months.
One of the U.K.'s regional house builders, Persimmon, benefited from an upgrade to earnings estimates and raised price target from analysts at Barclays, which could possibly have been prompted by strong results from competitor Bellway on Tuesday.
Tesco shares rose by more than 3%, extending earlier gains after data released on Tuesday by industry monitor Kantar Worldpanel, showed the nation's largest retailer winning back market share during the recent quarter for the first time in five years.
The grocer's out performance came alongside broad strength in the sector, which might also have had something to do with comments made by industry executives at the annual IGD Industry Conference suggesting that commodity price falls and competitiveness might help to mute the inflationary pressures thrown up by a devalued pound.
In Germany, automotive firms topped the leader board on the DAX index, with BMW (BMWYY) and Daimler (DDAIF) the top gainers.
Both car makers have large operations in China and will benefit to some extent from continued stability of the world's second largest economy. BMW shares were up by 1.4% and Daimler stock was up by 1.3% at the close.
In France, Carrefour (CRRFY) stock was the top riser on the CAC after rising by more than 5% on quarterly numbers that came in slightly better than expected. Accor Hotels stock was the second biggest gainer, rising by 5%, after management noted an improvement in industry conditions in its key markets of France and Belgium.