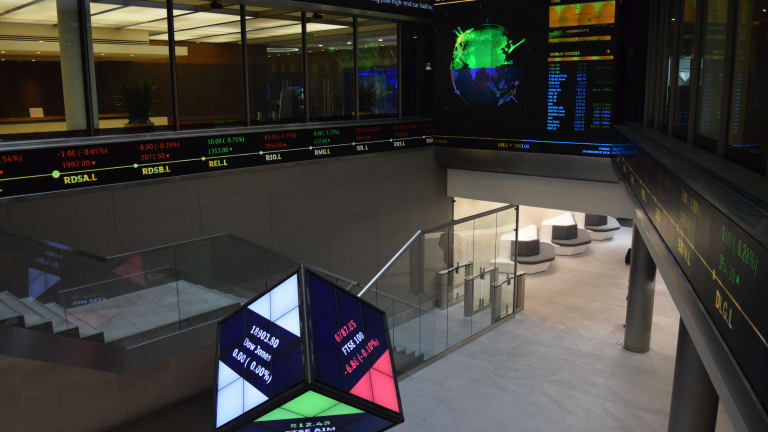 European Markets Edge Higher Amid Cautious Sentiment Following Terror Attacks
European stocks opened modestly higher Tuesday after a series of incidents around the region raise issues of security and geopolitical risk.
European stocks added modest gains Tuesday as investors reacted with caution to three separate terror incidents around the region yesterday that have rekindled concerns over security and geopolitical risks.
The Stoxx 600 Europe Index, the region's broadest measure, traded 0.3% higher at 359.58 points by 09:00 GMT. Britain's FTSE 100 , which is heavily-weighted with mining and energy stocks, flipped 6.5 points to 7,003 as the strong U.S. dollar hit basic resource prices. In Frankfurt, the DAX performance index added 17 points, or 0.15%, while France's CAC-40 rose 14 points to 4,837 points. 
Italy's major banks traded higher Tuesday following a move by the country's interim government to seek permission to borrow as much as €20 billion ($20.7 billion) to support its flagging lenders.
The FTSE Italia Banks Index, a measure of share performance for the country's largest lenders, added 1.6% by 08:45 GMT, helping lift the benchmark FTSE MIB index 1.08% higher to 19,132 points.
Police in German have said 12 people died and scores more were injured when a man drove a large truck into crowds at a Christmas market on the busy Breitscheidplatz shopping area in Berlin in an attack that bears a grim resemblance to a Bastille Day incident in Nice that killed 86 people.
The Berlin attacks followed a shooting incident at an Islamic center in Zurich that injured three and came only hours after the shocking assassination of Russia's ambassador to Turkey, who was murdered while speaking at the opening of an art gallery in the capital city of Ankara. 
The dollar resumed its record-setting rally in Asia trading as investors lifted the dollar index, which measures the greenback against a basket of six global currencies, to 103.32, just a few ticks from its 14-year high of 103.56 that was hit lat last week. The gains pushed the yen lower, to 117.57, and help boost appetite for stocks in Japan, taking the Nikkei 225 0.53% higher to 19,494.53 by the close of trading in Tokyo.
Sentiment in the world's third-largest economy was also supported by a marginally hawkish monetary policy report from the Bank of Japan, which made no changes to its record-low interest rates or asset purchases, but nonetheless made a series of broadly positive comments on near-term prospects for growth and inflation.
Oil markets traded largely in-line with movements in foreign exchange markets, with the dollar's rise eroding some of the recent bullish tone to crude prices. WTI futures for February delivery falling 0.5% to $52.86 per barrel and Brent futures for the same month falling 0.47% to $54.75 per barrel. 
U.S. stocks, having edged cautiously higher Monday even as news of the European terror incidents filtered through, are again expected to add modest gains at the start of trading, with futures prices indicating a 31 point advance for the Dow Jones Industrial Average, a 4.4 point rise for the S&P 500 and an 8 point increase for the Nasdaq.