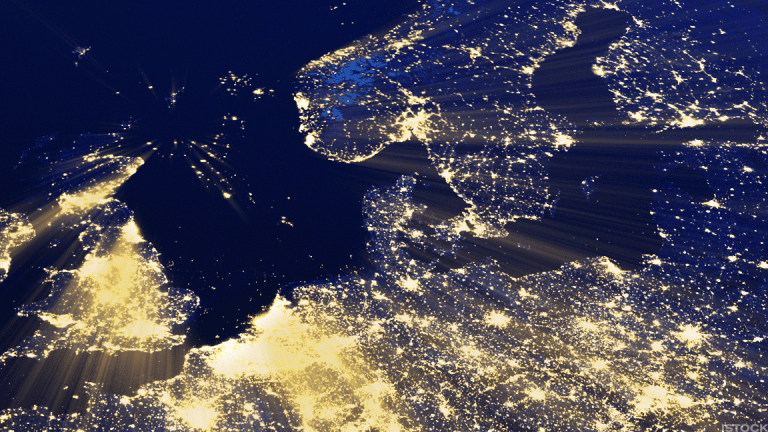 European Commission Sees Best Growth in a Decade as Euroboom Powers Ahead
Eurozone growth forecasts improve as #Euroboom lifts stocks and creates jobs in currency area turnaround.
Eurozone growth forecasts improve as #Euroboom lifts stocks and creates jobs in currency area turnaround.
The Eurozone economy is set to grow at its fastest pace in a decade, according to new estimates published Thursday from the European Commission, even as Britain's pending exit threatens significant uncertainty for the world's largest trading bloc.
In its autumn update forecasts, published in Brussels, the Commission said collective GDP growth for the 19 countries that use the single currency should expand at a 2.2% clip this year -- well ahead of its Spring estimate of 1.7% -- and 2.1% in 2018. The region's executive branch also said it expects to see France and Spain to cut budgets deficits deeply enough to align with EU rules and sees Italy's debt-to-GDP ratio peaking at 132.1% this year. 
After five years of moderate recovery, European growth has now accelerated. We see good news on many fronts, with more jobs being created, rising investment and strengthening public finances," said Economic Affairs Commissioner Pierre Moscovici. "Yet challenges remain in the form of high debt levels and subdued wage increases. A determined effort from Member States is needed to ensure that this expansion will last and that its fruits are shared equitably."
The euro was marked 0.36% higher at 1.1635 against a weaker U.S. dollar following the release while the pound was little-changed at 1.3128. 
The report issued a caveat on growth prospects, however, saying Britain's economy will slow to around 1.3% next year (from an already downgraded estimate of 1.5% this year) and further still in 2019 as it prepares to withdraw from the European Union.
"Investment growth is forecast to weaken in 2018, as many firms are likely to continue deferring investments in the face of uncertainty," the Commission said. "Given the ongoing negotiation on the terms of the UK withdrawal from the EU, our projections for 2019 are based on a purely technical assumption of status quo in terms of trading relations between the EU27 and the UK." 
In Europe, however, the picture is much brighter. Earnings from companies listed on the Stoxx 600, the region's broadest benchmark, are likely to rise 3.5% from the same period last year, according to data from Thomson Reuters I/B/E/S, while revenues will advance by a collective 3.6%.
Interestingly, while financial sector earnings will have the weakest sector growth rate (-6.9%) compared to the third quarter of 2016, the full-year figure is expected to rise 28.7% to around €138.8 billion as the comparable impact of negative interest rates and flat government bond curves rolls off the sector's bottom line. 
Against that stablizing corporate backdrop, Europe's economy is one of the standout turnarounds of 2017 -- with its own Twitter hashtag, #Euroboom - with an annual GDP growth rate of 2.5% in the third quarter that's the fastest pace in six years, according to recent PMI data from IHS Markit. The region's jobless rate is also moving in the right direction, falling to a near 9-year low of 9.1% last month.