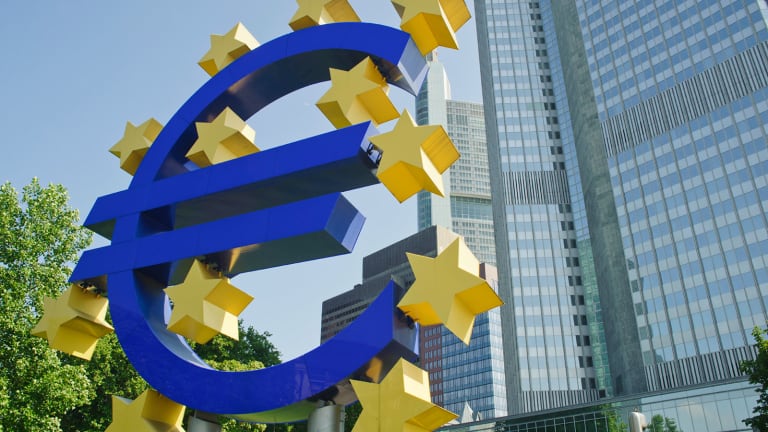 Here's What the European Central Bank Just Did to Protect London's Financial Markets Dominance
The shot has been fired.
The European Central Bank has fired what could be the most significant salvo in the battle for London's financial market dominance Friday, one year on from Britain's vote to leave the European Union.
In a letter to the European Commission, the ECB has asked for "a clear legal competence in the area of central clearing" that could see the central bank ultimately demand that clearing of euro-denominated transactions take place inside the Eurozone. At present, around 90% of those trades -- worth around $900 billion each day -- are cleared via banks and institutions in London and E&Y estimates that as many as 83,000 jobs could be lost if the industry leaves for the United Kingdom.
"These powers include a significantly enhanced role for central banks of issue in the supervisory system of central counterparties (CCPs), in particular with regard to the recognition and supervision of systemically important third-country CCPs clearing significant amounts of euro-denominated transactions," the ECB said in a statement posted on its website.
"Under the proposed amendments to the (European Market Infrastructure Regulation framework), the Eurosystem will be able to continue to fulfil its role as the central bank issuing the single currency," the ECB said. "The amendments will allow the Eurosystem to monitor and address risks associated with central clearing activities that could affect the conduct of monetary policy, the operation of payment systems and the stability of the euro."
The request will likely resurrect a major spat between the ECB and the City of London, which won support by the European Court of Justice in 2015 after the central bank asked to have it relocated to the Eurozone as part of its new, broader mandate for currency area financial stability. 
Earlier this week, the Commission set out plans to give EU regulators the power to oversee non-European clearing houses, such as the LCH.Clearnet, a division of the London Stock Exchange Group Plc. (LNSTY) . It also suggested that, under certain conditions, the Commission could demand those firms relocate to the Eurozone in order to receive regulatory approval. 
Bank of England Governor Mark Carney, however, has warned that such a split would "reduce the benefits of central clearing" and increase costs. 
"Fragmentation of such global markets by jurisdiction or currency would reduce the benefits of central clearing," he said in his Mansion House speech earlier this week. "EU27 firms account for only a quarter of global activity in cleared euro interest rate swaps, and about 14% of total interest rate swaps in all currencies cleared by LCH. Any development which prevented EU27 firms from continuing to clear trades in the UK would split liquidity between a less liquid onshore market for EU firms and a more liquid offshore market for everyone else."
Visit here for the latest business headlines.