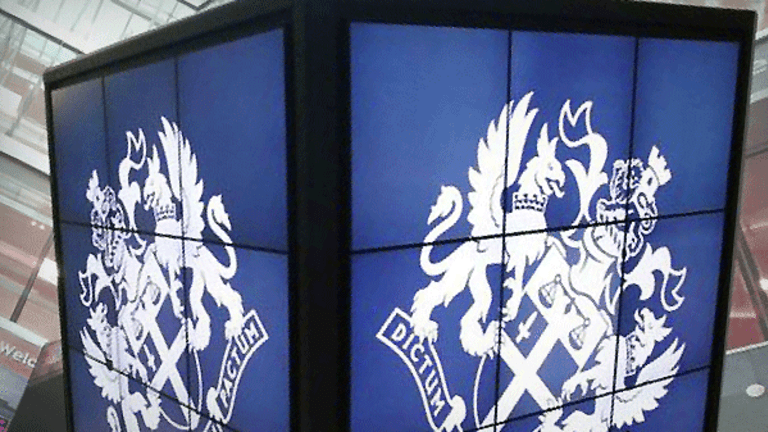 European Benchmarks Mixed as Investors Respond to Earnings
Stocks in Frankfurt and London rose on Tuesday, while other major benchmarks closed in the red.
Stocks in Frankfurt and London rose on Tuesday, while other major benchmarks closed in the red.
European benchmarks were mixed on Tuesday as investors reacted to a fresh volley of corporate earnings figures.
Price action for the session saw London's mid-market FTSE 250 index come within a hair's breadth of a record high, when it reached an intraday high of 18,585 -- just 20 points shy of its previous record, set back in September.
The FTSE 250 eventually closed 1% higher at 18,560, while its blue chip sibling came to a rest at 7,186, up 0.20% for the day. The DAX in Frankfurt was 0.34% higher at 11,549. However, the CAC 40 slumped by 0.49% to 4,745 in Paris as losses in the banking sector weighed on the index. The FTSE MIB in Italy was down 0.17% to 18,662, and the IBEX in Spain fell 0.33% to 9,326.
Topping the FTSE 100 was DCC, the business support services firm, which delivered a solid third-quarter trading update and announced the acquisition of Esso Retail Norway. Its stock closed 5.6% higher.
On the FTSE 250, Berendsen, the industrial laundry services business, saw its stock gain more than 6% after finding itself the subject of an upgrade by analysts at RBC Capital Markets.
Hochschild Mining (HCHDF) saw its shares jump by nearly 10%, while Ukrainian iron ore pellet producer Ferrexpo (FEEXF) saw its stock rise nearly 7% as materials prices surged.
In Germany, Vonovia (DAIMF) , RWE (RWEOY)  and ThyssenKrupp (TYEKF) were all big risers, up between 1.7% and 2.6%.
In France, BNP Paribas (BNPQY) shares dropped more than 4% after the lender missed expectations for fourth-quarter earnings and disappointed investors with a full-year dividend that was below consensus.
In Italy, Fiat Chrysler (FCAU) - Get Report stock was among the top fallers on the MIB index as investors continued to recoil at the prospect of further investigations into engine management software contained in some of its vehicles. French prosecutors are reported to be the latest to have taken an interest in the auto firm.
In Spain, Santander (SAN) - Get Report and Caixabank (CIXPF) were among the top fallers, amid a generally weak session for the European banking sector.