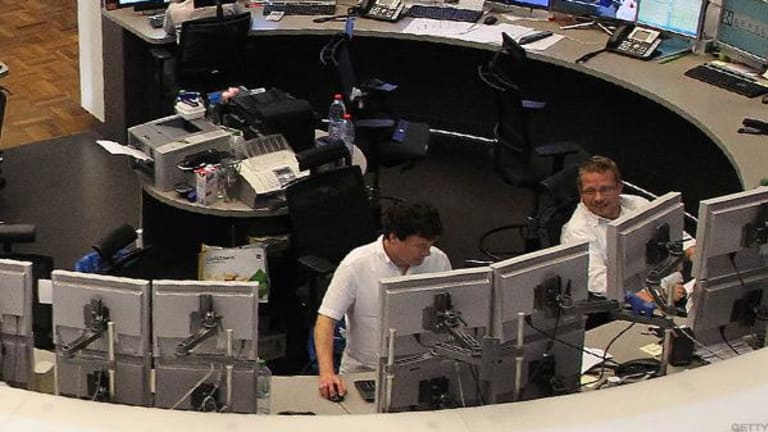 European Benchmarks Mixed After an Anxious Session for Investors
European stocks whipsawed as investors reacted to a White House resignation, poor eurozone data and Yellen putting tightening on the table with lawmakers
European stocks whipsawed as investors reacted to a White House resignation, poor eurozone data and Yellen putting tightening on the table with lawmakers
European benchmarks were mixed on Tuesday as investors reacted to a cocktail of poor economic data on the continent and a high-level resignation from President Donald Trump's cabinet that prompted concerns over the stability of the new administration in Washington.
The resignation of Michael Flynn from the post of national security adviser during the Asia session set European markets up to fail from minute one on Tuesday.
However, investor unease was made worse from the get-go when fourth-quarter GDP numbers for both Germany and the eurozone came in below expectations. The German economy expanded at a rate of 0.4% during the dying days of 2016, against expectations for more brisk 0.5% expansion. Likewise, with the eurozone economy as a whole, the actual print of 0.4% was below the consensus expectation for growth of 0.5%.
Added to that recipe for unease, Federal Reserve Chair Janet Yellen later told lawmakers that it would be unwise if central bankers keep policy loose for much longer.
The euro fell by around 60 points against the dollar over the course of the session to change hands around 1.0570 shortly before stock markets closed on the continent, marking a monthlong low for the common currency.
Sterling also tanked against the greenback, dropping a similar 70 points to 1.2465, after inflation data showed price pressures building at a slower pace than the market had forecast for January, prompting investors to rethink the idea that the Bank of England might soon think about reversing course on its interest rate policy to head off rising inflation.
After enjoying a mid-morning boost, thanks to a weaker pound, the FTSE 100 fell by 0.14% in London to settle at 7,268. The DAX in Germany fell by -0.02% to close at 11,771, although the CAC 40 in France rose by 0.16% to settle at 4,895.
However, in southern Europe, the FTSE MIB in Italy and the IBEX in Spain both enjoyed a boost after a rebound in the banking and automotive sectors helped to lift markets. 
The MIB settled 0.58% higher at 196,175 in Milan, while the IBEX was up by 0.22% to 9,505 by the close.
In London, the biggest fallers were engineering firm Rolls-Royce (RYCEY) , consumer healthcare outfit Reckitt Benckiser (RBGLY) and construction materials merchant CRH (CRH) - Get Report .
Rolls-Royce reported its largest-ever annual loss after fines over corrupt practices, restructuring charges and the revaluation of FX hedges bit deeply into its bottom line, prompting the shares to fall by nearly 4% for the session.
In France, consumer-facing firms Pernod Ricard (PDRDY)  and Danone (DANOY) were the top fallers, followed closely by construction firm Vinci (VCISF) and steel behemoth ArcelorMittal (MT) - Get Report . Top gainers included Peugeot (PEUGF) and Renault (RNSDF)  , who were both boosted by news that GM (GM) - Get Report is in talks to sell Vauxhall and Opel brands to French firm Peugeot.
In Germany, steel producer ThyssenKrupp (TYEKF) and Merck KGAA (MKGAY) were among the top fallers fallers, down 0.9% and 0.7% respectively.
In Italy, Fiat Chrysler (FCAU) - Get Report , Mediobanca (MDIBF) and UBI Banca topped the FTSE MIB, all with gains of more than 3%.
Fiat Chrysler was the beneficiary of merger speculation following news that GM is in talks to sell Vauxhall and Opel brands to French firm Peugeot.