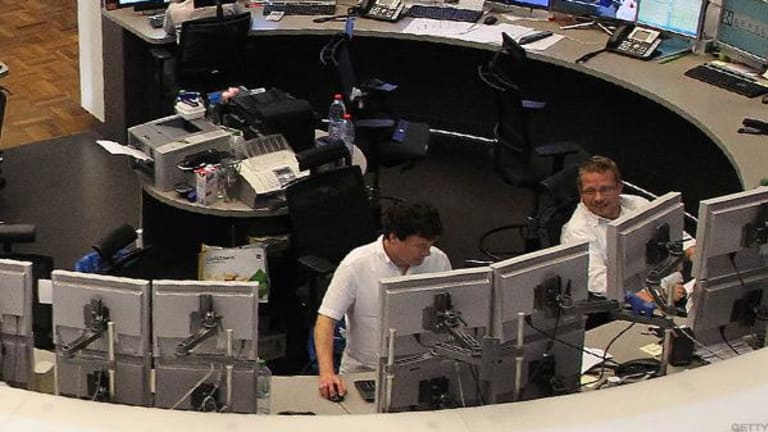 European Benchmarks Fall Ahead of Easter Weekend
French and German stocks posted a weekly loss Thursday as the Gallic election approaches while London eked out a minor gain
European benchmarks fell Thursday, ahead of the Easter weekend, aided by a continued pullback in the banking sector.
A surge by anti-EU election candidate Jean-Luc Melenchon in the French opinion polls has received an increasing amount of media attention during recent days, just two weeks out from the beginning of the French vote, becoming a key focus point for investors.
The increase in uncertainty over the French election, which now counts two anti-EU candidates among the leading contenders for the presidential post, helped to push French and German stocks down by around 1% for the week and extended a recent run of losses for the banking sector.
In London, ex-dividends also weighed on the blue chip FTSE 100 index Thursday, helping to push it down by 0.29% to 7,327. It gained 0.35% for the week.
Leading the European decline was the CAC 40 index in Paris, with a 0.59% loss, which closed at 5,070. This is while the DAX in Frankfurt was down 0.38%, at 12,109, by the close.
Over in southern Europe, bourses were also weaker, with the IBEX down nearly 0.50% in Madrid and the FTSE MIB dropping around 1% in Milan.
As far as individual stocks go, home improvement retailer Travis Perkins (TVPKF) , investment firm Standard Life (SLFPF) and real estate firm Savills (SVLPF) were among the top fallers in London, with losses ranging between 0.60% and 2.7%. All were ex-dividend on Thursday.
Royal Mail (ROYMF) stock topped the FTSE 100 in London briefly Thursday morning after the postal service said it will close a legacy pension scheme that has been threatening its bottom line.
Deutsche Lufthansa (DLAKY) , Deutsche Boerse (DBOEY) and Commerzbank (CRZBY) were the predominant weights on the DAX in Frankfurt, with losses of between 1.2% and 2.9% each.
In Paris, predictably, Societe Generale (SCGLY) , Credit Agricole (CRARY)  and AXA (AXAHY) were all among the top fallers on the CAC, each with a loss of more than 2%.