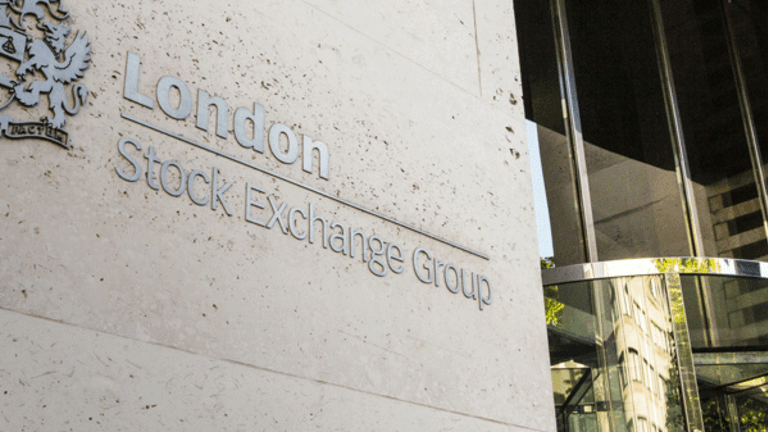 European Benchmarks Close Higher As Banks, Airlines, Autos Gain
A bold restructuring from UniCredit in Italy lit a fire under the banking sector.
A bold restructuring from UniCredit in Italy lit a fire under the banking sector.
Commodity stocks checked gains on Tuesday but European benchmarks still rose, with banking, airline and auto stocks all out in front.
The strongest performing index was London's FTSE 100, which closed more than 1.1% higher, at 6,977.4. France's CAC 40 index came in closely behind with a 1% gain, settling around the 4,807 level, while the DAX was just under 1% higher at 11,295.2. The Stoxx Europe 600 index closed 1.1% higher at 357.7.
European currencies were broadly flat against the U.S. dollar on Tuesday, with the pound trading at 1.2680 by the time that stock markets closed, while the euro was quoted at 1.0639.
The bond market saw 10-year yields fall across Europe on Tuesday, with U.K. gilts down by around one basis point to 1.29%, French Tresors off by around 4 basis points to 0.79% and German yields down by nearly 5 basis points to 0.35%.
The banking sector was one of the most heavily trending topics for the session, after Italian lender UniCredit (UNCFF) announced a mammoth restructuring including a rights issues, impairment charge, job cuts and a bad loan sale.
Despite announcing a rights issue that is equivalent to almost one times its market cap, UniCredit saw its stock close more than 15% higher on Tuesday as investors reqarded the prospect of increased certainty over its balance sheet and future profitability.
The price action came on a day when North American markets opened with a bang, pushing to new highs, while European Central Bank policy maker Klaus Mazuch sought to assuage concerns over the European punch bowl being taken away by saying that a small cut to the scale of asset purchases does not mean that the ECB will be pursuing an all out tapering.
In individual stocks, London saw Rolls-Royce (RYCEY) stock rose by more than 4.1% and ITV (ITVPF) stock gain around 3.7% on speculation that it, too, could become the subject of a bid from overseas acquirers.
IAG (ICAGY) , the owner of British Airways, also rose strongly for the session, up by more than 3% on what was a generally solid day for airlines. The industry benefited on Tuesday after oil prices began to pare some of Monday's gains.
In France, gainers included Airbus (EADSY) - Get Report and Unibail-Rodamco (UNBLF) , which were up by 3.9% and 2.4%, respectively. Airbus gained after it emerged that a deal to supply more than 100 planes to Iran is close to being finalized, while real estate investment firm Unibail saw its stock rise in line with the drift lower of bond yields for the session.
In Germany pharma Merck (MKGAY) , real estate stock Vonovia (DAIMF) and auto firm Volkswagen (VLKAY) were all among the top gainers, rising by between 1.6% and 1.9% for the session.