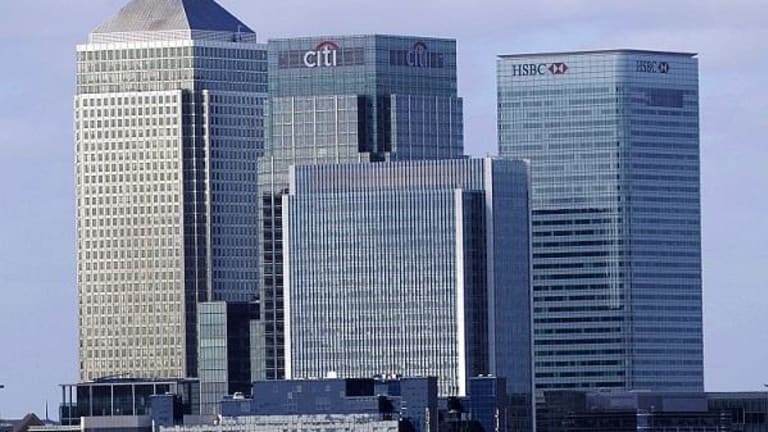 European Banks Stocks Rebound as Investors Put Risk Bank Into Play
Euro currency gains could slow ECB tightening speculation
Euro currency gains could slow ECB tightening speculation
European bank stocks booked solid early gains Monday as regional markets rebounded and the single currency rose against the U.S. dollar amid solid growth prospects and renewed speculation of near-term European Central Bank tightening.
The region wide Stoxx Europe 600 Banks index, the broadest measure of financial sector shares, was marked 2.8% higher in the opening hour of trading while Deutsche Bank AG (DB) - Get Report shares were marked 3.25% higher at €14.67 each. Its domestic rival, Commerbank AG (CRZBY) , gained 3.4% to change hands at €11.10 each. BNP Paribas SA (BNPQY) , France's biggest lender, was seen 1.7% higher at €66.60 while Banco Santander SA (SAN) - Get Report , the biggest bank in Spain, saw its London-listed shares rise 2.7% to 508 pence each.
The euro edged past 1.1820 against the U.S dollar and benchmark 10-year German government bonds yields, which move inversely to prices, rose 2 basis points to 0.41% as investors moved cash back into riskier areas of the global financial markets.
The rebound in bank shares, however, comes amid what is likely to be a one-week lull in headline news from the ECB as members of the rate-setting Governing Council, including President Mario Draghi, retreat for their traditional August holidays.
Draghi will return to his public speaking engagements on Wednesday Aug. 23 at an economic even in Germany after which he will travel to the Kansas City Federal Reserve's annual economic symposium in Jackson Hole, Wyoming, where he is expected to signal the Bank's intentions with respect to winding down the pace of its €60 billion a month in government and agency bond purchases.
Eurozone inflation stabilised in July, according to a preliminary estimate from Eurostat on July 31, but a modest increase in core consumer prices could signal a slow turnaround in the region's inflation outlook.
Harmonised consumer prices accelerated at a 1.3% annual pace in July, Eurostat said in its 'flash' estimate, a figure that was largely in-line with economists' forecasts and unchanged from final reading in June. So-called core inflation, however, which strips out volatile prices for food, energy, alcohol and tobacco products, accelerated to 1.3% from 1.2% in the previous month, Eurostat tables indicated.
However, the euro's 12% rise against the U.S. dollar so far this year, including a 4% surge over the past six weeks, as well as flat-lining global oil prices, are likely to have a powerful downward impact on Eurozone inflation as consumer pay less for food and energy products thanks in part to the currency's renewed strength.
Frederik Ducrozet of Pictet Wealth Management notes that, as per Draghi's previous remarks, a stronger currency could clip between 30 basis points and 40 basis points from currency area inflation rates over the next two years. The ECB's current projections estimate inflation accelerating at a 1.5% pace in the fourth quarter of 2018 and 1.7% in the final three months of 2019, both of which would fall shy of its "just below 2%" definition of price stability.
However, Ducrozet stressed in a recent client note that currency gains "may complicate the ECB's exit" from its extraordinary monetary stimulus  "but should not derail it" given "the currency is appreciating for good reasons".
The Eurozone grew at its fastest annual pace in six years in the last quarter, according to preliminary date from the region's official statistics office published on Aug. 1, with the economies of the 19 countries using the single currency expanding at an annual rate of 2.1%.
Quarter-on-quarter growth was estimated at 0.6%, the statistics agency said, a figure that was largely in-line with economists' forecasts. First quarter growth, however, was revised modestly lower to 0.5% from an original estimate of 0.6%.
More of What's Trending on TheStreet:
From Trump to Google's James Damore, Here Are Big Name Guys Acting Badly at Work
Here's Why Amazon Hasn't Crushed Makeup Retailers Yet