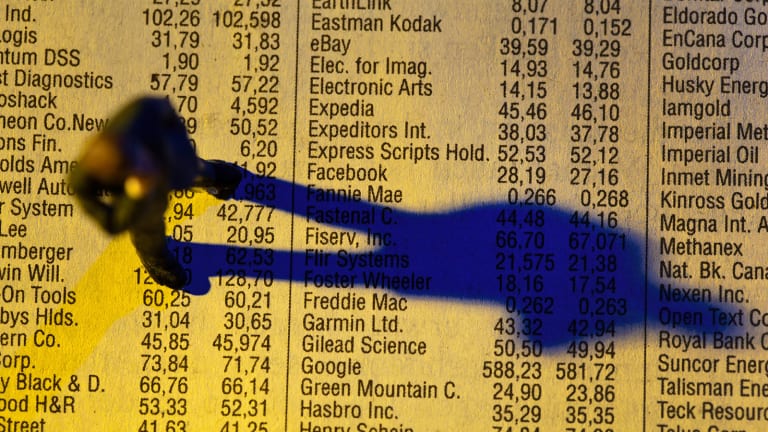 European Bank Stocks Dominate Trading After DoJ Actions on Mortgage Bonds
European stocks edged higher, boosted by a string of actions in the region's banking sector linked to the sale of U.S. mortgage bonds.
European stocks edged higher Friday in a surprisingly relevant session highlighted by a string of significant events in the region's banking sector in the final hours of the year.
The Stoxx 600 Europe Banks Index, the region's broadest measure, fell 0.10% by 11:20 GMT after news of two major settlements between European lenders and the U.S. Department of Justice to trade at 172.22.
Deutsche Bank AG (DB) - Get Free Report said Friday it will pay a $7.2 billion settlement with the DoJ to settle civil claims in connection with the bank's mortgage bond activities in the run up to the global financial crisis, while Credit Suisse (CS) - Get Free Report said Friday that it has agreed a $5.3 billion deal to put the events behind them.
Barclays PLC (BCS) - Get Free Report  , however, said Friday it would fight a complaint the DoJ filed against the British bank which alleges it engaged in fraudulent schemes to sell residential mortgage-backed securities (RMBS) that authorities said were backed by "defective and misrepresented loans". The DoJ said the scheme involved 36 deals backed by $31 billion in sub-prime and so-called 'Alt-A' mortgage loans.
Deutsche Bank shares gained 1.5% in Frankfurt trading, rising to €18.03 each and extending their three-month gain to 42%. Credit Suisse, however, dipped 1.1% in Zurich to Sfr15.15.
Barclays shares fell 1.07% to 224 pence each, but are still more than 30% to the good over the past three months.
Shares in Monte dei Paschi di Siena (BMDPY)  were suspended from trading in Milan after the world's oldest bank bowed to the inevitable and requested a government bail out after the markets turned their backs on its efforts to raise €5 billion ($5.22 billion) needed to bolster a balance sheet depleted by bad loans.
Italy's No.3 lender made the announcement minutes after Italy's cabinet approved the emergency creation of a €20 billion fund to help distressed lenders, raising the prospect that the bank will be nationalized.
Looking at the broader European markets, Britain's FTSE 100 added 14 points by 12:05 GMT to trade at 7,066 points, while Germany's DAX index gained 3.2 points, or 0.02%, albeit in thin trading volumes. France's CAC-40 gained 0.12% and Italy's FTSE-MIB 0.98%.
U.K. stocks will cease trading at 12:30 GMT.
Stocks fell modestly overnight in Asia, although with the holiday season thinning volumes and the Nikkei 225 in Japan closed for the celebration the Emperor's birthday, it was difficult to find a common theme around the region.  The MSCI Asia ex-Japan Index fell 0.4% to a five-month low, led by a 0.7% decline for China's Shanghai Composite Index. 
The Dow Jones Industrial Average couldn't catch a break on Thursday as it moved further from the elusive 20,000 milestone.
The Dow was down 0.12%, roughly 80 points from 20,000. The S&P 500 fell 0.19%, and the Nasdaq slid 0.44%. Stocks meandered in the red on Thursday in quieter trading ahead of the Christmas break.
U.S. futures prices are pointing to a modest rebound at present, with the Dow expected to open 6 points higher at the bell, with a 2 point gain for the S&P 500 and a 1 point dip for the Nasdaq.