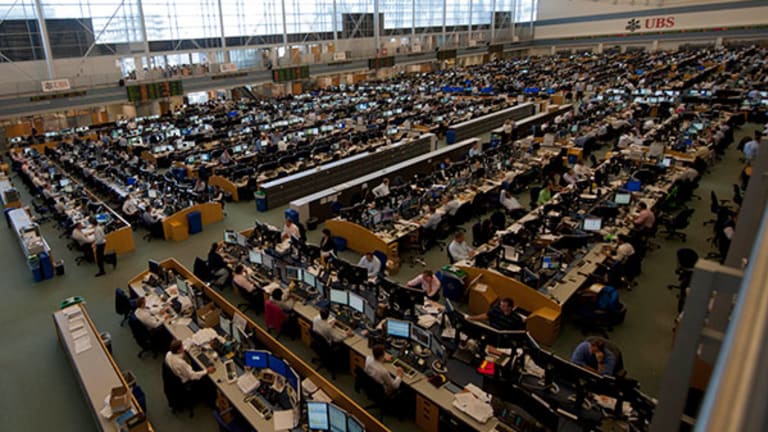 Publish date:
European Bank Earnings Get Bond Trading Boost After U.S. Sector Rebound
European bank earnings are getting solid support from fixed income and currency trading revenue, echoing a similar rebound in U.S. markets.
European bank earnings are getting solid support from fixed income and currency trading revenue, echoing a similar rebound in U.S. markets.
Europe's biggest banks are staring to reap the rewards of a bond-trading rebound that has boosted earnings on both sides of the Atlantic in the past quarter and helped offset the impact of negative interest rates and tepid loan growth.
Deutsche Bank (DB) - Get Report said Thursday that it had scraped together a small E278 million ($303 million) profit in its third quarter, helped in no small part by a 14% increase in revenues from its Fixed Income, Currencies and Commodities business. That division, known in the banking industry as FICC, was once the world's third largest, but capital requirements, litigation concerns and record low interest rates have kept a lid on its ability to support the bottom line at the troubled German lender.
That appears to be changing, however, as central banks around the world begin to diverge from their ultra-loose policy paths and global currency markets re-calibrate assumptions for growth, inflation and changes in the geo-political landscape in the wake of Britain's decision to leave the European Union.
And while the overall contribution to Deutsche Bank's earnings was small, the changing dynamics appear to have created a "sweet spot" for fixed income and currency trading at other banks, with rising yields igniting long-dormant trading volatility while still being supported by central bank buying - particularly in Europe and the U.K.
Barclays (BCS) - Get Report , the U.K.-based lender, said Thursday that it had posted a better-than-expected third-quarter net profit of £1.7 billion ($2.07 billion) which, like its Frankfurt counterpart, was boosted by a 40% jump in FICC revenue. Barclays situation, however, is unique to European banks in that it earns a large portion of its bond and currency trading revenues in U.S. dollars, which have risen in value in the wake of the pound's 20% post Brexit vote collapse.
U.S. banks, as well, have capitalised on the new market dynamic, with Morgan Stanley (MS) - Get Report , Goldman Sachs (GS) - Get Report , Bank of America (BA) - Get Report and JPMorgan (JPM) - Get Report all reporting significant increases in FICC revenues that have lifted sector earnings and subsequently set a bullish tone to the quarterly earnings season.
The healthy bond market contributions have been a welcome reversal of an ongoing banking sector trend - which advocates say is hamstrung by regulation, capital requirements and rock-bottom interest rates - since the 2008 global financial crisis.
But can it continue?
There certainly seems to be a collection of factors that suggest it can: The U.S. Federal Reserve is very likely to resume its path of interest rate hikes in December in what is expected to be a long, slow march towards what it calls "policy normalisation."
As markets bet on the pace and scope of that path, bond prices (which move inversely to yields) will trade ever more actively, allowing market-makers such as JPMorgan with powerful operating leverage to scoop incremental profits without a great deal of cost-base changes or added risk.
In Europe, Mario Draghi and his European Central Bank colleagues aren't likely to abandon their E1.5 trillion quantitative easing program any time soon, but slowing improving inflation and modestly better growth prospects should elongate the "sweet spot" of good volatility amid slowly rising rates and healthy new supply as Euro zone governments take advantage of historically cheap borrowing costs.
In the U.K., Britain's chaotic Brexit negotiations have done little to quell currency market volatility and U.K. government bond yields surged to a post-vote high of 1.23% Thursday after official initial estimates showed the economy grew by a better-than-expected 0.5% in the three months ending in September. 
European banks might also get a further break some new capital rules, which could be phased-in as opposed to summarily implemented in 2019, that should allow for easier FICC expansion.
Sprinkle-in the latest surge in global M&A activity this past month - more than $200 billion in deals have been announced in the past week alone - and the case for robust bank earnings, in the near term at least, becomes even more compelling.