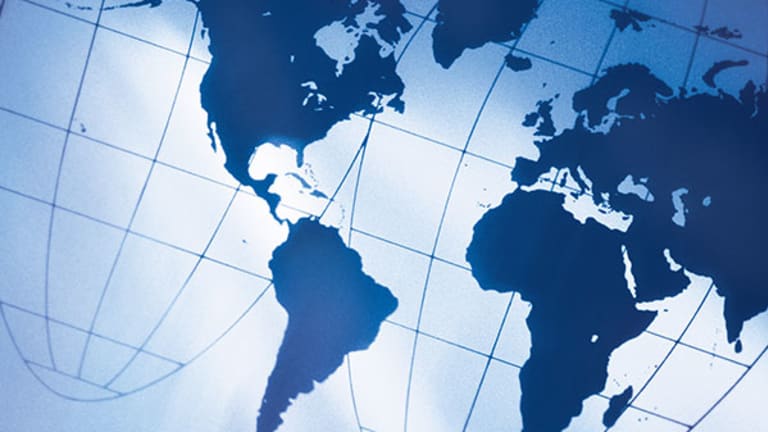 European, Asian Stocks Fall on China Concerns, Fed Rate Hike Worries
Markets are falling in Asia and Europe Thursday after Wednesday's short-lived bounce.
LONDON (TheDeal) -- Markets were falling all over Asia and Europe this morning after Wednesday's short-lived bounce. Concerns over the state of the Chinese economy and uncertainty over the timing of any U.S. interest rate rise continued to depress the mood.
In London, the FTSE 100 was off 0.4% at 6,203.82, while in Paris the CAC 40 was down 0.27% at 4,651. In Frankfurt, the DAX was down 0.09% at 10.294.29.
Britain's No. 4 retailer Wm. Morrison Supermarkets (MRWSY)  followed Wednesday's market-pleasing decision to sell 140 money-losing local convenience stores to Greybull Capital LLP with a misery-laden half-year results announcement this morning. Morrison reported underlying profit before tax down 35% at £117 million ($180 million), after restructuring costs. It said it would be closing 11 money-losing supermarkets, and would continue investing in cutting prices which would lead to further food price deflation. By mid-morning, Morrison was off 3.5% at 169.70 pence.
Online retailer Asos (ASOMY)  fell sharply on reports of a large share sale by an institutional investor. Asos was down nearly 5% at 2,640 pence.
Home Retail Group (HMRTY) , which includes both the home-improvements business Homebase and the catalog-retailer Argos, was down 4.78% at 141.60 as its results showed the continued struggle to reshape the business in the face of changing consumer habits.
But it was not all gloom and doom in the retail sector. Electronics and household electricals retailer Dixons Carphone (DSITF)  announced group like-for-like sales up 8% and like-for-like sales in the main U.K. and Ireland markets up 10% on HI last year. Dixons Carphone was up 1.88% and 427.80 pence.
Fashion retailer Next was up 1.82% at 7,815 pence, after announcing group sales up 2.7% and profit before tax up 7.1%. However, it said much of the increase in its retail operation was due to the opening of new store space, and said staff costs were up only slightly, despite higher wages, because of increased productivity.
Across the water in Germany, power company E.ON was the biggest faller on the DAX, down 4.04% at €9.2. E.ON said it was cancelling plans to spin off its nuclear power plants, blaming a proposed German law saying generators would remain liable for the costs of decommissioning and dismantling reactors even if they no longer owned them.
In Asia, Tokyo's Nikkei 225 tumbled 2.51% to close at 18,299.62, and in Hong Kong the Hang Seng was down 2.57% at 21,562.5. In China, the Shanghai Composite closed down 1.39% at 3,197.89 and the Shenzhen Composite dipped 1.58% to end the day at 1,770.375.