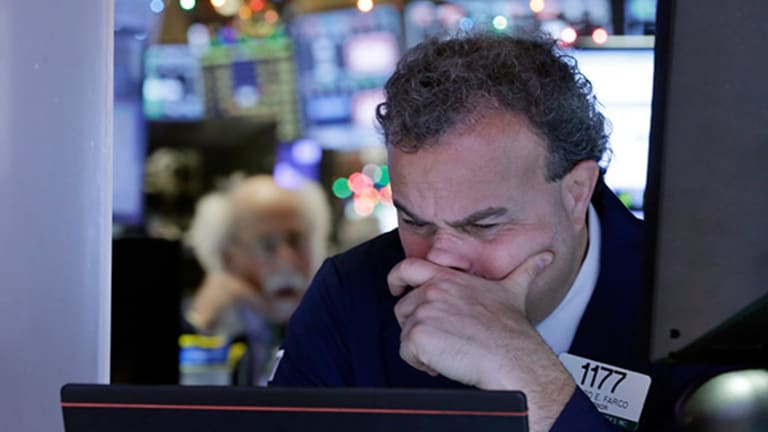 European, Asian Stocks Fall on Brexit, China Concern
Builders including Berkeley Group lead the descent in London, while in Frankfurt Volkswagen edges lower on disappointing sales in Europe and the Americas.
Builders including Berkeley Group lead the descent in London, while in Frankfurt Volkswagen edges lower on disappointing sales in Europe and the Americas.
European and Asian markets fell on Friday, following both gloomy remarks from world financial leaders at International Monetary Fund and World Bank meetings in New York about the risks to the global economy of the U.K. leaving the European Union and the slowdown in China.
China only partly relieved the gloom by publishing first-quarter statistics showing growth of 6.7%. That was in line with expectations, but slower than the 6.8% recorded in the previous quarter. Nonetheless, some economists have suggested the country's economic slowdown may be bottoming out.
Meanwhile, a London School of Economics research center published a study suggesting that flows of foreign direct investment in the U.K. could fall by more than 25% if the country leaves the EU.
In London, the construction sector led the market down, with home builders Berkeley Group Holdings (BKGFY) and Barratt Developments the biggest fallers, closely followed by building supplies merchant Travis Perkins (TPRKY) . U.K. construction data showed the sector slowing, with both public sector investment hit by government cuts and, some economists suggested, a reluctance to invest ahead of the referendum on U.K. membership of the EU in June.
In London, the FTSE 100 was down 0.07% after recovering some of the morning's earlier dip at 6,360.36, while in Frankfurt the Dax was down 0.37% at 10,056.48 and in Paris the Cac 40 was down 0.26% at 4,499.81.
In the futures market, the S&P 500 was down 0.16%.
In Germany, carmaker Volkswagen (VLKAY) was down almost 1% at €126.55 a share. The company said that while its sales in China remained resilient, increasing 6.5% compared with a year earlier, falls in Europe, the U.S. and South America brought the total down. Overall, VW's passenger automobile sales in the first quarter were down 1.3% in the first quarter at 1.46 million vehicles. The decline followed last year's  emissions scandal.
French supermarket group Carrefour, the world No. 2. by sales after Walmart, rose sharply in Paris on news of strong emerging market sales, including Brazil and Argentina, as well as improved sales in Southern Europe. The shares surged even though performance in Carrefour's home market was flat and its performance in China continued to deteriorate, though more slowly than last year. Globally, the company's same-store sales reached rose 3.1% to €20.1 billion ($22.6 billion) in the three months to March, slightly better than analysts' expectations. Carrefour's shares hit a high of €26.39, up 4.9% on Thursday's close, and continued its strong performance for most of the morning.
Also in France, plane maker Airbus fell back after remarks by the head of Russia's Aeroflot PJSC airline that he will likely be buying fewer jets than previously planned, after taking over a fleet of planes and new orders placed by Aeroflot's failed rival Transaero Airlines. The orders had been placed with both Franco-German Airbus and its U.S rival Boeing (BA) - Get Report . At its low point of the morning, Airbus was down over 2% at €56.22, but as the morning wore on, the shares recovered a little altitude and were hovering around the previous day's closing price of €56.87.
In Brussels, brewing giant Anheuser-Busch InBev (BUD) - Get Report  was foaming following an agreement with the South African authorities on jobs and funding which the company hopes will allow it to get regulatory approval for its acquisition of South Africa-based brewer SABMillier. AB InBev bubbled up to a morning high of €113.,75 a share and was still up 2.3% at €112.7 by the end of the morning.
U.K. budget gym company Pure Gym reported an 82% jump in revenue to £125 million ($177.4 million) in 2015. The result fuels talk of an IPO this summer.
In Tokyo, the Nikkei 225 finished the day down 0.37% at 16,848.03 while the Topix index saw off 0.73% at 1,361.40. In Hong Kong the Hang Seng slipped 0.10% to 21,316.47 while in mainland China, the combined Shanghai and Shgenzhen CSI 300 finished own 0.11% at 3,272.21.