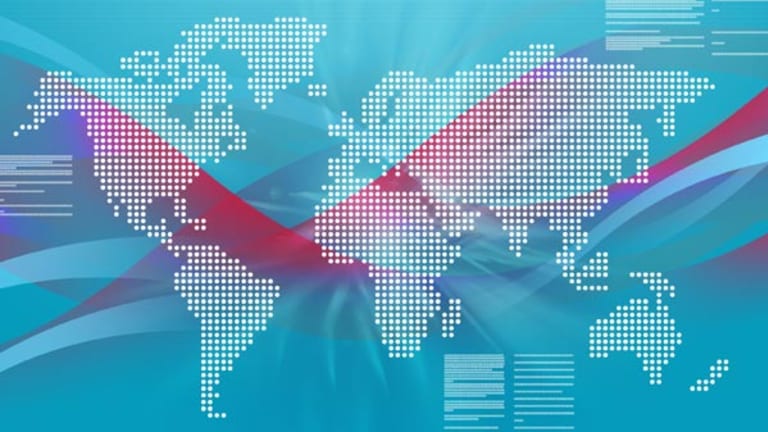 European, Asian Stocks Awash in Red Ink After Wall Street Plunge
Asian and European markets are splashed with red ink Friday morning following Thursday's reversals on Wall Street.
LONDON (The Deal) -- Asian and European markets were splashed with red ink Friday morning following Thursday's reversals on Wall Street. Germany's poor performance, and the possibility that the country may now be now in recession, bodes poorly for the rest of the eurozone. France showed a little bit of resilience, with revised industrial and manufacturing figures for August coming out less worse than expected. But that's nothing you could actually see as real economic strength.
Italy's industrial production was up 0.3% in August, falling short of economists' predictions.
In the U.K., which is outside the eurozone but sends half its exports to eurozone countries, the trade deficit diminished. But that was mainly because of a drop in imports from outside Europe. There was no rise in the export of goods.
Watch the video below for a closer look at how European and Asian markets are doing in midday trading Friday:
European Central Bank Gov. Mario Draghi said at the Brookings Institution in Washington on Thursday that the ECB was ready to take unconventional measures to combat deflation in the eurozone and called on governments to play their part by implementing structural reforms. But it's not so clear that either the governments or the markets are listening.
In London, the FTSE 100, which slipped to a one-year low on Thursday, was down a further 1.46% Friday at 6,338, while in Paris the CAC 40 was down 1.42% at 4,083. Frankfurt's DAX was down 2.3% at 8,798.
On the main London index, the biggest fallers were tour operator TUI Travel (TTVLF) , which was down 6.22% at 334.7 pence on possible fears of disruption by Ebola, and Tullow Oil (TUWOY) , which fell 4.29% after announcing that it had encountered a non-commercial deposit in a test well off Gabon and was moving on. FTSE 250 miner Vedanta Resources also fell nearly 8% after revealing production drops in most of its key minerals, and evacuating most of its executives from Liberia because of the Ebola outbreak there.
In Milan, Italy, life insurer Mediolanum was down 4.4% after the Bank of Italy told Fininvest, the holding company of former prime minister Silvio Berlusconi, it must sell most of its 30% stake in the company within 30 months.
In Japan, the Nikkei 225 closed down 1.15% at 15,300.55, while in Hong Kong, the Hang Seng fell 1.9% to 23,088.54
Must Read: