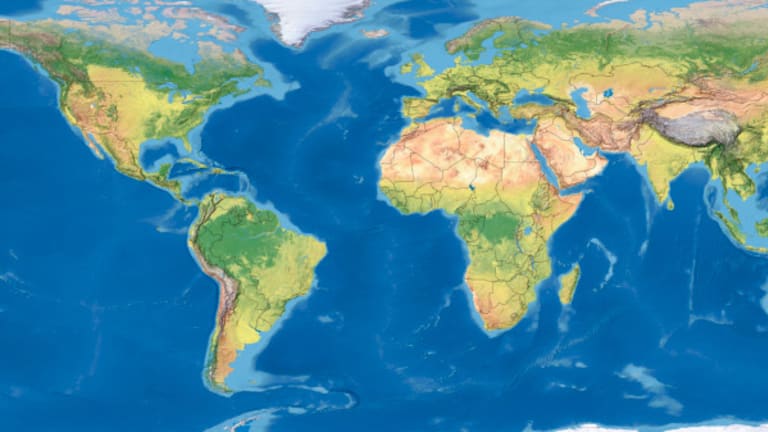 European, Asian Markets Whomped
Global bourses go red on recession fears and technical selling.
Updated from 7:50 a.m EST
Stock markets around the world convulsed Monday on concerns the U.S. economy is headed for a recession that could spread overseas.
U.S. markets were closed Monday in observance of Martin Luther King Day, but bourses elsewhere saw sharp declines. London's FTSE-100 lost 5.5%, closing at 5,578.20. It was the British benchmark's worst one-day decline since Sept. 11, 2001. Elsewhere, Germany's DAX 30 slumped 7.2%, and France's CAC-40 index plummeted 6.8%.
European markets took their cues from Asian exchanges, which earlier had hemorrhaged into the red.
India's main index lost 7.4% Monday, after seeing an intraday decline of as much as 10%. It ended the session down 1408.
Heavy selling throughout Asia was triggered by indices in China and Hong Kong tumbling through key technical support levels. Fears abounded that the $145 economic stimulus plan backed by the Bush administration won't be enough to stave off a recession.
In China, the Shanghai Composite Index dived 266 points, or 5.1%, to 4914, while the Hang Seng plummeted 1383 points, or 5.5%, to 23,818, falling through the key 24,200 level and ending only 400 points away from the 23,400 benchmark that many agree puts the index officially in a bear market.
In Japan, the Nikkei slid 535 points, or 3.9%, to 13,325 points. The yen rose to 106.08 vs. the dollar, its strongest level in four months, after investors unwound carry trade positions.
"It's a mixture of reasons, I won't say this is only a short-term correction," says Jayesh Shroff, who manages $6 billion for SBI Mutual Fund in Mumbai. However, Shroff also points out that heavy buying and selling cycles have come in short-term ranges over the last year in India, so he says the market may languish now for some time, rather than sell off further.
Financials were sharply lower, as
ICICI Bank
(IBN) - Get ICICI Bank Ltd. Report
shed 5.8%, to 1245 rupees, and
HDFC Bank
( HBD) followed, down 4.3%, to 1575 rupees. Tech shares also lost, with
Infosys
(INFY) - Get Infosys Ltd. Report
off 5%, at 1390 rupees, and
Wipro
1.1% lower, at 455 rupees.
The big blue-chips were the worst hit in Hong Kong. Shares of
CNOOC
,
PetroChina
(PTR) - Get PetroChina Co. Ltd. Report
and
China Shenhua Energy
(CUAEF)
experienced deep short-selling and Asian hedge funds unloaded big positions.
CNOOC slipped 6.4%, to HK$11.06, while PetroChina tumbled 8.4%, to HK$11.30 in Hong Kong, and 5.5%, to 27.48 yuan in Shanghai. China Shenhua Energy was 3% lower, at HK$42.
Among financials,
China Life Insurance
(LFC) - Get China Life Insurance Co. Ltd. Report
plunged 9.5%, to HK$32.85, while rival
Ping An
(PIAIF)
dipped 6.3%, to HK$68.05.
Hong Kong Exchanges
(HKXCF)
dropped 5.9%, to HK$173.40.
Telecoms were also some of the big decliners of the day.
China Netcom
(CN) - Get Xtrackers MSCI All China Equity ETF Report
fared worst, shedding 8.8%, to HK$23.45, while
China Telecom
(CHA) - Get China Telecom Corp. Ltd. Report
lost 7.8%, to HK$6.04, and
China Unicom
(CHU) - Get China Unicom (Hong Kong) Ltd. Report
fell 7.2%, to HK$16.52.
China Mobile
(CHL) - Get China Mobile Ltd. Report
, the Hang Seng's biggest single stock weighting, dived 4.3%, to HK$117.70.
Many in Asia are now debating whether the selloff is a longer-term correction, or whether markets are headed for a rebound soon. A report issued by Citigroup in Hong Kong Monday pointed out that the worst of selling activity may not yet have materialized, since total selling to date is $3.4 billion vs. $4.9 billion in the market correction in June 2006, and $4.5 billion in March last year. The report also said that outflows may reach $8 billion before markets rebound.
Market participants also expect the big selloff to impact mainland companies listed in New York Tuesday, known as Chinese "N" shares. Last week, when the Hang Seng shed 6.2%,
Baidu.com
(BIDU) - Get Baidu Inc. Report
lost 20% of its value, to $273, while rival
Sohu.com
(SOHU) - Get Sohu.com Ltd. Report
fell 18%, to $42.05.
"The scenario for a massive selloff to 20,000
for the Hang Seng is building, and a 75-basis point rate cut will count for nothing -- the die is cast," says Andrew Clarke, a trader for SG Securities in Hong Kong.
A U.S. recession would hurt Japanese exporters of electronic goods, because U.S. consumers would likely pull back on purchases of leisure goods. In Japan,
Sony
fell 2.1%, to 5490 yen, while
Canon
shed 1.6%, to 4440 yen, and
Nintendo
(NTDOY)
dived 3.8%, to 52,900 yen. Dealers noted, however, that several large funds have been accumulating shares in Nintendo over the past week, as the stock has consistently flailed.
Big Japanese banks also fell.
Mitsubishi UFJ
(MTU)
lost 6.2%, to 915 yen, and
Sumitomo Mitsui Financial
( SMFJY) eased 1.4%, to 579 yen.
Markets in Taiwan and South Korea were also lower. The Taiex gave back 74 points, or 0.9%, to 8110, while Kospi fell 51 points, or 2.95%, to 1683.
Daniel M. Harrison is a business journalist specialising in European and emerging markets, in particular Asia. He has an MBA from BI, Norway and a blog at
. He lives in New York.