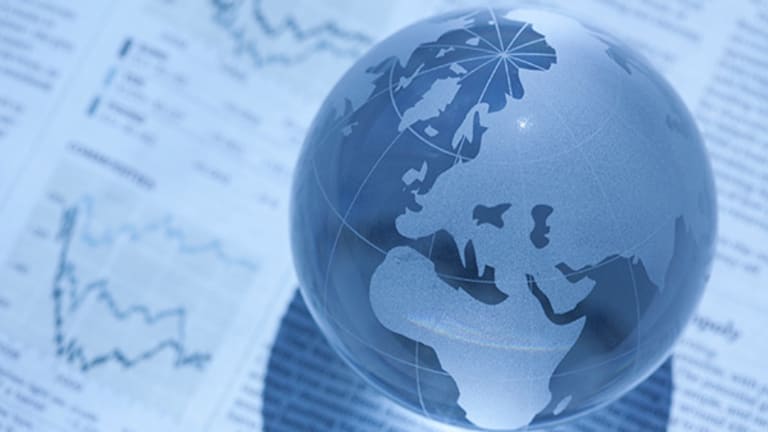 European and Asian Stocks Post Steep Declines
European and Asian equities indices resume steep declines on Thursday after a selloff in the U.S. during the previous session.
LONDON (The Deal) -- European and Asian equities indices resumed steep declines on Thursday after a selloff in the U.S. which pushed the S&P 500 down by 2.5%.
Investors, consumed with anxiety about plunging oil prices and the Chinese economy, looked beyond the plethora of corporate news out in Europe. Terrorist attacks in the Indonesian capital Jakarta added to the nervousness and weighed on the rupiah. Contracts for Brent crude hovered close to $30 a barrel, having briefly dipped under that threshold.
In London, the FTSE 100 was down 1.92% at 5,846.48 by late morning. In Frankfurt, the DAX lost 2.67% to 9,697.47 and the CAC 40 in Paris plunged 2.78% to 4,269.73.
After comments from a European Central Bank governing council member dampened hopes for more eurozone stimuli, the ECB will publish minutes of its December meeting at 7:30 a.m. EST. The minutes will come half an hour after the Bank of England announces its interest rate decision with no change to the 0.5% benchmark seen likely.
In London, Christmas trading winners among the string of retailers to have put out updates included JD Sports Fashion, which lifted its profit forecast as it posted a 10.6% same-store sales increase in the five weeks to Jan. 2, and Tesco (TESO) , which was a lead gainer on the FTSE 100 after reporting 2.1% same-store sales growth in the six weeks to Jan. 9. Tesco was up 4.6% by late morning.
But clothing retailer Asos (ASOMY) , which is online-only, fell following its trading update though it pared losses in the course of the morning to trade down about 2.4%.
Restaurant Group was down close to 14% after saying that same-store sales slowed toward the end of last year and that it was more cautious than it had been previously about the 2016 outlook. It cited the upcoming referendum on Britain's membership of the European Union, "global uncertainty," and the pending introduction of a national "living wage" as risk factors.
Grocery wholesaler Booker Group was down more than 4% after it posted a 3.1% same-store sales decline in the third quarter. It said tobacco sales were hit by a ban on small stores displaying tobacco products.
Home Retail Group (HMRTY)  erased initial gains after its late Wednesday announcement that it was in advanced talks to sell its Homebase home-improvement chain to Australia's Wesfarmers for £340 million ($488.7 million). Home Retail, which is a confirmed bid target of J Sainsbury (JSAIY) , on Thursday said same-store sales at its Argos chain declined 2.1% in the 18 weeks to Jan. 2, while Homebase sales measured on the same basis were up 5%. Wesfarmers closed down 1.4% in Sydney.
In Frankfurt, Germany's Bilfinger gained ground after it said it had received a takeover approach for most of its building and facility unit, one of two businesses that the construction company-turned infrastructure services group deems to be core.
Dialog Semiconductor (DLGNF)  was down about 2.6% in Frankfurt after bid target Atmel (ATML)  on Wednesday ruled a competing $3.4 billion offer from Microchip Technology (MCHP) - Get Report  superior to Dialog's agreed bid. Dialog has a short window to submit a sweetened proposal and would otherwise receive a $137.3 million breakup fee. 
Swedish Match (SWMAY) was down about 2.7% in Stockholm after it confirmed plans for a Copenhagen IPO of up to 50% of Scandinavia Tobacco, which it co-owns with Danish foundations.
Nokia (NOK) - Get Report  was down 2.8% in Helsinki and Alcatel-Lucent (ALU)  fell 2.9% in Paris on the inaugural day of the companies' merger. Finnish acquirer Nokia said it had reopened its tender offer for the French company after securing 79.3% of the stock, including convertible debt.
In Paris, Renault was down about 8% by late morning following an Agence France Presse report about a fraud probe into the carmaker's emissions tests.
In Oslo. Statoil (STO) was down 1.6%, while in Stockholm Lundin Petroleum (LNDNY) was up about 8% at 104.30 Swedish kronor after the Norwegian oil giant bought a 12% stake in the Swedish company. Statoil spent Skr4.6 billion ($541 million) buying Lundin at Skr124 per share.
In the Asia Pacific region almost all indices declined, with the notable exception of China, where the combined CSI 300 rose 2.08% to 3,221.57.
In Singapore, beleaguered commodities trader Noble Group Ltd. fell 6.6%. That was despite a rare piece of good news when Fitch Ratings confirmed Noble's investment grade status -- Moody's Investors Service and Standard & Poor's Financial Services have both recently downgraded its debt to junk.
In Sydney, the S&P/ASX 200 closed down 1.57% at 4,909.383. Official December jobs data put the Australian unemployment rate at 5.8%, better than the 5.9% economists had predicted.
In Hong Kong, the Hang Seng dropped 0.59% to 19,817.41. In Tokyo, the Nikkei 225 sank 2.58% to 17,240.95 and the Topix fell 2.46% to 1,406.55.