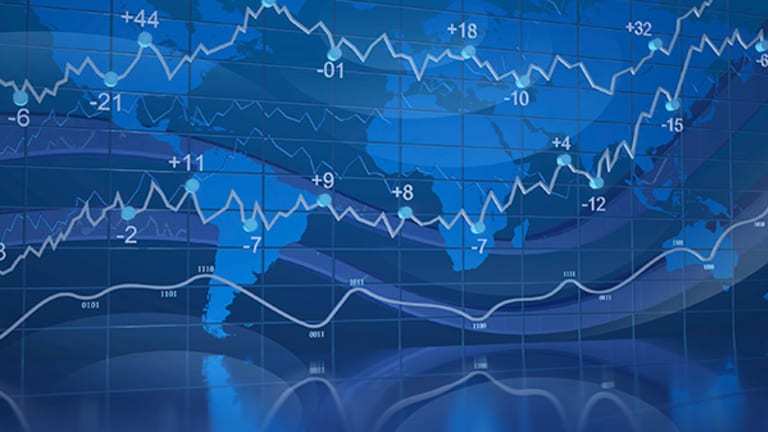 European and Asian Stocks Fall Amid Sharp Oil Declines
European stocks follow Asian indices lower on Tuesday as the price of oil declines sharply.
LONDON (The Deal) -- European stocks followed Asian indices lower on Tuesday as the price of oil declined sharply.
By late morning in London, the FTSE 100 was down 1.65% at 5,959.95. In Frankfurt, investors shaved 1.19% off the value of the DAX, which fell to 9,642.06, and in Paris the CAC 40 dropped 1.85% to 4,311.02.
S&P 500 futures were down 0.82% at 1,915.5. West Texas Intermediate crude oil and Brent crude both tumbled well more than 3% to $30.49 and $32.97, respectively.
In the eurozone, bleaker-than-expected producer price data in December kept alive hopes of European Central Bank assistance. The data came after further hints from ECB boss Mario Draghi in an address to European Parliament lawmakers on Monday that policy makers were ready for action. Meanwhile, the December unemployment rate in the eurozone edged down to 10.4%, slightly better than the unchanged 10.5% rate analysts had predicted. 
In London, food retailer J Sainsbury (JSAIY)  was up 1.8% and Home Retail Group (HMRTY)  unchanged at 152.9 pence after a near-12% gain on Monday. The two sides announced a takeover agreement in principle that will cost bidder Sainsbury £1.1 billion ($1.6 billion), or 133.5 pence per Home Retail share. The bidder is piggybacking on a side-deal that will generate a £200 million capital to return to Home Retail shareholders. That enabled it to present its offer as valued at 161.3 pence per share, a generous 63% premium to Home Retail's undisturbed share price.
Tullett Prebon and Icap edged lower after Tullett said it had received a second request for information from the Department of Justice about its purchase of the voice broking business of Icap through a complex reverse takeover.
BP (BP) - Get Report  was the worst performer on the FTSE 100, falling more than 7% after announcing that full-year profit had tanked by 51% to $5.9 billion and that it would cut up to 3,000 further jobs.
Diversified resources company BHP Billiton (BHP) - Get Report  was down more than 5% after Standard & Poor's Financial Services LLC lowered its credit ratings and put the company on review for a further downgrade.
UBS (UBS) - Get Report  tumbled more than 7% in Zurich after full-year results revealed a steep earnings decline in the fourth quarter at its two wealth management divisions, on which UBS is pinning its future. Investment banking profit also fell in the fourth quarter.
Kuoni Reisen Holding (KUIRY) rose 19% in Zurich to Sfr363.25 after Nordic buyout firm EQT Partners agreed to pay Sfr370 per share, or Sfr1.39 billion ($1.4 billion) for the travel services provider.
In Copenhagen, Danske Bank (DNSKY) was up almost 4% after announcing DKr 9 billion ($1.3 billion) share buyback over the next year alongside full-year results
In Asia most indices fell, though Chinese stocks rose sharply. The CSI 300 composite index on mainland China jumped 2.08% to close at 2,961.33. 
In Tokyo, the Nikkei 225 slipped 0.64% to close at 17,750.68 and the Topix fell 0.73% to 1,452.04. In Hong Kong, the Hang Seng ended the day 0.76% lower at 19,446.84.