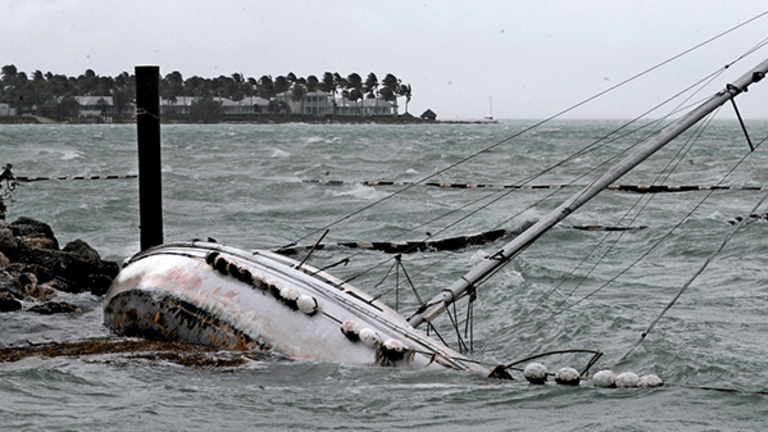 Publish date:
European Insurers Rise as Hurricane Irma Spares Florida From Catastrophic Damage
Hurricane Irma's slowing winds have given way to smaller damage estimates along Florida's sodden west coast.
Hurricane Irma's slowing winds have given way to smaller damage estimates along Florida's sodden west coast.
European insurance stocks led markets around the region higher Monday as investors reset cost assumptions for the industry as a result of a weakening Hurricane Irma.
The Stoxx Europe 600 Insurance index, the industry benchmark, was marked 2.1% higher by mid-day in Europe as major reinsurance groups such as France's Scor SE (SCRYY)  and Germany's Hannover Re (HVRRY)  notched gains of around 5% on the back of lower-than-expected damage estimates in the state of Florida following Irma's weekend hit. 
Scor shares were seen 4.2% higher by mid-day in Paris at €34.30 each, but are still some 5% lower since Hurricane Harvey made landfall in the U.S. Gulf region on August 26 with storm winds and flood damage that Texas Governor Greg Abbott has pegged at around $180 billion.
In Germany, Hannover Re shares rose 4.6% while rival Munich Re (MURGY)  was seen 4.1% higher at €176.40 each against a 1.15% gain for the DAX performance index. In Zurich, Swiss Re (SSREY) , which makes up the so-called "Big Four" of European reinsurance groups, traded 4.3% higher at Sfr86.68 each, compared to a 0.75% gain for the benchmark SMI.
Despite Monday's gains, however, Irma was described as a "major event" for the industry, Munich Re board member told a conference in Monaco Sunday, but noted that his company is "not the most exposed" to the state's insurance market and the $20 billion to $30 billion costs he said the industry was likely to incur. Credit Suisse said in a client note that the bill is likely to remain under $60 billion.
Last week, Fitch Ratings warned that insured losses of over $75 billion -- or another significant hurricane after Irma -- could cause "notable financial strain" on the state's reinsurers.  
"In such extreme scenarios, Fitch believes Florida specialist property writers will endure the most severe financial strain, followed by some segments of the global reinsurance market," Fitch said.
Irma is expected to weaken to a Tropical Storm as it travels northward along the Florida peninsula and into Georgia, the National Hurricane Center said Monday, as damage estimates from the weekend's battering look significantly smaller than first anticipated.
Irma's windspeeds have slowed to around 85 miles per hour, the NHC estimated in its 02:00am update, although it cautioned that hurricane gusts and storm surges could still cause life-threatening conditions along its path up the western Florida coast.
"On the forecast track, the center of Irma will continue to move over the western Florida peninsula through this morning and then into the southeastern United States late today and Tuesday," the NHC said. "Maximum sustained winds have decreased to near 85 mph (135 km/h) with higher gusts. Additional weakening is forecast, and Irma is expected to become a tropical storm over far northern Florida or southern Georgia later today."
More of What's Trending on TheStreet:
Go Inside This Nike Experimental Fashion Installation
8 Winners From the Ridiculously Weaker Dollar