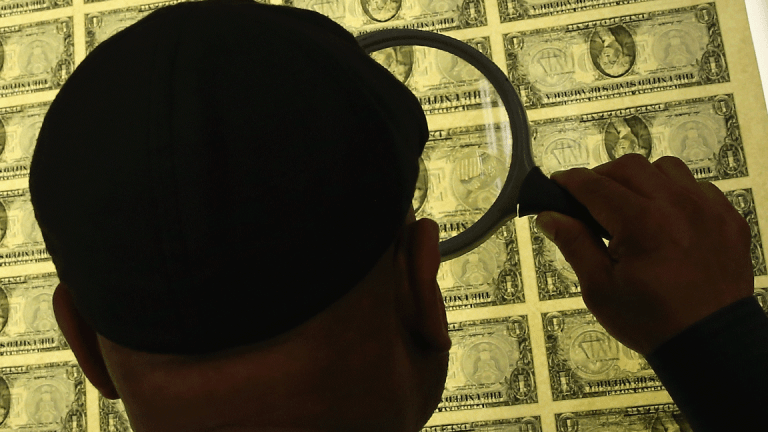 European Stocks, Wall Street Futures Slide as Dollar Rout Continues
The U.S. dollar extended declines Thursday, even as Treasury Secretary Steven Mnuchin attempted to clarify his earlier comments on its weakness, tipping European stocks and Wall Street futures into the red.
European stocks slipped lower in early Thursday trading, while U.S. equity futures weakened amid another rough day for the dollar on foreign exchange markets as investors weigh protectionist trade talk from Trump Administration officials against an improving picture for the global economy.
Futures contracts tied to the Dow Jones Industrial Average were marked 28 points lower from their Wednesday close while those tied to the broader S&P 500 were seen 4 points, or 0.14%, to the downside ahead of fourth quarter earnings from Dow components Caterpillar Inc. (CAT) - Get Report , Intel Corp. (INTC) - Get Report and 3M (MMM) - Get Report .
The dollar extended its decline in early European trading despite Treasury Secretary Steve Mnuchin's attempts to clarify comments he made to reporters yesterday in Davos as he arrived at the World Economic Forum. Munchin said his views on the greenback were "clear" and "consistent" but again noted that he wasn't concerned where the dollar was trading in the short term. 
"I thought my comment on the dollar was actually quite clear yesterday," Mnuchin said. "I thought it was actually balanced and consistent with what I've said before, which is, we are not concerned with where the dollar is in the short term. And it's a very very liquid market."
That helped push the dollar index, a measure of the greenback against a basket of six global currencies, to a fresh three-year low of 89.03 as leaders from around the world -- including the International Monetary Fund's Managing Director, Christine Lagarde -- cautioned on the notion of a global currency way.
The dollar's moves nonetheless dominated equity trading Thursday, even as Asia markets touched another all-time high and the broadest measure of world stocks notched its 14th record of the year. In Japan, however, the surging yen clipped gains for export-focused stocks and pushed the Nikkei 225 1.1% lower by the close of trading and into its second consecutive session decline.
In Europe, the Stoxx 600 index fell 0.13% in the opening minutes of trading as the euro scaled to new three-year peaks against the dollar of 1.2421 and adding a further layer of complexity to today's policy meeting of the European Central Bank in Frankfurt. In Britain, the benchmark FTSE 100 fell 0.21% in early trading as the pound hit 1.43 against the greenback, a level not seen since prior to the country's vote to leave the European Union on June 24, 2016.
Global oil prices were also supported by the weakening greenback as they tested new three-year highs following data from the U.S. Energy Information Administration that showed domestic crude stocks fell by 1.1 million barrels last week to the lowest level since February 2015. 
Brent crude contracts for March delivery, the global benchmark, climbed past $71 a barrel in early European trading to $71.05, up 0.73% from Wednesday's closing levels in New York, while WTI contracts for the same month were seen 0.66% higher at $66.22 per barrel.