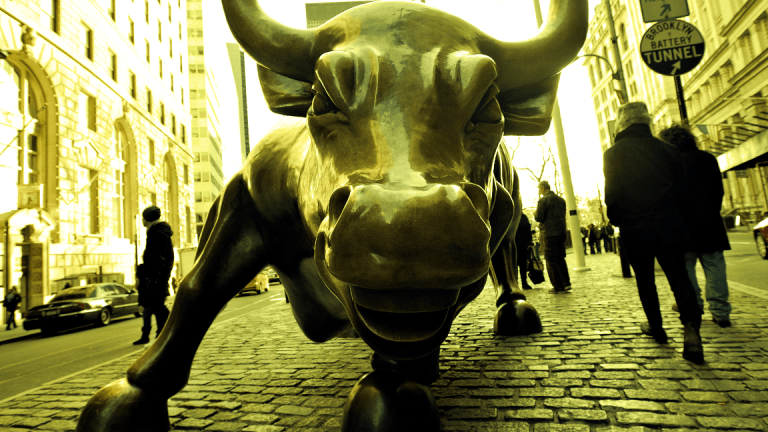 Europe's Tame Inflation Is Exactly What This Bull Market in Stocks Needs
Tame European inflation, and a central bank determined to keep buying bonds until it accelerates, is exactly what's needed to keep U.S. bond yields in check and keep the global equity market rally on track.
Europe's inconsistent inflation picture could provide a near-term circuit breaker to the recent U.S. government bond yields and a further boost to the global bull market in stocks as the European Central Bank holds its controversial monetary policy strategy in place even as the region's economy continues to boom.
Eurozone inflation slowed to 1.3% this month, according to a preliminary estimate published Wednesday by Eurostat, the region's official statistics office, a figure that sits well shy of the ECB's 'just below 2%' definition of price stability. Core inflation, which strips out volatile food and energy prices, accelerated modestly to 1%, Eurostat said, but isn't showing any signs of matching the region's broader GDP growth rate, which, at 2.6%, is the strongest in a decade.
"There is also a very wide agreement in the Governing Council ... that we have to be patient and prudent because we are not yet where we want to be in terms of inflation," said ECB Executive Board member Benoit Coeure during a question-and-answer session in Dublin. Quantitative easing "will not last forever," he said, but added that "we are not going to be too hasty."
If you're long U.S. stocks, that's great news.
The ECB is buying at least €30 billion ($37.3 billion) a month in government, agency and corporate bonds as part of its €2.55 trillion quantitative easing program that won't end until at least September of this year, or "beyond, if necessary, and in any case until the Governing Council sees a sustained adjustment in the path of inflation consistent with its inflation aim," Bank President Mario Draghi said in a prepared statement last week.
"If the outlook becomes less favourable, or if financial conditions become inconsistent with further progress towards a sustained adjustment in the path of inflation, we stand ready to increase the asset purchase programme (APP) in terms of size and/or duration," Draghi added.
The ECB's balance sheet has ballooned to just under €4.5 trillion  -- the highest on record and just under 42% of Eurozone GDP -- as a result of both its QE program and the myriad liquidity and support measures it's extended the economy in its effort to stoke inflation in the world's biggest economic bloc. 
That's also held down German bund yields, the de-facto proxy for government borrowing costs, even as they spiked to a near-three year high amid the biggest monthly move since October 2016.
With the ECB essentially hinting that it's staying in market for the foreseeable future, muted German 10-year bund yields of around 0.61% will look far less attractive than those available in benchmark U.S. Treasury bonds, which trade with an extra 1.1% in annual yield-to-maturity.
"The ECB's purchases have reduced the total stock of Eurozone government bonds in private hands," Brad Setser, an economist with the Council on Foreign Relations, wrote in a recent blogpost. "Government bonds from some countries (cough, Germany and the Netherlands) are in short supply and generally quite expensive."
"As a result, European investors have been adding heavily to their foreign portfolios looking for a yield pickup,** and from the European data, we know that a lot of those funds have flowed into the U.S.," he added.
Given that bond prices moving in the opposite direction of yields, any sustained drive by global investors away from Eurozone government bonds and into U.S. debt markets will likely reduce, or at least slow, the rise in bond yields that's triggered the recent pullback in global equity markets.
With many analysts pegging a 3% rate on benchmark U.S. Treasuries as the high-water mark for sustained hit to the current bull market in stocks, Europe's tepid inflation dynamics -- and the ECB's single mandate to deliver price stability regardless of the pace of economic growth -- might be the best support mechanism in place to keep this historic bull market from running out of steam.