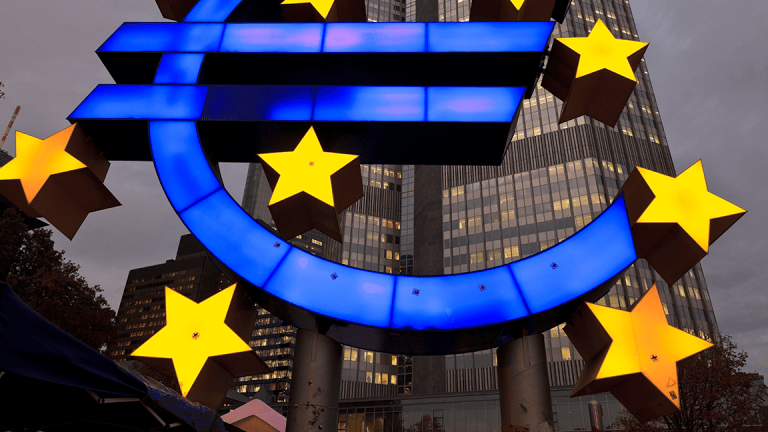 Europe's 'Super Central Bank Thursday' Could Signal End to Market Dominance
With Europe's economy running hot, and Britain's fate in the hands of its Brexit negotiations, central bank policy is set to have less of an influence on markets in the coming years, even amid QE exit strategies.
Europe's three major central banks will deliver their final monetary policy decisions of the year Thursday amid diverging economic growth and inflation paths and a waning investor reliance on the extraordinary support that has propped up markets for the better part of a decade.
The Swiss National Bank has already updated markets this morning, setting the tone for what could be a pivotal end to both the year and the era of central bank dominance in global financial markets. The SNB made no changes to its key lending rates, including a -0.75% charge it applies to its deposit facility, but said that it expects to see inflation in the Alpine economy accelerate to 2.1% by the third quarter of 2020.
While that figure may seem a bit far into the future to be relevant, it comes just hours ahead of a the European Central Bank's final meeting of the year in Frankfurt later today in which President Mario Draghi and his colleagues will offer their first growth and inflation forecasts for 2020 - just six weeks after slashing the pace of the Bank's quantitative easing program in half in preparation for an end to the €2.55 trillion ($3 trillion) bet that buying government, corporate and agency bonds can stoke inflation in the world's biggest economic bloc.
The ECB's inflation target is a rate that is "just below 2%", according to its singular mandate, a figure that current forecasts suggest won't be reached before the end of 2019. If the SNB's forecasts prove accurate, the ECB's inflation outlook may also point to a 2% reading in 2020, creating the potential for a definitive endpoint for both quantitative easing and the Bank's negative rate regime.
The region's broader economic recovery would seem to support that bet: IHS Markit's benchmark PMI survey for December points to an annualized growth rate of more than 3% -- the kind of figures prompting three rates hikes from the Federal Reserve next year -- and the fastest pace of German manufacturing growth on record.
The euro was largely unmoved by the PMI release, however, although it has traded 0.6% higher from its opening levels on Wednesday at 1.1824 after the U.S. dollar weakened in overnight trading following the Federal Reserve's dovish December policy meeting in Washington.
Sandwiched in between the two European rate decisions is what is likely to be a gloomier meeting of the Bank of England in central London, where Governor Mark Carney is again likely to focus on the economic and inflationary impact of Britain's decision to leave the European Union. The Bank reluctantly lifted its key lending rate in November -- from a near 300-year low of 0.25% to 0.5% -- in an effort to stabilize the pound's post Brexit vote collapse and tame the pace of imported inflation in the slowing British economy.
The move appears only mildly successful: inflation is running at 3.1%, the fastest in nearly six years, but the pound is starting to gain ground against the U.S. dollar, extending its gains from late August to around 5.5% after a stronger-than-expected reading for November retail sales, although it remains notably volatile to headline risks surrounding Britain's chaotic Brexit negotiations and the fragile nature of Prime Minister Theresa May's coalition government. 
In fact, that volatility points to what could be a key dynamic in European financial markets next year: the slow erosion of correlation between central bank policies and asset price movements as risks shift to corporate and political risks.
BlackRock Inc., the world's biggest asset manager, sees "sustained above-trend economic expansion and a steady earnings outlook supporting cyclicals" in European equities, noting that "euro strength is still playing out in company results, but we believe it should become less of a drag."
It also noted the prospect for a "pound rebound if the UK can strike a transition deal with the European Union," a move that would pressure stocks in the FTSE 100, most of which earn their revenues in non-sterling currencies. 
However, while synchronised global growth, tame inflation and robust corporate earnings are likely to continue to drive equity market sentiment next year, according Bank of America Merrill Lynch's recent 2018 outlook, the pullback of central bank support may hold back the market's relentless bull run.
"Our overall outlook for the year ahead is macro bullish, so much so that we're ultimately market bearish," said BAML's global head of investment strategy Michael Hartnett. "Investors are chasing growth and high-yielding assets in a bull market that's been driven and enabled by central bank liquidity. We see an end to this Icarus trade and an aggressive downgrade of risk assets once profits peak, investor positioning becomes excessively enthusiastic and central banks start withdrawing liquidity as they scale back support."
In either case, however, the larger emphasis on upside or downside moves appears driven by economic and corporate fundamentals as opposed to the month-by-month decisions taken in London or Frankfurt. 
More of What's Trending on TheStreet: