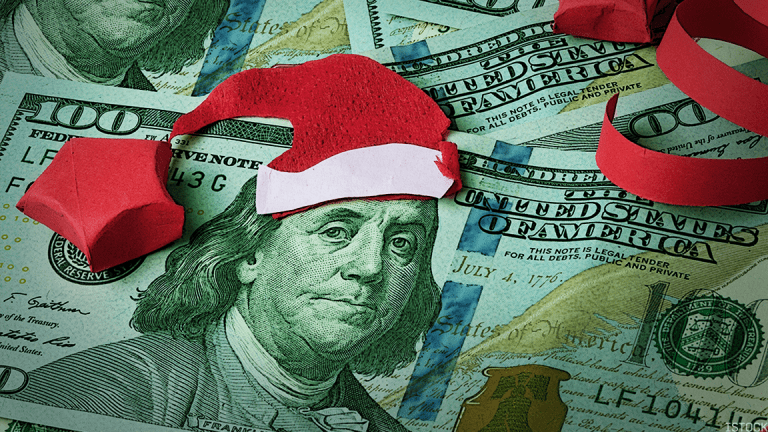 Santa Claus Rally in Stocks Is Alive, for Now
A fresh four-year high for copper prices lead a renewed commodities rally Thursday as investors bet on robust economic growth in the year ahead.
Wall Street futures pushed higher into what is likely to be the full final trading day of the year Thursday amid a renewed rally in metals and commodities and a weaker U.S. dollar. 
U.S. stocks look set to add to last night's modest gains, with futures contracts tied to the Dow Jones Industrial Average priced 44 points higher from Wednesday's close and those linked to the broader S&P 500 marked 2.5 points, or 0.09%, to the upside as of 5:15 am eastern time.
If Wall Street could put in a good day Thursday, it would be another one towards making the Santa Claus Rally a reality.
In Europe, benchmarks around the region flitted in and out of positive territory, with Britain's FTSE 100 booking early gains thanks in part to solid gains for mining stocks thanks to the recent surge in copper and metals prices. The region-wide Stoxx Europe 600 index, meanwhile, was essentially unchanged at 390.61 points in thin trading volumes. 
Copper prices extended their bullish charge to a tenth consecutive session, taking three month futures prices on the London Metals Exchange to a fresh four year high at just under $7,300 a tonne. Gold prices also got a boost from the mini metals boom, with spot bullion rising 0.4% to $1,292 per ounce.
Rising metals prices suggest an optimistic outlook for global economic growth, especially in fast-advancing countries such as China and India, where demand remains robust. The recent surge in metals and other commodities has boosted the value of currencies in producing nations and clipped the U.S. dollar index, which measures the greenback's strength against a basket of its global peers.
The index was marked 0.33% lower at 92.74, dragged down also by lower U.S. Treasury bond yields, which had benchmark 10-year notes pegged at 2.43%. 
Overnight in Asia, the dollar's weakness held down gains for the Nikkei 225 in Japan, which closed 0.56% lower at 22,783.98 points while the MSCI Asia ex-Japan index added 0.22% to keep the regional benchmark within touching distance of its 10-year peak.
Oil prices were also well-supported by both the broader gains in commodities and bullish bets on falling supplies following the outage of a key distribution terminal in Libya and the slow return to capacity of the Forties System pipeline in the North Sea.
Brent crude futures for February delivery were seen 12 cents higher from their Wednesday close at $66.56 per barrel while WTI contracts for the same month added 11 cents per barrel to change hands at $59.74, although reported trading volumes were thin owing to market closures around the world.
Bitcoins were under pressure in overnight and early European trading following news of a potential crackdown on digital currency speculation in South Korea.
Spot bitcoins were trading at $13,700 on the Bitstamp exchange, which feeds prices into the CME Group futures contract, which was marked 10% lower from its opening bid price at $13,650 each for January delivery. 
More of What's Trending on TheStreet: