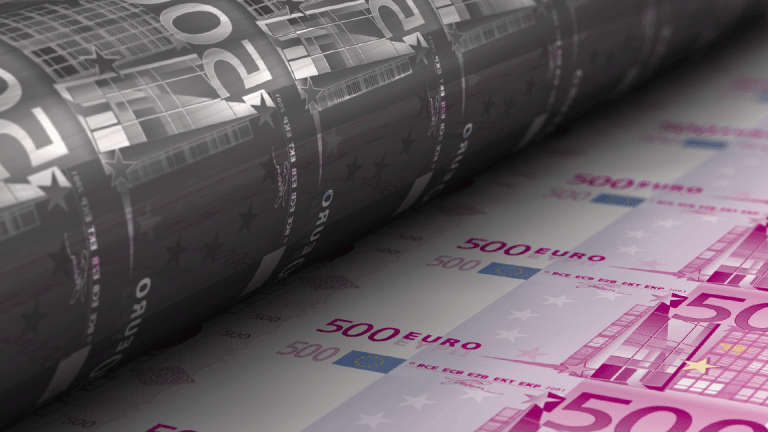 Europe Drifts, Dollar Slumps, Wall Street Futures Steady as Global Rally Pauses
The U.S. dollar touched fresh three-year lows Wednesday amid increasing investor concern over protectionist trade policies from President Donald Trump.
European stocks drifted lower at the start of trading Wednesday, following a softer session in Asia, as investors pulled back from all-time highs in global equity markets amid renewed selling in the U.S. dollar and increasing trade tensions between the world's biggest economies.
U.S. equity futures remained in positive territory, however, with contracts tied to the Dow Jones Industrial Average marked 41 points above their Tuesday close while those linked to the broader S&P 500 were seen 4 points, or 0.14%, to the upside in early European trading. U.S. stocks may get a boost, however, from the dollar's recent decline on global foreign exchange markets, given that S&P 500 companies generate around 44% of their sales in non-U.S. markets. 
In Europe, however, the surging single currency, as well as the revitalized pound, are holding down gains for regional equities even as investors anticipated stronger economic and corporate earnings growth over the near term. The Stoxx 600 index, the broadest measure of share prices, was marked 0.13 lower at 402.70 points after touching the highest levels in more than two-and-a-half years yesterday.
The euro touched 1.2356 Wednesday, the highest since December 2014, while the pound extended gains to 1.4098 against the dollar, the highest since the country voted to leave the European Union in June of 2016.  Germany's DAX performance index, which hit a fresh record high Tuesday, slipped 0.16% in the opening minutes of trading in Frankfurt while Britain's FTSE 100 was marked 0.49% lower at 7,713 points shortly after the opening bell.  
The U.S. dollar plunged to a fresh three-year low Wednesday after Treasury Secretary Steve Mnunchin told an audience in Davos that a weakening greenback would be good for American trade. The comments followed a warning from Commerce Secretary Wilbur Ross, who told a panel at the World Economic Forum in the Swiss Alpine village that yesterday's decision to slap tariffs on solar panels and washing machines from China and South Korea were the first of more trade measures to come from Washington as President Donald Trump accelerates his 'America First' trade policy.
The U.S. dollar index, which benchmarks the greenback against a basket of six global currencies, was marked 0.88% lower from Tuesday's opening levels at 89.72, the lowest since December 2014. The dollar has given ground away to all of the world's major currencies so far this year and has fallen more than 12% on and index basis since Trump told the Wall Street Journal on April 12 that "I think our dollar is getting too strong, and partially that's my fault because people have confidence in me."
Overnight in Asia, the dollar's weakness, as well as the brewing trade disputes between the U.S., China and South Korea, kept a lid on stock market gains as investors used the developments as a pretext to book profits amid the year's extraordinary equity market rally. Japan's Nikkei 225 gave back 0.76% from its recent gains in Wednesday trading while the region-wide MSCI Asia ex-Japan index was essentially unchanged from Tuesday's close and still within touching distance of the all-time high it reached earlier this week.
Global oil prices also drifted modestly lower in Asia and European trading after a stronger-than-expected buildup in U.S. crude stocks reported yesterday by the American Petroleum Institute and profit-taking amid a broader commodity market rally.
Brent crude contracts for March delivery, the global benchmark, were seen 0.44% from their Tuesday close at $69.65 per barrel while WTI contracts for the same month fell 2 cents to $64.45 per barrel.