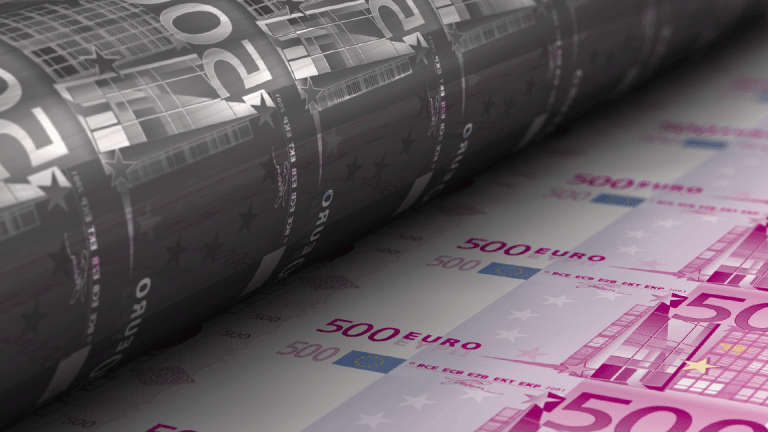 Europe Cautious, Wall Street Edges Higher as Trade Concerns Hold Back Gains
Asia stocks fell for the second straight day, but bond markets steadied and investors look ready to return to the global market rally.
European stocks traded cautiously Thursday, helping U.S. equity futures return to positive territory as investors gingerly returned to the global market rally as a rebound for bond yields offset trade tensions linked to President Donald Trump's warning on NAFTA membership held back gains.
The Stoxx 600 Europe index, the regional benchmark, edged 0.05% to the downside in the opening 30 minutes of trading, even as a modestly weaker euro, which slipped 0.05% against a weaker U.S. dollar to 1.1941. Most national markets were little-changed, however, with the DAX performance index in Germany up 0.05% and the CAC-40 in Paris gaining 0.13%. Britain's FTSE 100 was standout performer at the opening bell, rising 0.27% to within a few points of its all-time higher after some solid readings on consumer spending over the Christmas holidays and better-than-expected performances from some heavyweight retail stocks.
Early indications from U.S. equity futures suggest a similarly modest rebound for Wall Street Thursday, after stocks snapped a six-day winning streak last night amid concerns over the rapid rise in U.S. Treasury bond yields and suggestions from President Trump that he is prepared to exit the North American Free Trade Agreement if its isn't comprehensively re-negotiated.
Contracts tied to the Dow Jones Industrial Average were marked 38 points, or 0.15%, higher in early European trading while those liked to the broader S&P 500 gained 2.5 points, or 0.13% from their Wednesday close. 
The U.S. dollar index, which benchmarks the greenback against a basket of six global currencies, weakened modestly to 92.46 as Treasury bond yields fell from their 10-month peak as officials in China disputed a Bloomberg News report that suggested the country, which holds the world's biggest position in U.S. government bonds, could halt further purchases and direct their massive foreign currency reserves to other asset classes.
Benchmark U.S. 10-year Treasury yields were seen 6 basis points lower from their Wednesday levels at 2.537% while similar bonds issued by Germany were 2.5 basis points lower at 0.46%.
Overnight in Asia, stocks fell for the second consecutive session as tech shares once again held down sentiment as Samsung Electronics Co. slumped to a four-month low following its disappointing fourth quarter earnings guidance earlier this week. The region-wide MSCI Asia ex-Japan index fell 0.25% into the close of trading while Japan's Nikkei 225 slipped 0.33% to close at 22,710.43 points.
Global oil prices eased back from their three-year closing highs last night as investors booked profits amid a rally which has lifted crude more than 13% since early December on speculation that falling U.S. crude stocks and slowing production rates will support OPEC's agreed output limits.
Brent crude contracts for March delivery, the global benchmark, were marked 9 cents lower from their Wednesday New York close and changing hands at $69.20 per barrel while West Texas Intermediate crude contracts for the same month, which are more closely linked to U.S. gas prices, were seen 19 cents lower at $63.38 per barrel.
Bitcoins were also under pressure, falling more than $1,100 each to $13,600 on the Bitstamp exchange, which feeds prices into the CME Group futures contract, after authorities in South Korea's Justice Department said they were preparing a bill that would ban cryptocurrency exchanges in one of the world's biggest markets.