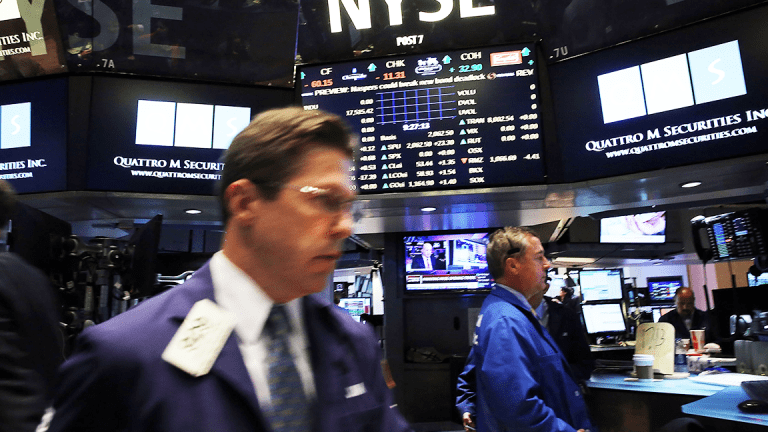 Europe Books Cautious Gains, Wall Street Slips as U.S. Government Shutdown Looms
A potential U.S. government shutdown is keeping equity market sentiment in check Friday as the dollar holds near three year lows and benchmark 10-year bond yields rise to the highest level since September 2014.
European stocks edged modestly higher Friday, following a record-setting session in Asia, while U.S. futures lagged as investors grow increasingly concerned that the federal government will be forced into a shutdown at midnight tonight unless lawmakers can agree an eleventh hour agreement on funding.
The Stoxx Europe 600 benchmark was marked 0.1% to the upside immediately after the opening bell Friday, lifting the region's broadest measure of share prices into positive territory for the week thanks to firmer gains for the DAX performance index in Germany and the CAC-40 in France.
In Britain, the FTSE 100 was little changed from its Thursday close at the opening bell, held down by both softer oil and basic resource stocks and this week's renewed surge in the pound, which has taken sterling 1.4% higher against the greenback to a June 2016 high of 1.3933.
The U.S. House of Representatives passed a continuing resolution late Thursday that would continue funding the federal government until Feb. 16, but it is unlikely to pass the Senate in it current form, setting up a battle between Republican and Democratic lawmakers over immigration protections for the so-called "Dreamers" and spending on President Donald Trump's promised border wall.
That political risk backdrop played on both the U.S. dollar and Treasury bond yields overnight, holding the dollar index near three-year lows of 90.42 against a basket of six global currencies and lifting benchmark 10-year Treasury yields to a September 2014 high of 2.64%.
Those moves held U.S. equity futures in check in early European trading, with contracts tied to the Dow Jones Industrial Average marked 4 points down from their Thursday close and those tied to the broader S&P 500 slipping 1 point.
Overnight in Asia, however, stocks were able to shrug off the weaker U.S. dollar and the slipping of benchmarks on Wall Street to reach another record high in the Friday session as investors lifted stocks in the wake of stronger-than-expected GDP data from China yesterday and a melting of the political tensions between North and South Korea.
The region-wide MSCI Asia ex-Japan index was marked 0.41% higher at 598.32 points into the close of the session, taking its weekly gain to 1.25%, a move that included three all-time highs over the past five days. Japan's Nikkei 225 also closed 0.2% to the upside, despite the week's long gains for the yen, taking the benchmark to a five-day advance of 0.7%.
The big overnight mover away from stocks, however, occurred in global oil markets, where prices for both WTI and Brent crude fell sharply following data from the U.S. Energy Information Administration which showed domestic oil output recovered to a rate of 9.75 million barrels per day last week, a figure that offset a larger-than-expected 6.9 million barrel decline in crude inventories.
Brent crude contracts for March delivery were seen 1.12% lower at $68.53 per barrel in early European trading while WTI contracts for the same month were marked 1.36% lower at $63.08 per barrel.