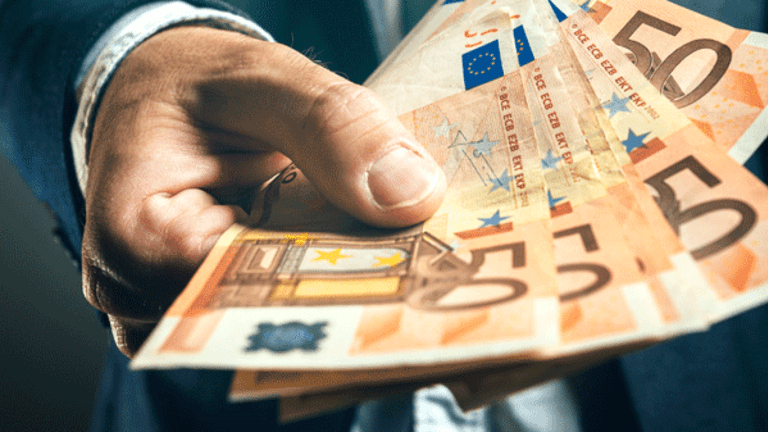 Euro Tests Fresh 14-Year Low as Investors Measure Geopolitical Risks
Euro tests 14-year low against the dollar as investors react to a series of terrorist-related incidents around the region.
The euro tested fresh 14-year lows against the U.S. dollar Tuesday as investors reacted to a trio of terrorist incidents around the region yesterday that have rattled confidence and raised questions about geopolitical risks in the months ahead.
The single currency fell 0.2% to 1.0381 against the dollar by mid-morning in London, matching a similar decline for the pound, as global investors switch cash positions into the greenback following Monday's terrorist atrocity in Berlin and the murder of Russia's ambassador to Turkey in the capital city of Ankara. The moves peg the euro within a whisker of the 14-year low it touched on Dec. 15 following the U.S. Federal Reserve's rate hike and policy forecasts that lifted the dollar against currencies all over the world. 
Germany's Chancellor, Angle Merkel, addressed the nation Tuesday and vowed to punish the perpetrators of the deadly attack on the busy Breitscheidplatz shopping area in Berlin that killed 12 people and injured dozens more "as severely as our laws allow."
"For now, there is little we know about this deed with certainty, but given the current information we have, we have to assume we are dealing with a terrorist attack," Merkel said in a prepared statement. "I know that it would be particularly hard to bear for all of us if it was confirmed that (the person who) committed this crime (had) asked for protection and asylum in Germany."
German media reports have identified the suspect as "Naved B", a 23-year old from Pakistan who is said to have immigrated to the country last year.
The Berlin attacks followed a shooting incident at an Islamic center in Zurich that injured three and came only hours after the shocking assassination of Russia's ambassador to Turkey, who was murdered while speaking at the opening of an art gallery in the capital city of Ankara.
Russia's Foreign Minister, Sergei Lavrov, vowed the incident would not impact Moscow's relationship with the Turkish government, which have been strained since the downing of an Su-24 Russia fighter jet by Turkish military aircraft and the two countries' ongoing handling of the escalating war in Syria.
However, Turkey's President Recep Tayyip Erdogan and Russia's President Vladimir Putin had been working more closely of late in order to broker an agreement that would see the evacuation of the besieged city of Aleppo in the hopes of establishing a sustainable ceasefire in the ongoing conflict.