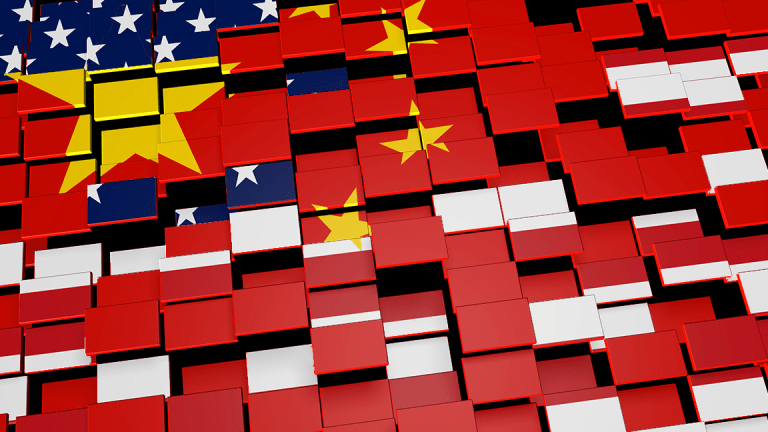 EU Braces For Steel Tariffs, Readies Retaliation as Trade War Talk Accelerates
U.S. officials could confirm import tariffs on EU steel and aluminium products Thursday in the latest salvo in on-again/off-again trade war between the White House and its economic partners.
The White House is ready to confirm tariffs on imported European steel Thursday, according to multiple media reports, in the latest escalation of a brewing global trade war that could slow growth in the world's biggest economies.
Multiple media reports suggest the tariffs, which would apply to around $7.5 billion in imported steel and aluminium products, will kick-in on June 1, a date previously established when President Donald Trump unveiled the package on March 23 but allowed for exemptions for certain trade partners, including the European Union.
EU President Jean-Claude Junker has threatened to reply with tariffs on $3.4 billion worth of U.S. imports, including Levi's jeans and Harley Davidson HOG motorcycles, but U.S. Commerce Secretary Wilbur Ross warned that any retaliation would only sharpen the White House's resolve.
"We don't want a trade war," Ross told Spain's Le Figaro newspaper in an interview published Thursday, noting it was "up to the European Union to decide if it wants to take retaliatory measures. The next question would be: how will the (U.S President Donald) Trump react? You saw his reaction when China decided to retaliate. If there is an escalation it will be because the EU would have decided to retaliate."
"We don't want a trade war," France's Finance Minister Bruno Le Marie said Thursday even as he warned that "aggressive decisions taken against Europe" would result in a coordinated response from the bloc.
A respected German business magazine, Wirtschaftswoche, has also reported that Trump told French President Emmanuel Macron he plans to prevent the sale of luxury European cars in the U.S. market.
Daimler AG (DMLRY) (-1.03%), Porsche AG (POAHY) (-1.24%) and BMW AG (BMWYY) (-0.56%) leading the decliners. Steelmakers Thyssenkrupp AG (TKAMY) and Salzgitter AG (SZGPY) were curiously stronger, rising 1.18% and 0.83% respectively, while Arcelor Mittal SA (MT) - Get Report , the world's biggest steelmaker, gained 0.4% lower in Amsterdam.
"If the Americans impose tariffs on steel and aluminum, then we must treat American products the same way," Juncker said in March when he detailed a package of tariffs that could impact $3.4 billion in U.S. exports. "We must show that we can also take measures. This cannot be a unilateral transatlantic action by the Americans."
"So now we will also impose import tariffs. This is basically a stupid process, the fact that we have to do this. But we have to do it. We will now impose tariffs on motorcycles, Harley Davidson (HOG) - Get Report , on blue jeans, Levis, on Bourbon."
"We can also do stupid," he said.
Trump fired back the following day with a Tweet that vowed reciprocal tariffs on European cars as he alluded to a $22.3 billion "automotive vehicle and parts" trade deficit last year with Germany.
The average EU tariff on U.S. goods imported into the bloc is 3%, according to Export.gov data, although non-EU automobiles are subject to a 29% tariff when brought into the bloc, of which 19% is a value-added tax and 10% is a tariff based on current World Trade Organization (WTO) rules.
Cars imported into the United States from countries that don't have existing pacts with Washington are subject to a 12.5% levy, while pickup trucks are subject to a 25% tariff.
That said, some of the largest production facilities of Europe's biggest carmarkers are located in the United States, with plants in Vance, Al. and Spartanburg, S.C. and Chattanooga, Tn., that assemble around a third of the German cars sold domestically.
The brewing trade war between the U.S. and China is also hanging over global economic growth and, by extension, could blunt domestic GDP and alter the Fed's rate path should the world's two largest economies transition their current rhetoric into tit-for-tat tariffs.
The Organisation for Economic Co-operation and Development trimmed its global economic growth forecast to 3.8% (from 3.9%) this year, noting that "significant risks posed by trade tensions, financial market vulnerabilities and rising oil prices loom large".
"The economic expansion is set to continue for the coming two years, and the short-term growth outlook is more favourable than it has been for many years," OECD Secretary-General Angel Gurria said Wednesday. "However, the current recovery is still being supported by very accommodative monetary policy, and increasingly by fiscal easing. This suggests that strong, self-sustaining growth has not yet been attained."