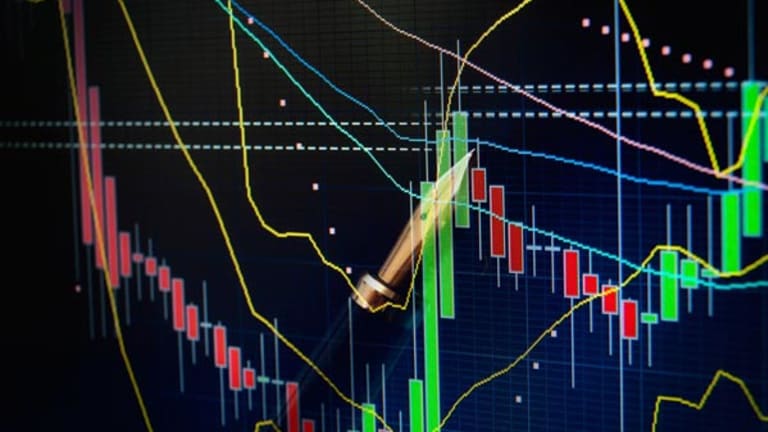 Publish date:
ETFs That Give You Foreign Small-Cap Exposure
Two complementary products may give a more diversified result.
Two complementary products may give a more diversified result.
This column was originally published on RealMoney on May 2 at 1 p.m. EDT. It's being republished as a bonus for TheStreet.com readers. For more information about subscribing to RealMoney, please click here.
Usually, new large-cap ETFs seem to come from the redundancy department, but that's not so with small-caps. The thing about the small-cap space is that two funds that appear to do the same thing can be very different, so sometimes the best choice, for diversification's sake, might not be one or the other but both.
Frankly, there is nothing that says you should pick one and just stick to it for all time.
An often overlooked piece of the diversification puzzle is foreign small-cap stocks, primarily because these stocks can be difficult to access. A few months ago, WisdomTree launched the first ETF in the space; the
WisdomTree International Small-Cap Dividend ETF
(DLS) - Get WisdomTree International SmallCap Dividend Fund Report
. Last week, StateStreet launched the
SPDR S&P International Small-Cap ETF
(GWX) - Get SPDR S&P International Small Cap ETF Report
.
DLS and GWX are different enough that a combination of both stands to be a better mix than one alone. The indices underlying both have strong back-test results: DLS has averaged 17.76% annualized for 10 years, and GWX has averaged 11.25% annualized over the same time period, compared with 8.67% annualized for the MSCI EAFE Index, 8.2% for the
S&P 500
and 10.23% for the Russell 2000.
While the results for DLS have been much better, I believe it has benefited from a skew to value during this decade. And while it may be tough to guess when growth will rotate back into favor, a mix of both funds means you don't have to be right about when growth takes the mantle.
Under the Hood
While DLS does tilt more to value, it is interesting that both DLS and GWX trade at roughly 18 times trailing earnings, but DLS is much cheaper (remember, it is more of a value fund) at 1.5 times book value, compared with a little over 2 for GWX.
The two funds also have differences in sector and country makeup. GWX has 19% in consumer discretionary, while DLS appears to be closer to 13%. As you look at the sector weights of each fund, they may look a little different from other larger-cap funds you have looked at.
In most foreign markets, there will be fewer companies in each sector, so once you get past the big telephone company, there are not many companies in the sector left, which is why both funds appear to be light on energy and telecom, often the biggest of the big in foreign countries.
Some of the larger sector weightings go to areas such as industrials and materials.
One sector that seems to be missing is health care, but there is a way to fill the gap for anyone inclined to do so. HealthShares, the ETF company that has been maligned in the press, has a
European Drugs ETF
(HRJ)
. It is a small-cap fund, almost micro-cap, really, and you should not be surprised if you recognize only three or four stocks out the 22 held. Most of the stocks come from the U.K., Sweden, France, Germany and Belgium.
DLS and GWX have big differences in their respective country weightings. Japan has the top weight in GWX at 25.2%, but it comprises only 15.1% of DLS as the third-largest country in the fund. The U.K. is the largest country weight in DLS at 22.8%, followed by Australia at 18.6%. The U.K. comprises only 13.51% of GWX, with Australia coming in at 9.3%.
The extra exposure to Japan in GWX is another reason I think of GWX as being more growth oriented.
The last fundamental point with DLS and GWX is their dividend yields. GWX should yield 1.28%, and DLS should yield 2.63%, but HRJ has no yield.
As mentioned, foreign small-cap is going to be a new area for a lot of investors. Looking under the hood will be more difficult than for just about every other large-cap foreign fund where you can count on several easy to follow names, such as
HSBC
(HBC)
, each accounting for 8% of holdings. This may be a deterrent for some folks, but the risk of under-followed stocks is somewhat mitigated, as the largest holding in GWX accounts for only 0.51%, and DLS' largest component is only 1.2% of the fund.
Are These Right for You?
So what is the best way to use these? While there is no single right answer, one way might be to start with looking at what portion of your portfolio is allocated to foreign. Most of the accounts I manage have roughly 35% allocated to foreign stocks; you may want more or less. It seems within domestic stocks that many people allocate 25% to 30% to small-cap, so perhaps that is a good idea with foreign, too.
For a $300,000 portfolio, 35% in foreign would be $105,000, and 25%-30% of $105,000 gives us $26,250-$31,500 for foreign small-cap.
And finally, a possible allocation of this roughly $30,000 could be 65% in DLS and 35% in GWX. The reason to go so heavily in DLS is the large performance dispersion that favors DLS in the back-test. I do believe in mixing the two, but I think the nod needs to go to the extra 6.25% of historical return. Anyone wanting to include HRJ might consider 5% of the foreign small-cap exposure at the expense of GWX.
The point here is not necessarily that you should run out and do this today but more of an exploration of how to use more than one ETF from different ETF providers in order to create a little more diversification, which hopefully creates a smoother ride.
At the time of publication, Nusbaum had no positions in the stocks mentioned, although positions may change at any time.
Roger Nusbaum is a portfolio manager with Your Source Financial of Phoenix, and the author of Random Roger's Big Picture Blog. Under no circumstances does the information in this column represent a recommendation to buy or sell stocks. Nusbaum appreciates your feedback;
to send him an email.