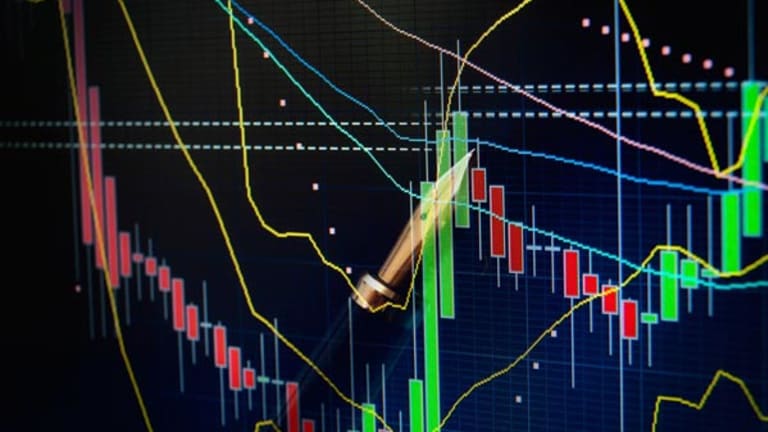 ETF Review: Transports and Health Care
These two ETFs are behaving very bullishly right now.
This column was originally published on RealMoney on Feb. 7 at 1 p.m. EST. It's being republished as a bonus for TheStreet.com readers. For more information about subscribing to RealMoney, please click here.
I have become a big believer of the power of the ETF due to the lessening of risk. It's exciting to be able to play many of my favorite sectors but not have to load up on individual stocks and deal with the occasional blowup that can ruin anyone's portfolio. Those are bound to happen to everyone at some point in time, but if you can reduce the number of individual stocks you own and transfer those plays to their representative ETFs, you are taking away a reasonable amount of the risk from your portfolio.
Let's face it, the stock market is a game of risk/reward, but in addition to that, it is a game of fear and greed. For those of us who like to remove the fear part from our financial lives, playing the ETFs of the world can be a great way to participate yet still have fun. Sure, you won't get rich, but you'll be in the game and, if you play it appropriately, still make a decent dollar over time.
Because of all this, I thought I would discuss a few of the ETFs that I am playing for my subscribers due to the tremendous demand for them. In my next few columns, I will cover several aspects of these trades, including entry, stop placement and the potential amount a stock might run. Let's look today at the
iShares Dow Jones Transportation Average Index Fund
(IYT) - Get iShares Transportation Average ETF Report
and the
iShares Dow Jones U.S. Healthcare Sector Fund
(IYH) - Get iShares U.S. Healthcare ETF Report
.
The IYT's overall action was getting a lot of negative press as it spent a lot of time basing out after advancing quite nicely for a number of months. It really gets to me how people can look upon a long basing period as a negative just because a stock or an index is not advancing. It is essential for any issue to calm down after a move higher. It must let off some steam. The key is how it acts once the initial buying surge has ended. Will it fade away, or will it hang around and move in a trading range that allows the overbought nature of that issue to unwind? This is the key to understanding future movement.
Proponents of Dow Theory were insisting that the markets were in big trouble because the transports weren't confirming the move up in the Dow, yet they were saying the same thing years before when the transports were moving up and the Dow wasn't. To me, judging one because of the behavior of another makes no sense. The money was simply rotating, and you can see how the transports have made a great recent move. Let's study this chart.
After an extended move higher that topped out in early May, this issue needed time to calm down and unwind very overbought oscillators. You can see that RSI was over 70 for months, which is overbought to an extreme. In addition, the stochastics were well over 80 for many months; this, too, is unsustainable.
So it was consolidation time, and what a consolidation it was -- May to January. Notice, though, how the transports have finally broken over the trend line at the top, with closes over the blue line that represents that trend line. Notice also the great volume when the trend line broke and the light volume as it has corrected a bit. This is all very bullish and probably means higher prices in the many months ahead. I am extremely positive on this issue. With the top of the consolidation at $89.65 and the bottom at $73.54, it has the potential over time to get to approximately $103. The stop should be put at $73. I purchased this issue at $83.05.
Let's now look at the IYH. This, too, made a big move higher from late June before topping out in late October at $66.98. It then based for three months, bottoming at $63.85 in November. The ETF broke out in early January, came back and retested and has moved higher. This is very bullish overall action. Volume trends remain bullish as well. It could easily see the upper $70s over the months ahead. The stop would be at $63. I purchased this ETF at $66.90.
I will be discussing more ETFs in my next column.
At the time of publication, Steiman was long the iShares Dow Jones Transportation Average Index Fund and the iShares Dow Jones U.S. Healthcare Sector Fund, although positions may change at any time.
Jack Steiman is president of TheInformedTrader.com, for which he also conducts live seminars, and Steiman New Research Group, LLC. Under no circumstances does the information in this column represent a recommendation to buy or sell stocks. Steiman appreciates your feedback;
to send him an email.