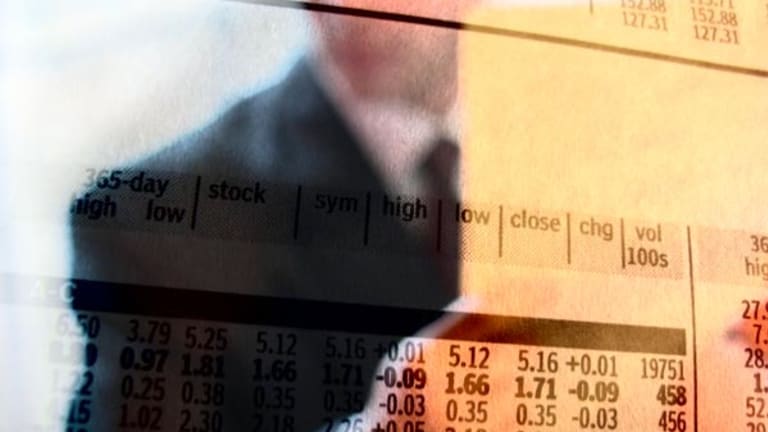 Energy's Advance Socks Stocks
Higher crude prices and overseas declines weigh on U.S. trading.
Updated from 4:06 p.m. EST
Stocks started the holiday-shortened week with losses Tuesday as oil prices soared to a three-month high and earnings season got off to a rocky start.
The
Dow Jones Industrial Average
fell 63.55 points, or 0.58%, to 10,896.32, and the
S&P 500
was down 4.68 points, or 0.36%, at 1282.93. The
Nasdaq Composite
lost 14.35 points, or 0.62%, to 2302.69.
The 10-year Treasury bond was up 2/32 in price to yield 4.34%, matching the yield of the two-year note, while the dollar rose against the yen and euro.
"The concerns over rising oil and earnings drove the market downward," said Robert Pavlik, chief investment officer with Oaktree Asset Management. "People are waiting on the sidelines to see how the earnings season plays out. The market may have gotten overbought and worked some of the excess off today."
About 1.64 billion shares changed hands on the
New York Stock Exchange
, with decliners beating advancers by a 2-to-1 margin. Volume on the Nasdaq was 1.72 billion, with decliners outpacing advancers 5 to 3.
Tuesday's swoon follows two weeks of broad strength for stocks. Since the start of the year, the Dow is up 200 points, or 2%; the S&P 500 has risen 35 points, or 3%; and the Nasdaq is up 100 points, or 5%.
"It will take some strong earnings and bullish forecasts, as well as positive economic data, to keep the rally going," said Marc Pado, market strategist with Cantor Fitzgerald. "There are plenty of economic data and earnings releases to sway market opinion from hour to hour and day to day. Behind it all, there is the rising threat of geopolitical tensions with Iran and higher interest rates out of the
Federal Reserve
."
February crude jumped $2.43 to close at $66.35 a barrel, its highest level since late September, as markets remained wary of the situation in Iran, where several Western powers want the U.N. to impose sanctions in response to stepped-up nuclear research. Supply disruptions in Nigeria were also bolstering energy bulls. Natural gas futures added 38 cents to finish at $9.17 per million British thermal units.
The climb in crude prices boosted the Philadelphia Oil Service Sector index by 1.6% and the Amex Oil index by 1.8%.
"The situation has not improved," said Brian Williamson, equity trader with Boston Company Asset Management. "With several major overseas markets down and continued attacks on Nigerian oil fields, this market has a negative backdrop."
On the economic front, the New York Federal Reserve Bank's Empire State Manufacturing index fell to 20.1 in January from a revised 26.3 reading in December. Economists expected a decline to 21.0.
The Federal Reserve said U.S. industrial production rose 0.6% in December. Capacity utilization jumped to 80.7%. Economists had expected production to increase 0.6% and for capacity utilization to rise to 80.5% last month. For 2005, industrial production rose 3.2%.
To view Gregg Greenberg's video take on today's market, click here
.
A Dow component,
Wal-Mart
(WMT) - Get Walmart Inc. Report
, affirmed guidance for January same-store sales growth of 3% to 5% on Saturday. Gift card redemptions are helping improve January's disappointing 2.2% comps performance. Meanwhile,
McDonald's
(MCD) - Get McDonald's Corporation Report
said it expects to earn 48 cents a share in its fourth quarter; analysts were looking for 47 cents a share.
Wal-Mart fell 45 cents, or 1%, to finish at $44.95. McDonald's rose 12 cents, or 0.4%, to $34.59.
Continental
(CAL) - Get Caleres, Inc. Report
posted a fourth-quarter loss of $43 million, or 53 cents a share, including a gain of about $85 million. The airline lost $128 million, or $1.58 a share, before items on a 17% rise in year-over-year revenue. The carrier also said it now expects a significant loss for the first quarter. Continental dropped $2.23, or 11.5%, to $17.24.
Fifth Third Bancorp
(FITB) - Get Fifth Third Bancorp Report
reported third-quarter earnings of $332 million, or 60 cents a share, up from $176 million, or 31 cents, a year ago. Analysts expected the company to post a profit of 63 cents a share, according to Thomson First Call. Fifth Third said it set aside $134 million for loan losses in the quarter, roughly twice as much as in the third quarter and a year earlier. Shares were down 49 cents, or 1.3%, to finish at $38.44.
The mating dance around
Guidant
(GDT)
entered another round Tuesday when
Boston Scientific
(BSX) - Get Boston Scientific Corporation Report
raised its bid for the medical device company to $27 billion, or $80 a share. Guidant accepted the bid before the 5 p.m. EST deadline Tuesday, deeming it superior to one from
Johnson & Johnson
(JNJ) - Get Johnson & Johnson Report
.
Late Friday, Guidant urged shareholders to accept J&J's sweetened $71-a-share takeover offer. Guidant added $5.38, or 7.6%, to $76.22. Boston Scientific lost $1.30, or 5.2%, to $23.90. J&J was off 54 cents, or 0.9%, to close at $61.28.
The Dow, which spent three of last week's five sessions above 11,000, is now in danger of falling decisively below the marquee level. Two components,
IBM
(IBM) - Get International Business Machines Corporation Report
and
Intel
(INTC) - Get Intel Corporation Report
, reported earnings after the bell Tuesday.
IBM posted fourth-quarter income of $3.19 billion, or $1.99 a share, up from $2.8 billion, or $1.67 a share, a year ago. Income from continuing operations was $3.22 billion, or $2.01 a share, including a charge of 10 cents a share related to the company's pension plan. The Thomson First Call consensus was for earnings of $1.94 a share from continuing operations. Revenue was $24.4 billion for the quarter, below analysts' estimates of $25.4 billion. IBM finished down 17 cents, or 0.2%, to $83.
Intel fared worse in the fourth-quarter as sales were short of expectations due to lower-than-expected shipments. The company reported a fourth-quarter profit of $2.5 billion, or 40 cents a share, up from $2.1 billion, or 33 cents a share, last year. The Thomson First Call consensus was for EPS of 43 cents. Sales rose 6% to $10.2 billion from a year ago but missed expectations of $10.56 billion. Intel also offered first-quarter guidance that was below expectations. For Tuesday's session, the stock was down 27 cents, or 1.1%, to $25.52 and was down another 7% in after-hours trading.
Also after the bell,
Yahoo!
(YHOO)
reported fourth-quarter earnings of $683 million, or 46 cents a share, compared with $373 million, or 25 cents a share, a year ago. Excluding certain items, Yahoo said it earned $247 million, or 16 cents a share. Analysts expected earnings of 17 cents a share on revenue of $1.07 billion, according to Thomson First Call. Yahoo! closed up 21 cents, or 0.5%, to $40.11 for the session but was trading down more than 10% after hours.
On Wednesday, earnings reports from
Apple Computer
(AAPL) - Get Apple Inc. Report
,
eBay
,
J.P. Morgan
(JPM) - Get JPMorgan Chase & Co. Report
and
Southwest Airlines
(LUV) - Get Southwest Airlines Co. Report
are anticipated.
In ratings moves, Citigroup upgraded
Caterpillar
(CAT) - Get Caterpillar Inc. Report
to buy from hold, as demand has surpassed supply. The firm raised its price target on the Dow component to $77 from $55 and bumped fourth-quarter and 2006 earnings estimates higher. Caterpillar gained 63 cents, or 1%, to $62.96.
Technology stocks were set to open lower after several downgrades. Citigroup downgraded
SanDisk
(SNDK)
to hold from buy, citing valuation. Deutsche Bank cut
Applied Materials
(AMAT) - Get Applied Materials, Inc. Report
to hold from buy, also citing valuation. SanDisk was lower by $1.29, or 1.8%, to close at $71.54. Applied Materials lost 39 cents, or 1.9%, to $19.76.
Elsewhere, Merrill Lynch lowered
Advanced Micro Devices
(AMD) - Get Advanced Micro Devices, Inc. Report
to sell from neutral, saying it believes the chipmaker will struggle if there's less growth in the desktop and notebook processor market. AMD was down $1.27, or 3.7%, to $32.86.
The losses in AMD and Applied Materials pressured the Philadelphia Semiconductor Sector index, which fell 1.6%. All but one of the index's 19 components finished in negative territory.
The Philadelphia Housing Sector index dropped 0.8% after Banc of America Securities downgraded the homebuilding sector, saying stocks could be pressured as demand continues to weaken. The firm cut its ratings on
Toll Brothers
(TOL) - Get Toll Brothers, Inc. Report
and
Meritage Homes
(MTH) - Get Meritage Homes Corporation Report
as well.
Overseas markets were uniformly lower, with London's FTSE 100 down 0.7% to 5700 and Germany's Xetra DAX losing 1% to 5460. In Asia, Japan's Nikkei fell 2.8% overnight to 15,806, while Hong Kong's Hang Seng shed 1.3% to 15,576.
The slide in Japan followed a raid on the Internet company Livedoor by prosecutors in Tokyo. Local reports say regulators suspect the company might have misled shareholders about a recent acquisition.