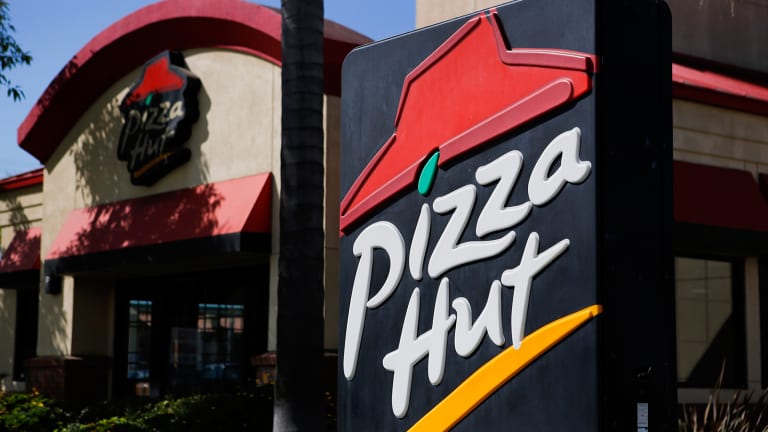 Yum! Brands CEO Says He's Not Worried About Resurgent McDonald's
As the company finalizes its plan to spin off its China division, CEO Greg Creed says that, if anything, McDonald's all-day breakfast is helping Taco Bell.
Yum! Brands (YUM) - Get Yum! Brands, Inc. (YUM) Report execs are looking forward to executing some savory new initiatives after finalizing plans for the spin-off of its China division.
On Tuesday, Yum! announced its split into two separate companies is expected to be completed by the end of 2016. Yum! China will be an independent company with exclusive rights to use the KFC, Pizza Hut and Taco Bell brands in China, and will pay Yum! Brands a license fee of 3% of its sales.
The remaining Yum! Brands will continue to be led by current CEO Greg Creed, with the business 96% franchised by the end of 2017, a more lucrative business model than carrying the costs associated with running company-owned stores.
Yum! Brands also said it will return $6.2 billion of capital to its shareholders between October, when the separation was first announced, and the end of 2016 when it's actually completed. Standard & Poor's downgraded Yum's bond rating to junk status as a result of the capital return commitment, saying the move will likely require it to take on a significant amount of debt.
Despite the downgrade, Creed was upbeat about Yum's prospects. 
"I think it's a great day, perhaps one of the greatest days I have had at Yum! Brands -- I am going to lead this large, global, multi-brand franchisor and our job is really going to be how do we grow these brands, while leaving the operations to the franchisees," Creed said in an interview with TheStreet. Creed and his team are looking to kick things off at the new Yum! Brands with a serious bang.
Taco Bell, however, will confront a different environment in 2016 than it has faced the last two years as McDonald's (MCD) - Get McDonald's Corporation (MCD) Report builds on what looks to be a turnaround, powered by the availability of Egg McMuffins throughout the day and improved food execution. According to a new study by research firm NPD Group, one-third of customers who bought breakfast at McDonald's at times other than the traditional breakfast hours hadn't visited the Golden Arches at all in the month before all-day breakfast launched in early October.
Creed shrugged off concerns that a resurgent McDonald's would steal sales from Taco Bell, pointing out that Taco Bell's breakfast sales in the fourth quarter have been growing a healthy 7%, faster than the overall brand is growing. "I think there is some tailwind from McDonald's spending all that money to market breakfast," said Creed.


More product innovation is on the way very soon for Taco Bell.
By contrast, Taco Bell does not seem to have gotten any tailwind from Chipotle's (CMG) - Get Chipotle Mexican Grill, Inc. Report business being rocked recently by a growing E.coli outbreak. Remarked Creed, "We have not seen anything out of the ordinary."
Taco Bell, which operates over 6,300 restaurants in the U.S., will also debut a $1 value menu in January. Surely no coincidence, McDonald's plans to launch its new McPick 2 menu in the same month, offering a pair of items from a list of favorites, including the McDouble or McChicken, for $2.
In February, the innovative Taco Bell will release a new fried chalupa with cheese, and sometime next year, a taco wrapped in a shell made from Fritos. Hopes are high for the Fritos taco following the huge success of Doritos Locos tacos, which originally launched in 2013. The Mexican fast-food joint also intends to update the appearance of about 2,000 locations, while at the same time continue to learn from a test of catering underway in Houston, Texas. Thus far, the average value of a catering order at the Houston Taco Bell location is a robust $150.
Execs also mentioned that taking the popular Taco Bell concept overseas is a possibility. Today, Taco Bell is just a U.S. brand, but plans are in the works to open an initial test store in China next year. Some on Wall Street might want to see Taco Bell spun off into its own company, but that may be less likely given the brand's strong potential to drive international growth for the new Yum! Brands.


At long last, Pizza Hut is starting to cook up improved sales in the U.S.
Meantime at Pizza Hut U.S., which has struggled this year with its marketing and price points, getting back to serving up affordable pizza with an innovative twist isn't the only thing on tap.
Starting Jan. 1, Pizza Hut will undertake a "significant" ramp up in the number of restaurant remodels. Mostly gone will be the once trademark Pizza Hut locations with the red roofs, in will be more contemporary-feeling restaurants rich in neutral wall colors and wood-like seats. The company intends to replace 1,000 ovens as well. Pizza Hut currently  operates over 13,500 restaurants around the globe.  
Said Creed, "the franchisees have committed a number that at least starts with a 'B' (billions of dollars) on transforming the assets. I actually think that the biggest surprise, or the upside surprise, that may quietly shock everybody is the turnaround in our Pizza Hut performance.
There is some early evidence that new marketing efforts by Pizza Hut to emphasize value such as the "Anytime Deal" (two medium pizzas for $6.99 each), and the "Triple Treat Box" (two medium one-topping pizzas, an order of breadsticks and a Hershey's ultimate chocolate chip cookie, all for $19.99) are working. The company expects Pizza Hut's same-store sales in the U.S. to rise 3% in the fourth quarter compared to being unchanged in the third quarter.


China continues to be a work in progress for Yum! Brands.
Meanwhile, Yum's China business has some work to do to excite investors ahead of the separation.
Yum! China saw same-store sales in November fall about 3%. KFC saw a 1% sales drop, while Pizza Hut notched an unsavory 9% decline. November's performance was particularly disappointing in light of KFC China's menu revamp in late October, and Pizza Hut returning to a focus on value for discount-seeking Chinese diners. On a conference call with investors, execs said the sales decline for KFC "were not unexpected."
November's results marked a swift reversal from what appeared to be the start of a turnaround in Yum! Brand's beleaguered China business in September, when same-store sales there gained about 9%. In October, overall same-store sales increased 5%, with KFC sales spiking 10% in the wake of its menu revamp. Sales at Pizza Hut remained challenging, though, falling 9%.
"Next year will be a reset and recovery year for China," conceded Yum! Brands CFO Pat Grismer, who recently announced his resignation in order to be closer to his family.
Despite its struggles, Yum! China already has one huge cheerleader. "I am holding my Yum! China stock," said Yum! Brands Chairman David Novak on an investor conference call on Thursday. Novak is Yum! Brands' former long-time CEO, who oversaw the company's spin-off from beverage giant PepsiCo (PEP) - Get PepsiCo, Inc. Report some 18 years ago and went on to build the restaurant empire that is now being dismantled.