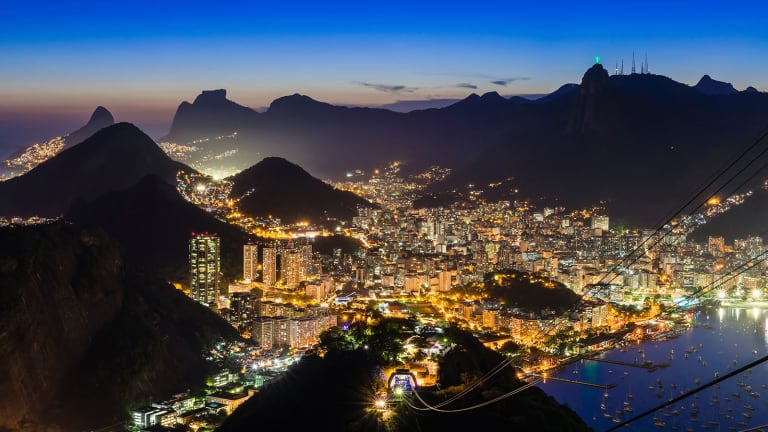 Brazil and China Are Sucking Cash From Your Pension Plan -- Now What?
The economic malaise plaguing emerging markets from China to Russia and Brazil is dragging down returns on U.S. retirement plans, whose managers had invested in developing nations for faster growth.
The economic malaise plaguing emerging markets from China to Russia and Brazil is dragging down returns on U.S. retirement plans, whose managers had invested in developing nations for faster growth.
This article, originally published at 8:11 a.m. on Oct. 21, 2015, has been updated with video and commentary from the New York City Comptroller.
Texas teachers and New York City sanitation workers are becoming victims of China's slowdown and Brazil's recession, as U.S. pension managers who piled into emerging-market stocks during the past decade get hit by the collapse. 
The Teacher Retirement System of Texas, whose exposure to the stocks is the biggest among U.S. public pension funds, lost 4.6% on the investments in the year through June 30. And though the Texas fund hasn't posted third-quarter results, the benchmark index tracking emerging-market stocks tumbled 18% during the period. 
So far, the most heavily-invested U.S. public pension funds say they won't cut bait, arguing that the ups and downs of the market shouldn't affect workers still years from retirement. That may be unwise: The analyst who accurately forecast Russia's stock-market crash in 1998 says the latest downturn in emerging-market stocks has annihilated any evidence that the securities outperform those from the U.S. over the long run.
"They've bought into the narrative that it is inevitable that emerging markets will do better, because they're less developed, and over time they'll converge,'' said JP Smith, who worked at Deutsche Bank before leaving last year to start independent research firm Ecstrat. Instead, he said, the funds would have been "better off having a lot of that money in U.S. equities."
In the near term, pensioners may face more pain from their managers' decision to stick with their emerging-market strategy. Goldman Sachs said earlier this month that emerging-market stocks are likely to underperform those from developed markets, while Bank of America says investors are more bearish on emerging-market stocks than any other asset class.
The recent plunge was triggered by concerns that China's economy is cooling, while declining oil and commodity prices eviscerated growth prospects for less-developed countries that export raw materials. The strengthening dollar eroded U.S.-based returns for stocks denominated in foreign currencies. 
Pension funds are such big holders of emerging-market stocks that any decision to reduce their holdings could deal the securities a significant blow, says Ecstrat's Smith. 
In all, U.S. pensions hold about $144 billion of emerging-market stocks, according to the publication Pensions & Investments. The Texas teachers' fund has the most, followed by pensions for the University of California, the state of Connecticut and New York City. 
A spokeswoman for the Texas teachers' fund, which had 9.7% of its $131.5 billion of assets in emerging-market stocks as of June 30, declined to comment. 
The Connecticut Retirement Plans & Trust Funds said in an e-mailed statement that it has made no changes to the holdings, adding that they're "an important component of a portfolio-pacing plan designed to achieve long-term growth." Its largest fund has about 8% in the investments.
"We believe that valuations in the emerging markets currently reflect a very pessimistic outlook for the global economy and, in many cases, adequately compensate investors for the risks inherent," according to the statement. 
The University of California Retirement Plan, which had about 7.2% of its $55 billion in emerging-market equities as of June 30, is "always reassessing, but we're making no changes at this time,'' said a spokeswoman, Dianne Klein. 
A spokesman for New York City's pensions didn't respond to requests for comment. The city's comptroller, Scott Stringer, cited a "difficult investing environment" in an Oct. 8 announcement that the funds returned 3.4% overall in the fiscal year through June 30. While the funds' website didn't show how much was invested in emerging markets, about $27 billion was in international stocks.
"We are always focused on investing for the long term," Stringer said. ""We remain confident that our mix of assets is well-positioned to take advantage of market opportunities in the coming years."
It's getting harder to make the case that long-term returns in emerging markets are superior. The MSCI Emerging Markets Index -- the benchmark used by most managers -- generated average annual returns of 4.3% in the decade through Sept. 30. That compares with 4.8% for the Standard & Poor's 500 Index, over a period that included the subprime mortgage crisis in the U.S. 
Recent performance has been so abysmal that some private pension funds have decided to pare back on emerging markets, said Susan McDermott, the Chicago-based chief investment officer of consultant Pavilion Advisory Group. Foundations and endowments are discussing the situation, she said. 
"Most of our clients have not looked to reduce the allocation," she said. "There have been maybe a few that have, just because they're trying to control the volatility of the overall investment program."
An interest-rate increase by the U.S. Federal Reserve, which should lead to further weakening of emerging-market currencies, probably would prompt more funds to retreat, she said. 
Just defining emerging markets as a single category was a mistake for pension funds, since there are such huge differences in developing countries' economies, political systems and accounting rules, says Simon Nocera, a former International Monetary Fund economist who's now chief investment officer at Lumen Advisors, a money manager in San Francisco.
"It is smart for all of these institutions to look globally to make money, but they've fallen for the convenient marketing gimmick of bunching up a bunch of countries into a benchmark and calling it emerging markets," he said.