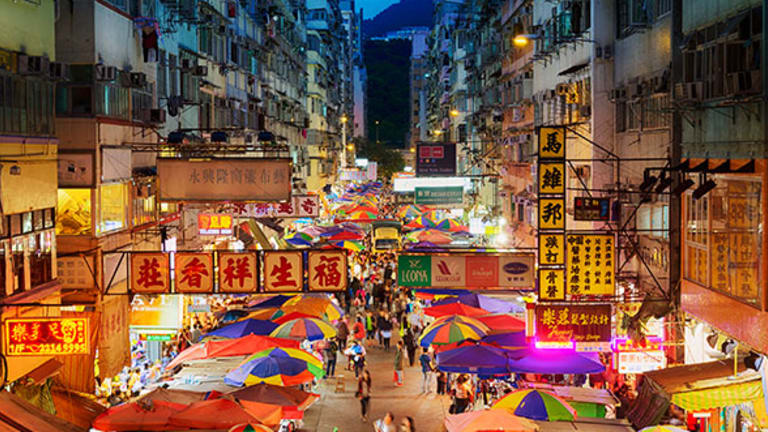 World's Biggest Emerging-Markets Fund Is Doubling Down on China at the Worst Time
Vanguard's $46 billion Emerging Markets Stock Index Fund hatched a plan last year to beef up on Chinese stocks. The timing of that move looks increasingly dicey.
Editors' pick: Originally published Monday, Feb. 8.
The world's largest emerging-markets fund is doubling down on China at the worst possible time.
Vanguard's $46 billion Emerging Markets Stock Index Fund (VEIEX) - Get Vanguard Emerging Mkts Stk Idx Inv Report  increased its China allocation to about 30% last year from 26%, according to the firm. And the figure is set to rise to 32% by the end of 2016.
The plan to boost Chinese shareholdings was set a year ago, well before a surprise August currency devaluation and signs of slowing growth convinced many investors that the country's markets were headed for a slump. Since then, the Chinese benchmark CSI 300 Index is down 17% while the yuan has slid 6% against the dollar -- exacerbating losses for U.S. investors.
Further declines are likely, given the overcapacity in China's industries, bad loans in the banking system and ongoing capital flight that's putting downward pressure on the yuan, according to emerging-market analysis firm Ecstrat. China is already the Vanguard fund's most heavily weighted country, so an increase in the allocation could bring more pain for investors already reeling from losses in Brazil, Russia, Mexico and South Africa. The Vanguard fund's exchange-traded shares are down 25% in the past year. 
"I could very easily see Chinese stocks being down for the year," said Stuart Quint, senior investment manager and international strategist for Brinker Capital, a Berwyn, Pa.-based firm that oversees about $17 billion. "At the end of the day, China needs a world economy that's growing, and right now, growth is getting marked down across the board."
The International Monetary Fund cut its projection last month for global growth this year by 0.2 percentage point to 3.4%. While China is expected to expand by 6.3%, a slowdown from last year's 6.9%, some investors and analysts think the actual rate is closer to 3%.
With more investors and Chinese nationals moving their money out of the country, most analysts expect the yuan to fall further. Bank of America Merrill Lynch predicts that China's central bank, which managed a controlled appreciation of the currency for more than a decade, will let the exchange rate weaken to 6.9 per dollar by the end of the year, from about 6.6 now.
Such projections weren't even conceivable in February 2015, when Vanguard announced a plan to shift the mix of its emerging-market fund by adding so-called A-shares -- those traded on mainland China instead of Hong Kong -- as well as small-capitalization Chinese stocks. The move aimed to capture a "more comprehensive representation" of the market, according to a filing at the time.
In an e-mail, Vanguard spokesman David Hoffman said the higher weighting for China makes sense, since it has the world's second-biggest economy and a huge stock market. Moreover, Vanguard's plan to buy the additional stocks over time, investing the same amount in each purchase, means the fund will get more shares when prices are lower, he said.
"Our position is that including or excluding individual securities or countries in an index should not be based on current market conditions," Hoffman said.
Yet it's not just an issue of market timing; the increase in Vanguard's China exposure comes just as the government is pursuing historic changes to foreign-exchange policies to loosen the yuan's link to the U.S. dollar.
Last August, the Chinese central bank cut its daily reference rate by 1.9%, causing the yuan's biggest single-day drop against the dollar in two decades. Then, in December, the central bank said the yuan's performance would henceforth be marked against a new China Foreign Exchange Trade System index that includes 13 currencies. 
"For a long-term investor, you don't want so much single-country risk, and also, from a long-term perspective, we expect to see more volatility since they're unpegging the yuan," said Patricia Oey, a senior analyst at Morningstar Manager Research in Chicago who tracks emerging-market funds. 
Among the biggest such funds, Vanguard has the highest allocation to Chinese stocks. Oppenheimer Investments' Developing Markets Fund (ODMAX) - Get Invesco Oppenheimer Dev Mkts A Report  s the second-biggest, with about $26 billion of assets, according to Morningstar. That fund has 26.6% of its holdings in Chinese stocks. BlackRock's $18 billion iShares Emerging Markets Exchange-Traded Fund (EEM) - Get iShares MSCI Emerging Markets ETF Report  has a 24.6% stake.
On the lower end, American Funds' $20.6 billion New World Fund (NEWFX) - Get American Funds New World A Report has just an 11.6% allocation to Chinese stocks, according to the firm.
Not everyone is bearish on China. Goldman Sachs sees the CSI 300 Index going to 4,000 by the end of the year -- a 34% increase from the current level.
That's quite different from the view of John-Paul Smith, who accurately forecast Russia's stock market crash in 1998 and now runs London-based Ecstrat. He says Chinese stocks are trading cheaply mainly because of investor concerns about non-performing loans held by the country's banks. There's also a risk of asset write-downs by industrial companies and energy and raw-materials producers, he wrote in a Jan. 20 note to clients.
"We believe that the recent underperformance is likely to persist through much of 2016," Smith wrote.