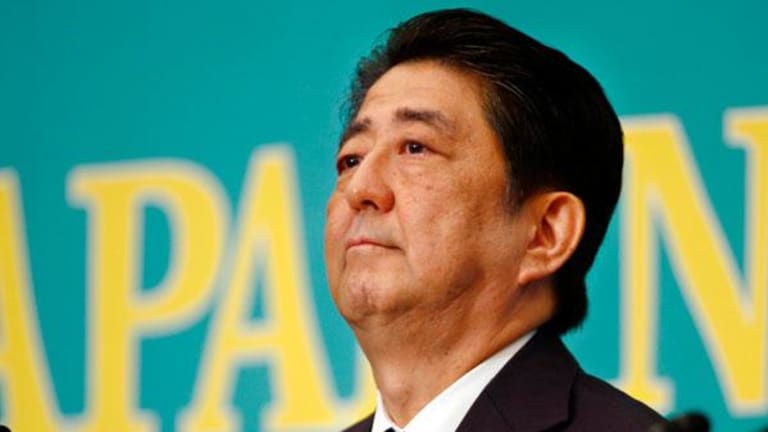 World Can Thank North Korea's 'Rocket Man' If Shinzo Abe Wins Japan's Election
The Japanese prime minister has called a snap election, which could give Abe's push for a better economy and stronger military new vigor.
Japanese Prime Minister Shinzo Abe will have North Korean dictator Kim Jong-un to thank if his party wins big in the next election, which Abe has just precipitated. And the world will have Kim to thank if that victory reignites the drive to reform the moribund Japanese economy and create the military presence the country deserves.
On Monday evening in Tokyo, Abe called for an election in Japan, forcing it to take place a year earlier than scheduled. He said he will seek a fresh mandate for change with Japan facing a "national crisis" after North Korea blew two long-range ballistic missiles over the Japanese mainland.
Abe had been Japan's most popular prime minister in post-World War II history, fueling the reform drive of his Abenomics strategy. But his administration had lost its way in recent months due to a series of domestic scandals.
His approval rate sank to a record low over the summer after suggestions of cronyism and self-dealing by members of his cabinet and even his wife. Only the ineptitude of his opposition, which is in total disarray, has saved him from a leadership challenge.
Abe has not set a date for the election, but according to the Japanese media it will take place on Oct. 22. Abe also announced a stimulus package of ¥2 trillion ($18 billion) to be spent on education and social services -- both vote-getters.
The nuclear crisis created by North Korea's missile and bomb tests has seen Abe's popularity skyrocket once again. A staunch nationalist who would like to push through a highly controversial revision of Japan's post-World War II constitution to allow it to have a standing army, Abe once again is finding support for a stronger military presence in Japan.
I'm all for Japan having an army. And I'm an Abe fan.
Abenomics has been working. The first two arrows of getting the government to spend cash and getting the Bank of Japan to print lots of money and buy lots of stocks and bonds were easy enough to fire and land. But the third, structural reform, is incredibly hard to push through anywhere, let alone in a highly traditional society such as Japan.
Japan needs new thinking. Younger Japanese know this. And they respond at the voting booth.
The farming industry, which is politically powerful and protected by punitive import duties, consists of elderly farmers tilling unprofitable plots. It needs to go. Japan's participation in the Trans-Pacific Partnership (TPP) was going to push down many of those agricultural subsidies. Japan's participation in the TPP at all was a major political coup for Abe, until Donald Trump torpedoed the 12-nation trade pact by pulling the United States out of it.
The country's system of cross-holdings also needs to go. These holdings between big banks and their customers encourage neither to put pressure on the other. It has created an unwillingness for financial institutions to call in bad debts, allowing companies to function inefficiently and in bloated fashion. They refuse to sell off unprofitable or non-core subsidiaries. They resist calls to spend the cash they have often hoarded on their books, either through capital expenditure or by returning it to investors in the form of dividends. 
The Stewardship Code and Corporate Governance Code recently introduced in Japan show the way forward. They encourage institutional investors, which have been complicit in the situation by failing to press for change in the boards of the companies they at least partially own, to reveal their voting patterns and be more accountable. They encourage companies to focus on investor returns when the interests of management, customers and employees previously had been paramount.
Although an electoral victory for Abe and his Liberal Democratic Party, or LDP, would be powered by geopolitical tensions, it would give Abenomics a boost, too. Abe said in announcing the election that he would continue to push for fiscal reform and plans to use the recently introduced sales tax to balance the budget and reduce government debt.
Japan never seems in bad shape when I visit it. But the travails of companies such as Sharp (SHCAY) , which recently sold out to the Taiwanese Apple (AAPL) parts supplier Foxconn (HNHPF) , show how far behind some of the early pioneers of Japan's economy (Pioneer (PNCOY) being another!) have fallen, as electronics companies are outpaced by faster-moving Korean and Chinese rivals.
We need a strong Japan, and Abe needs a strong government behind him. He's also encouraging more women to enter the work force, making some changes at the fringes of immigration -- another highly contentious issue in Japan -- to allow more foreign workers to enter the country and making part-time work better rewarded. That's essential in a country where the number of people over age 90 has topped 2 million for the first time.
We need a strong Japan in Asia, too. It's a counterweight to China's growing might. A muscular Japan on the military side would be very welcome as China pushes its claims in the South China Sea, on the Himalayan plateau and everywhere in between.
It would require a change in the constitution, written with help from the United States, to make specific recognition of the role of the military. Japan's "Self-Defense Forces" help with disaster relief at home and humanitarian missions abroad. But their role should be expanded so Japan can retain soldiers and sailors on home soil and send them overseas if needed. 
It requires a lot of pushing to get the world's third-largest economy out of the rut it has found itself. But with GDP growth for Japan now at an annualized rate of 4.0% in the second quarter, it finally appears to be on its way. Abe needs to keep his support behind him as he continues that drive of reform.
Abe's main challenge may come from the current Governor of Tokyo, Yuriko Koike, a former member of the LDP cabinet. Abe may fail to retain the two-thirds majority of the government that he needs to push through a constitutional change. But a victory would put him in place to become the longest-serving Japanese leader since World War II.
Let's hope, for geopolitical stability here in Asia and the global economic good, he succeeds.
(This article originally appeared at 10:00 a.m. ET Sept. 25 on Real Money, our premium site for active traders. Click here to get great columns like this from Jim Cramer and other writers even earlier in the trading day.) 
More of What's Trending on TheStreet: