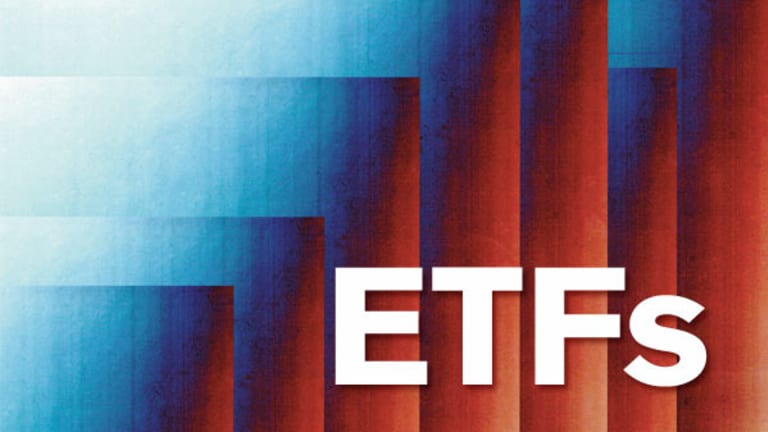 Woof! New ETF Applies Dogs of Dow Theory to Emerging Markets
ALPS' new Emerging Sector Dividend Dogs ETF offers yield and diversification.
NEW YORK (TheStreet) -- ETF provider ALPS is expanding its dividend dogs suite of funds to include one that focuses on emerging markets: the ALPS Emerging Sector Dividend Dogs ETF (EDOG) .
Like its predecessors the ALPS Sector Dividend Dogs ETF (SDOG) and the ALPS International Sector Dividend Dogs ETF (IDOG) , EDOG is based on so-called Dogs of the Dow theory, which advises investors to buy the 10 Dow Jones Industrial Average stocks with the highest dividend yields.
EDOG will buy the five highest yielding emerging-market stocks in each of 10 major sectors and give each stock an equal weighting. That means a total of 50 stocks, each with a target weighting of 2%.
The new fund is diversified in its country exposure. EDOG invests in 16 countries. Seven of them have 10% weightings. These include Malaysia and Indonesia. They also include Thailand and Turkey, which have recently seen civil unrest, which could pose threats to companies based in these countries.
EDOG also has a 26% exposure to BRIC countries excluding India. These countries have generally lagged behind smaller emerging markets in the last few years after having performed so well in the previous decade.
Thus, from the top down, the country exposures could be problematic for EDOG.
The fund is driven, however, by the bottom-up idea that companies that pay high dividends tend to be fundamentally healthy, that their dividends create demand for shares and that high yields can be an indication of depressed prices. This gives EDOG's strategy an opportunistic component.
Among EDOG's 50 holdings, there are a few names that will be recognizable to investors, such as Russian natural gas giant Gazprom (OGZPY) and Levovo Group (LNVGY) . Most names will be unfamiliar, however, which means that EDOG is not a different arrangement of the same stocks in benchmark funds such as the iShares MSCI Emerging Markets ETF (EEM) .
The performance of SDOG and IDOG relative to benchmarks argues in favor of using EDOG for the emerging-market equity component in an investor's portfolio.
In 2013 SDOG performed in line with the S&P 500 but it has outyielded the index by 140 basis points on a trailing basis.
IDOG has only been trading since last July, but since then it has outperformed the iShares MSCI EAFE ETF (EFA) by 2.5% on a price basis and has outyielded it by 45 basis points.
One strike against EDOG is that the iShares Emerging Markets Dividend ETF (DVYE) has lagged behind EEM by almost five percentage points in the last six months. That is obviously a short period of time, and there are differences between EDOG and DVYE; DVYE has an 18% weighting in telecom stocks, which could make it more sensitive to rising interest rates.
ALPS reports that EDOG's underlying index yields 5.9%. After accounting for the fund's 0.60% expense ratio, the yield would be 5.3%, well ahead of EEM's trailing 2.1% yield.
Emerging-market exposure is important for long-term performance and diversification, and adding additional yield like what is available from EDOG to this part of the portfolio could further magnify the performance benefit.
At the time of publication, Nusbaum had no positions in stocks and ETFs mentioned.
This article represents the opinion of a contributor and not necessarily that of TheStreet or its editorial staff.
At the time of publication the author held no positions in any of the stocks mentioned