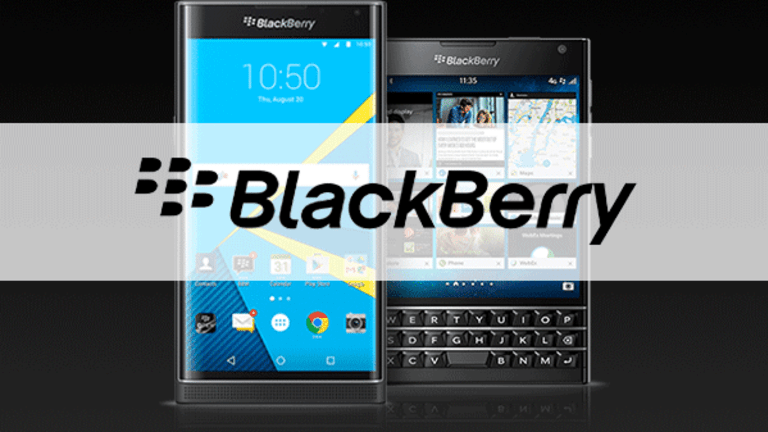 With India Deal, BlackBerry Looks to Build Its Comeback Momentum
The company has signed a licensing deal with an India company to design and manufacture its branded products, allowing BlackBerry to focus on other promising initiatives.
It looks like BlackBerry undefined  may be headed for a comeback in 2017, a result of a bold strategy to reinvent itself.
Just four months after the company announced that it would switch its focus to software and cybersecurity by outsourcing its once-popular cellphone brand, BlackBerry has fulfilled that goal and will be able to push harder on other initiatives. 
On Monday, the company announced that it had inked a licensing deal with Indian telecom firm Optiemus Infracom to "design, manufacture, sell, promote, and support" BlackBerry phones in India, as well as in Bangladesh, Nepal and Sri Lanka. BlackBerry had previously partnered with Optiemus Infracom to market and distribute its phones.
With this deal, BlackBerry now covers the world with its licensing agreements. In recent months, the company has signed similar agreements with PT BB Merah Putih in Indonesia and TCL, a China-based, multinational electronics company. 
Blackberry can potentially now focus on the exciting potential of the software field.
BlackBerry was a pioneer in the smartphone industry. In 1999, the company debuted the first mobile device, a two-way pager, to have email capabilities. 
The Canadian firm dominated the cellphone market until Apple brought out the iPhone in 2007. Apple devices, as well as those using Alphabet's Android operating system, began to edge out the "CrackBerry."
Apple is a holding inJim Cramer's Action Alerts PLUS Charitable Trust Portfolio. See how Cramerrates the stock here. Want to be alerted before Cramer buys or sellsAAPL?Learn more now.
From a peak above $240 per share in July 2007, BlackBerry's stock fell to below $6 per share by 2013.
Alphabet is a holding inJim Cramer's Action Alerts PLUS Charitable Trust Portfolio. See how Cramerrates the stock here. Want to be alerted before Cramer buys or sellsGOOGL?Learn more now.
In 2014, the company had had enough, replacing CEO Thorsten Heins with John Chen. Chen, an experienced tech executive, began making moves to turn the struggling business around, including stepping away from the cellphone manufacturing business.
At the same time, BlackBerry has been quietly purchasing software startups, particularly in the cybersecurity field. This has allowed BlackBerry to build an impressive suite of products called BlackBerry Secure.
The company has also been expanding into autonomous vehicle technology, thanks to a partnership with Ford Motor.
But there's still more BlackBerry can do as it increases its presence in software and also the internet of things (IoT). By making outsourcing deals such as Monday's with India, the company should be able to focus on its new avenues of revenue.
In addition, the India licensing deal will expand BlackBerry's market to nearly 1.5 billion people, many of whom are part of a burgeoning, India middle class eager for technology. Currently, less than 20% of India's population own a smartphone, meaning there's huge growth and profit potential. Analysts are predicting India to soon become the world's second-largest smartphone market. Investors will want to be ready when that happens.
---
BlackBerry is a great long-term play for investors. But what if I told you I know a way you can see a $67,548 per year - or more - in profitable trades right away just by following this simple step-by-step process? The trader who is sharing this secret has been right more than 8 out of 10 times, turning $5,000 into more than $5 million for himself. Click here to see how easy it is to follow his lead and collect thousands of dollars in "Free Money" every month.
The author is an independent contributor who at the time of publication owned none of the stocks mentioned.