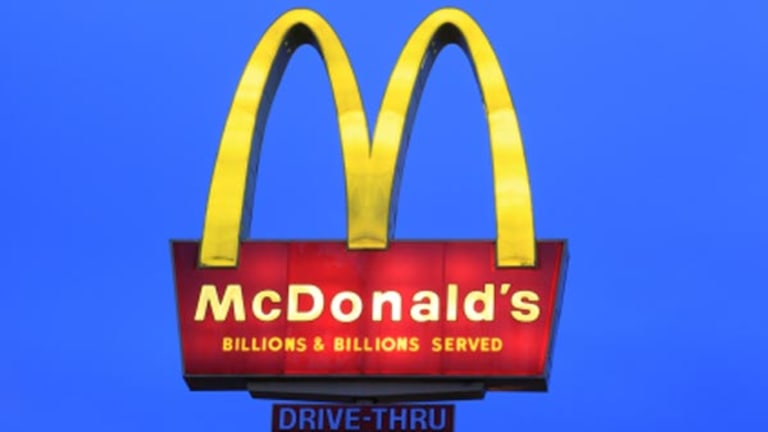 Will McDonald's McUSA World Cup Burger Boost Arcos Dorados Stock?
McDonald's offers 2014 Brazil World Cup visitors country-specific burgers, which may come to the rescue of Arcos Dorados' down-in-the-dumps stock.
McDonald's offers 2014 Brazil World Cup visitors country-specific burgers, which may come to the rescue of Arcos Dorados' down-in-the-dumps stock.
NEW YORK (TheStreet) -- The world's largest franchisee of McDonald's (MCD) - Get Report restaurants, Arcos Dorados (ARCO) - Get Report, could be getting over its struggles at the perfect time. Arcos Dorados went public in 2011, but has seen its shares fall 51% since its IPO. The stock closed Thursday at $10.50, down 13.4% year to date.
There's hope, though. The start of the 2014 World Cup and several themed event promotions could help lift sales and the company's share price. Arcos is one of manypublic companieshoping to cash in on the World Cup.
Arcos has launched a new World Cup promotion featuring sandwiches themed after a participating team for every day of the week. Only seven of the 32 participating teams are featured in the promotion, but they are among the world's most beloved and followed teams
At over 800 McDonald's locations in Brazil, fans can get a McArgentina, McUSA, McBrazil, McSpain, McGermany, McFrance or McItaly. Only one sandwich is available each day, with Argentina (Friday), USA (Saturday) and Brazil (Sunday) featured on the weekends. The promotion runs through June 25.
The majority of the sandwiches contain Angus beef, but several shift towards their respective country's tastes. Spain and France are chicken burgers. The McItaly has polpettone meat on it -- a kind of meat loaf. Germany's featured burger contains rib meat.
Currently the McArgentine -- which features chimichurri, mayo, lettuce, tomato, bacon, and cheddar cheese -- is the most sold of the promoted burgers. The McUSA, containing bbq sauce, crispy onions, pickles, lettuce, bacon, and cheddar cheese, is in second place.
This promotion is extremely important to Arcos Dorados, as it will boost visits and same-store sales growth for its most important Brazil region. In the first quarter, organic growth was 9.9% in Brazil. Same-store sales grew 3.4% and the company opened 81 stores in the last 12 months. In 2013, the Brazil region saw sales of $1.8 billion, an increase of 13.3% based on constant currency. This represented 44% of the company's total annual revenue.
While Brazil's revenue is increasing thanks to same store sales growth and additional locations, the company has seen earnings slide. High inflation and commodity costs are hurting Arcos in Brazil and several other regions. Promotions like Monopoly and Champions Glasses helped boost sales. The strength of the World Cup sandwich campaign will post further gains for the company.
Arcos has locations in 20 countries and is the exclusive franchisee in the territories it operates. It is also able to sub-franchise out to others. At the end of the first quarter, there were 2,059 McDonald's open under Arcos Dorados' management. The company also signed earlier this year to open 250 more restaurants from 2014 to 2016.
Analysts see Arcos posting declining revenue to $3.9 billion in fiscal 2014. That number seems hard to believe with the possible inflow from the World Cup and new promotions. Earnings per share are expected to hit 37 cents this fiscal year and 46 cents in the next fiscal year.
Shares of Arcos have rebounded recently, with shares up 20% in the last month. This comes after falling almost 23% in the last 52 weeks, and seeing shares fall more than 50% from its IPO price. The 2014 World Cup has seen record demand for tickets. Over 600,000 people are expected to come to the tournament and spend more than $3 billion.
Arcos Dorados will be a big winner at the 2014 World Cup and has the 2016 Summer Olympics to look forward to as well.
At the time of publication, the author held no positions in any of the stocks mentioned.
If Pandora Really Cared About Musicians ...
Lululemon Shares Tumble on Lower Outlook
Medtronic Is Great but Its Stock Is Too Expensive for Now
This article represents the opinion of a contributor and not necessarily that of TheStreet or its editorial staff.