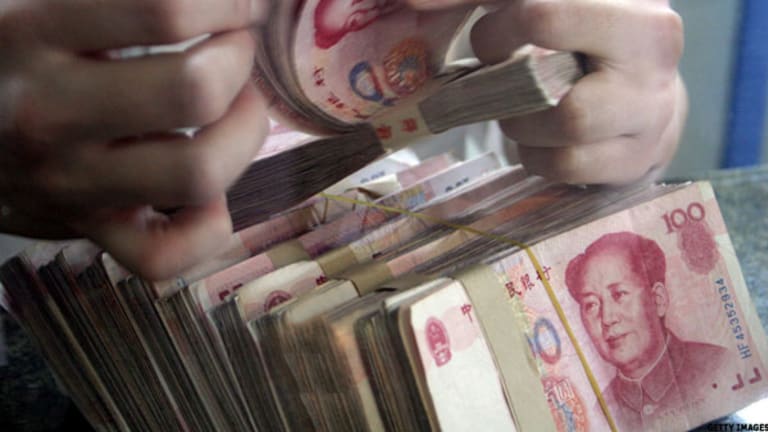 Will Fear of Flying Ground Chinese Airlines After the Malaysia Airlines Disaster?
A lesson about Chinese travelers learned after a 2011 bullet train collision could vex the nation's air carriers.
BEIJING (TheStreet) -- Traveling in China via high-speed rail was in vogue back in July 2011 when two bullet trains collided near the city of Wenzhou, killing 40 people.
The horrific wreck so rocked public confidence in the nation's high-speed railway system that significant numbers of nervous travelers migrated to airlines and slow trains for intercity trips. Negative sentiment hurt sales of bullet train tickets for months after the crash.
Now, China's airlines could face a similar psychological backlash following the March 8 disappearance -- and perhaps a crash into the Indian Ocean -- of a Beijing-bound Malaysia Airlines jetliner. (And as TheStreet's Ted Reed has reported, this hasn't been the only plane to flicker off the radar.)
Read: Cramer: American Airlines Group Makes Airlines Attractive
The first Chinese airline affected by post-MH370 traveler jitters could be the state-owned carrier Air China (AIRYY) , whose stock trades in Shanghai and Hong Kong.
Other domestic carriers that could be affected by a fear of flying among Chinese travelers -- and, for that matter, tourists who want a foreign beach in sunny countries such as Malaysia -- include China Southern (ZNH) - Get Report, China Eastern (CEA) - Get Report, and Shanghai-listed Hainan Airlines.
Potential trouble at Air China, and implications for the Chinese airline industry as a whole, were cited Wednesday in a Huatai Securities analysis of the carrier's latest financial report.
Read: EU-US Summit: Transatlantic Trade, Russia Sanctions Top Agenda
"We think that, in the wake of the gradually emerging MH370 incident, an overall rebound for aviation demand will be comparatively more difficult this year," analysts wrote. "The company (Air China) will have to wait for an opportunity to turn around its performance."
Air China posted a 3.3 billion yuan net profit in 2013, the company said Tuesday, a 32% decline from the previous year.
The company reported a 7.3% increase in passengers overall to 77.6 million for the year, thanks to a big jump in international ticket sales, particularly in the Asia-Pacific region. Meanwhile, domestic demand lagged. A Haitong Securities report Wednesday said income from Air China's domestic flights fell 13% last year.
Among Chinese airlines, Air China leads in flights between the mainland and overseas destinations. The Haitong report said the carrier was thus well-positioned last year to benefit from the fact that "more and more (Chinese) tourists are choosing to go out of the country" for holidays.
Indeed, Chinese tourists in recent years have been flocking in rising numbers to southeast Asian beach resorts in Malaysia and Thailand. Other popular holiday destinations include Pacific islands, Sri Lanka and Myanmar.
Chinese airlines have joined foreign competitors such as Cathay Pacific (CPCAF:PINX), AirAsia and national carriers such as Malaysia Airlines in catering to this demand. Air China's latest push into the region includes a schedule of tourist-geared, four-times-weekly flights between Beijing and Myanmar's largest city Yangon, slated to start March 30.
Read: Watch Me Shoot Down Bill Ackman's Herbalife Bear Thesis
Most of the 239 people aboard the ill-fated Kuala Lumpur-Beijing flight MH370 were Chinese -- 153 from the mainland and one from Taiwan. The Chinese government has complained about the way Malaysian authorities handled the crash investigation, which in turn has affected public sentiment in China. Travel agents in China told the Reuters news agency this week, for example, that demand for tourist trips to Malaysia has fallen. Malaysia Airlines is reportedly in deep trouble, too.
Indeed, like the Wenzhou train wreck's negative impact on the bullet train business, the reaction to the MH370 incident is another sign that Chinese travelers are highly sensitive to transportation accidents in which their countrymen die.
At the time of publication, the author held no positions in any of the stocks mentioned.
This article represents the opinion of a contributor and not necessarily that of TheStreet or its editorial staff.