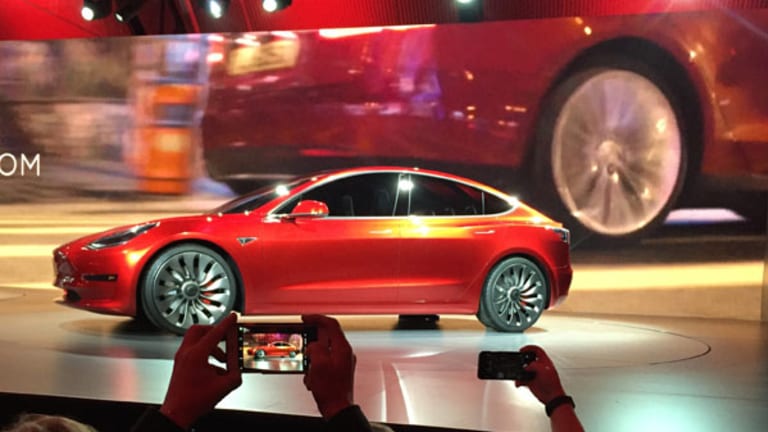 Why Tesla's Model 3 Rush May Signal Boom Times for Mozambique Mine
With emerging markets in a swoon, a Standard Life fund manager is betting on a boom -- in stocks of electric-vehicle parts and battery makers.
There are probably more stocks like Tesla (TSLA) - Get Tesla Inc Report out there. Like, way out there -- in default-prone investing realms like Mozambique.
That's the conviction of Mark Vincent, an emerging-markets specialist at the $373 billion money manager Standard Life Investments (SLFPF) . He's hitched his stock picks in part to the prospect of a surge in global electric-vehicle sales; doing so helps insulate him from the macroeconomic and political woes hitting markets in such places as Brazil, Russia and China.
So while Tesla Motors CEO Elon Musk revels via Twitter in the roughly $10 billion of pre-orders placed for the freshly unveiled Model 3, Vincent is betting on shares of Syrah Resources (SYAAF) , an Australian-traded company whose main asset is its Balama mining project in Mozambique, host of the largest graphite-ore reserves in the world. Graphite is used to make anodes for lithium-ion batteries, such as those deployed by Tesla. Syrah's shares are up 4.1% year-to-date after surging 25% in 2015, when the benchmark MSCI Emerging Markets Index tumbled 15%.
"They're ramping up production at this graphite mine, and it has some of the best-quality graphite in the world," says Vincent, who runs Standard Life's Global Emerging-Markets Equity Income Fund. Although the 316 million-pound ($450 million) fund has lost 7.9% over the past year, it's still beating peers in the category by 1.6 percentage points, according to Morningstar.
With Brazil and Russia mired in multi-year recessions and China struggling to stave off a currency devaluation, investors who target less-developed markets are having to get creative. They're eschewing stocks exposed to sagging growth in the regions, instead favoring such companies as the Chinese video-game maker Tencent Holdings -- theoretically immune to a broader macroeconomic slowdown in China -- and UltraTech, a cement maker in still-buoyant India.
The bleak outlook for emerging markets is one reason Vincent's fund is so keen on makers of electric-vehicle parts and lithium-ion batteries like those used in Tesla's vehicles.
Mozambique, for example, had its credit rating cut to D for default last week by Standard & Poor's after it struggled to repay bonds. That should make little difference to Syrah's graphite mines. 
"There's enough opportunities in these individual stocks that we don't have to take a big macro viewpoint," Vincent says.
Following decades of stunted development, the electric vehicle market is finally taking off, based on the frenzy of demand for the Tesla Model 3, which won't be delivered until late 2017. The company says it has received about 300,000 pre-orders for the vehicle. If fully realized, the Model 3 would surpass the Nissan Leaf to become the best-selling pure electric vehicle ever, Newsweek reported.
Two of Vincent's favorite stocks are Samsung SDI (SSNLF) and LG Chem (LGCEY) , both Korean battery makers.
"All this is going to imply huge battery growth," says Vincent, who got a Ph.D. in theology and oriental studies and wrote a textbook in Korean before turning to investing. 
It's not just batteries that could see fast growth, according to Vincent. He likes the Korean auto-parts maker Woory, which makes sensors and heaters for electric vehicles. One major customer of the heaters is Tesla, the brokerage firm Hyundai Securities wrote in a 2012 report.
Woory's shares rose 7.5% on Monday, outpacing the 5.2% climb in Tesla shares.